Introduction
Much like bill and legislator pages, each committee page in FiscalNote has a sub-menu with tabs to navigate both FiscalNote-provided data and also your own work. FiscalNote-provided data can be found on The Overview and Staff (if available), while your own work will be stored under Actions, Notes and Associations: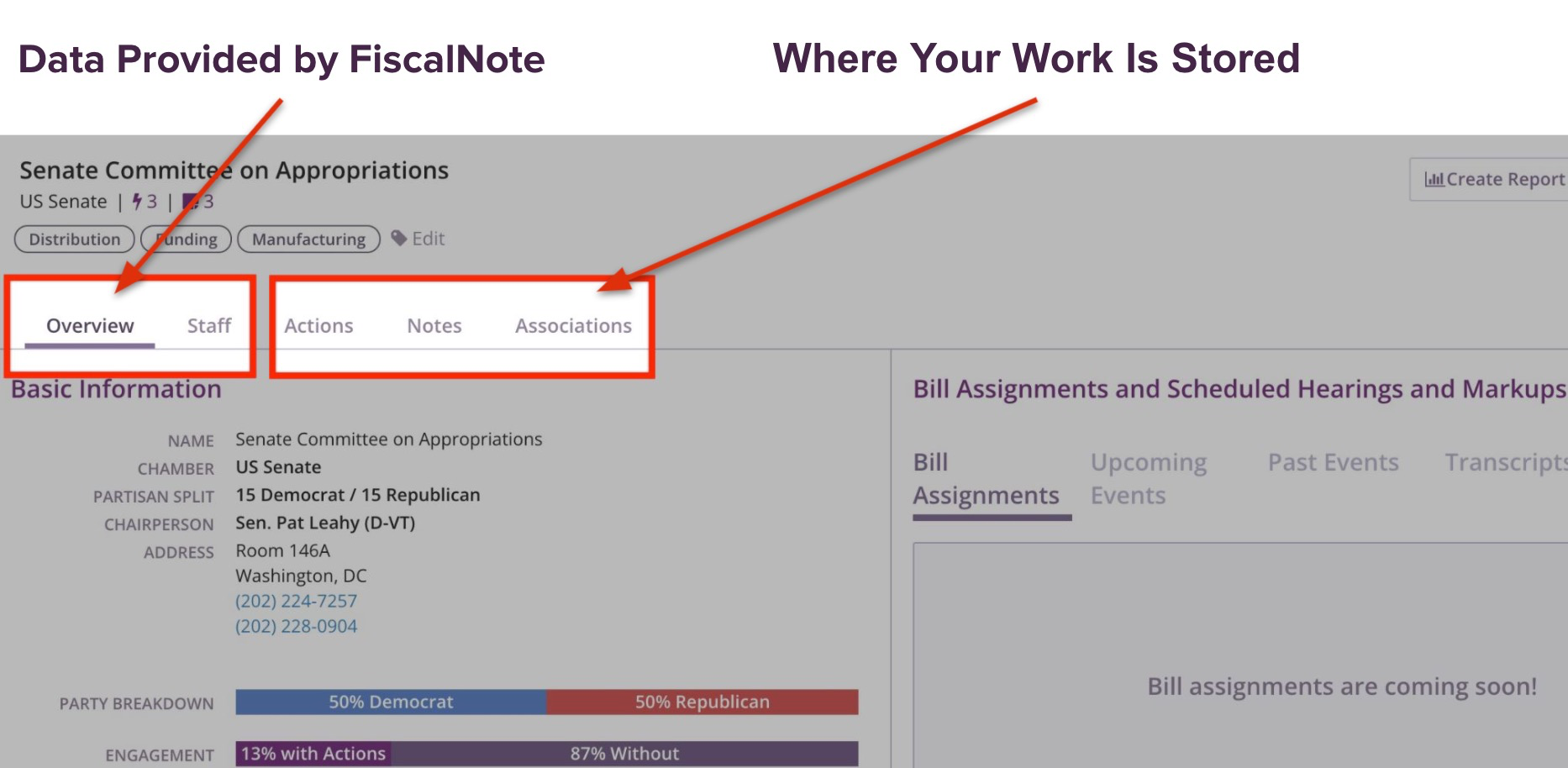 Continue below to learn what's covered in The Overview, as well as how to drive both personal and team efficiency with Actions, Notes & Associations.
Video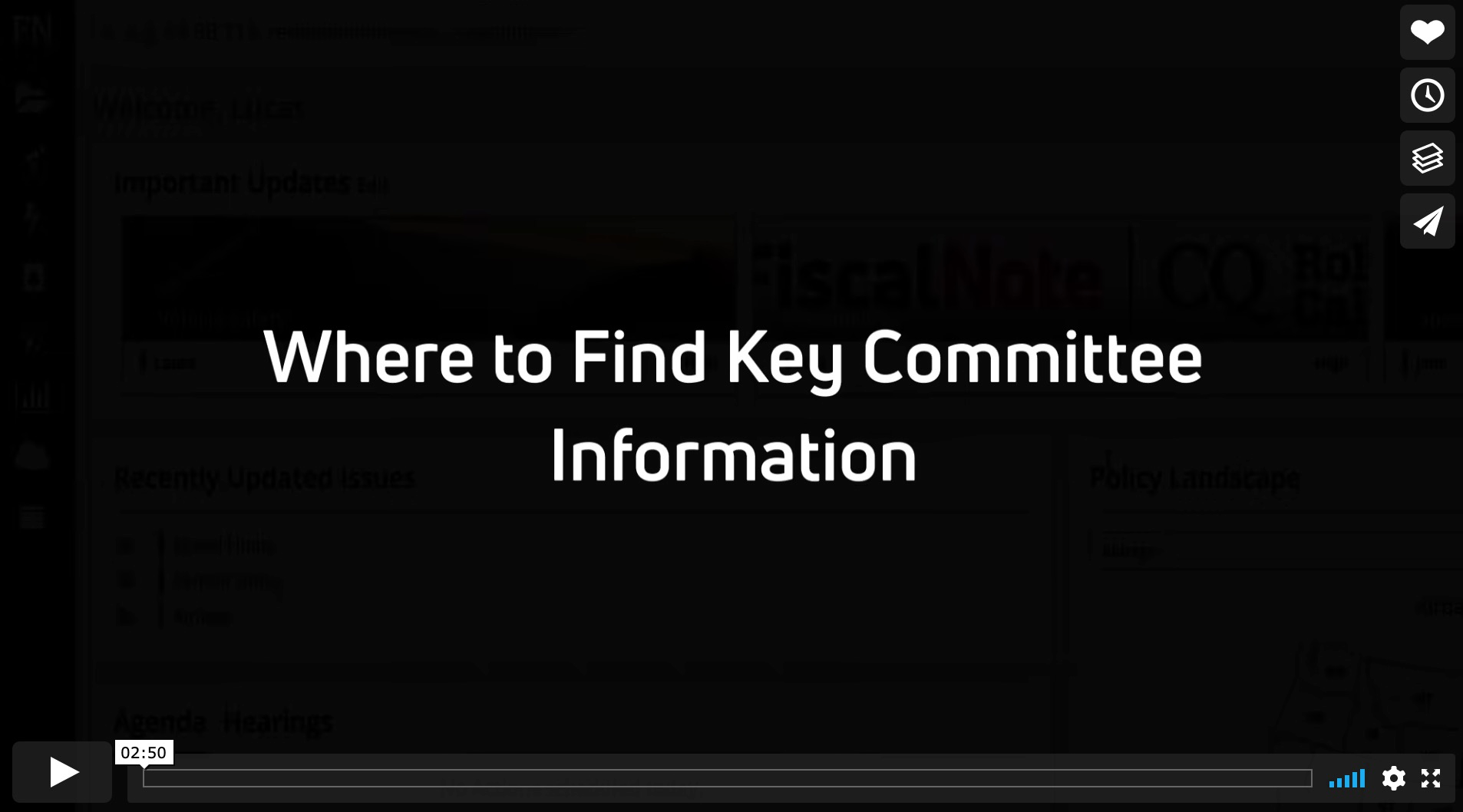 The Overview
Most of the information provided by FiscalNote will be found on the Overview tab, which is broken down into 4 distinct panels:
Basic Information
Leadership & Members
Bill Assignments
Scheduled Hearings & Markups, and Subcommittees
Basic Information
Basic Information covers details such as the name, chamber, partisan split and chairperson. However, as you and/or your team adds Actions to document engagements with specific committee members, you can begin to glean insights in this panel.
Engagement provides a percentage breakdown of members you have created an Action for, and those you have not.
**As a reminder, Actions allow you to document who you have interacted with, and how, storing key details in perpetuity for note-keeping and reporting purposes. Click here to read more below.
Hover over each percentage to view the names at a glance, and click the percentage to view view the full list and/or quickly add a new Action for any member: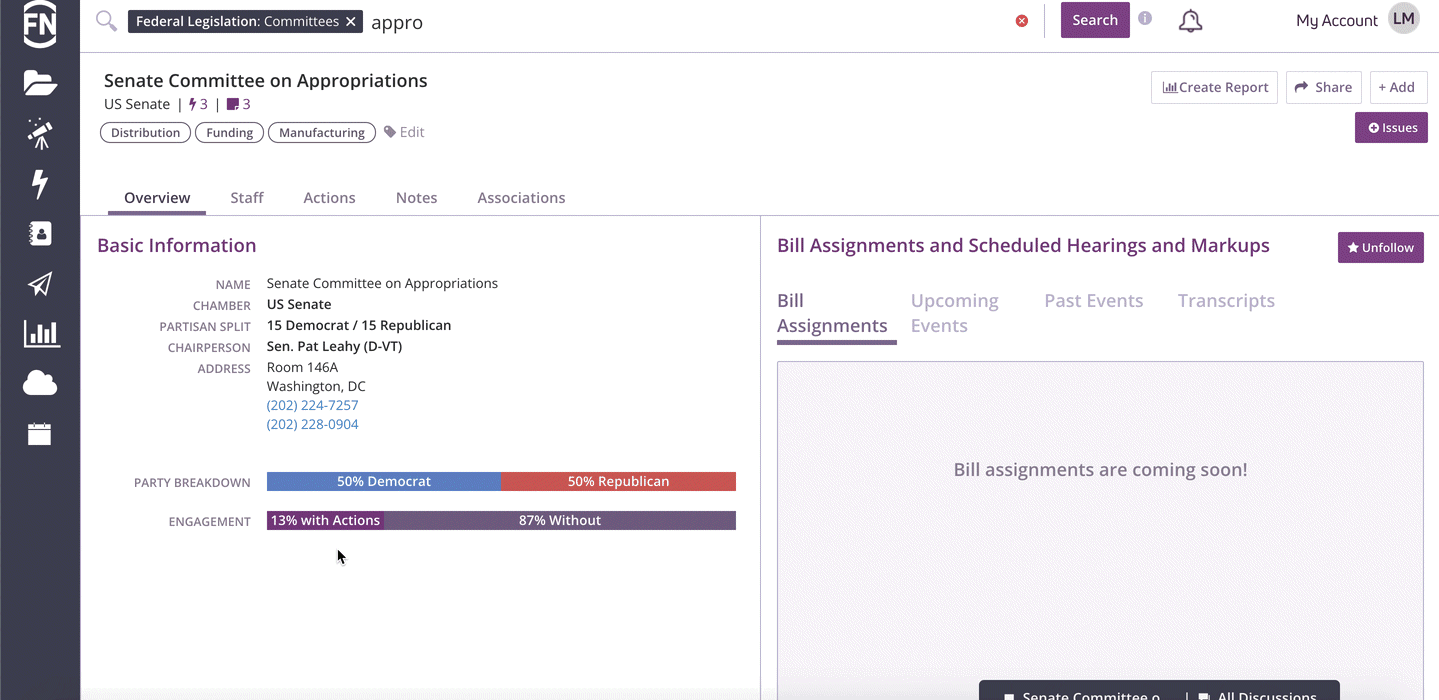 Committee pages should always display the following under Basic Information:
Name
Chamber
Partisan Split
Chairperson
Address
Party Breakdown
Engagement (as seen above)
Leadership & Members
Committee rosters, located directly below Basic Information, are color coded by Party ( Blue = Democrat, Red = Republican ). Committee Chairs and Vice Chairs will be identified at the top of the roster, as seen here for the Maryland House Committee on Environment and Transportation: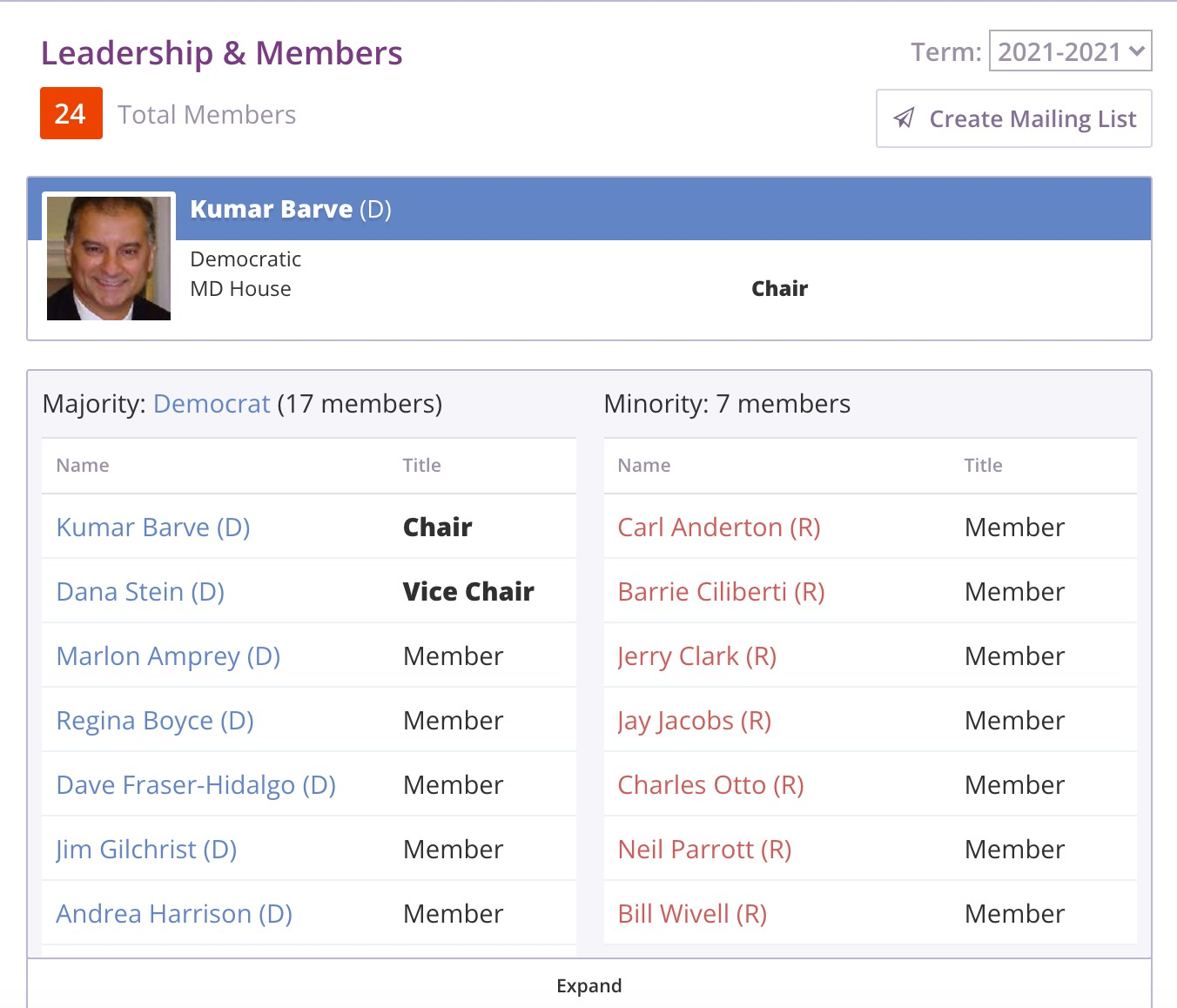 Rosters are also interactive. Use the drop-down menu to explore previous rosters, uncover trends such as those holding chair and vice chair seats long-term, or even find profiles for those no longer in office: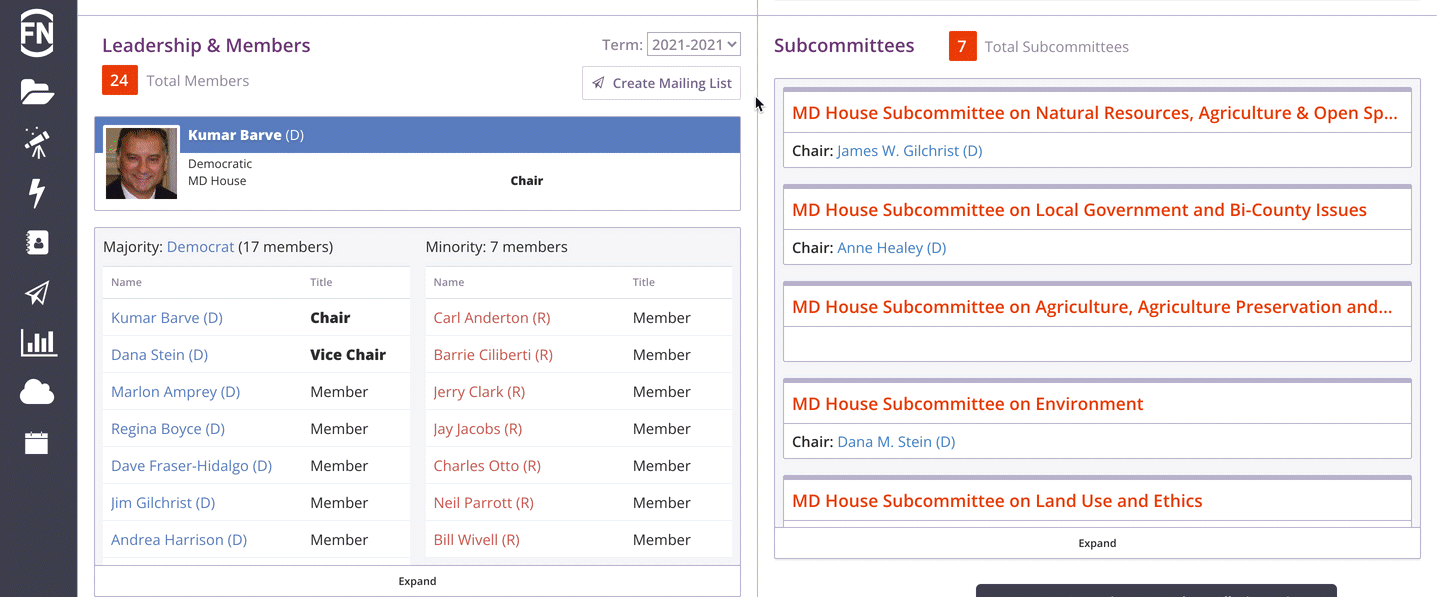 Scheduled Hearings & Markups
Next to Basic Information on the top-right is Bill Assignments and Scheduled Hearings & Markups. Bill Assignments is currently unavailable, but to the right you may find direct links to .gov websites, for example:

Upcoming and Past Events will list when a committee meets and why, such as for a hearing, markup session, voting session, or special meeting. Expand the description (if available) to read more, or click the link to jump directly to the legislature's website for more information (seen above).
Subcommittees
In the panel on the bottom right, use direct links to access any related sub-committees that may impact your interests.
For example: Let's say a you've been hired at a vehicle safety organization to perform research on feasibility of their long-term initiatives. You know there is an existing relationship and interest in the US Senate Committee on Commerce, Science & Transportation. You may want to contact members or keep abreast of opinions voiced in discussions within subcommittees of interest: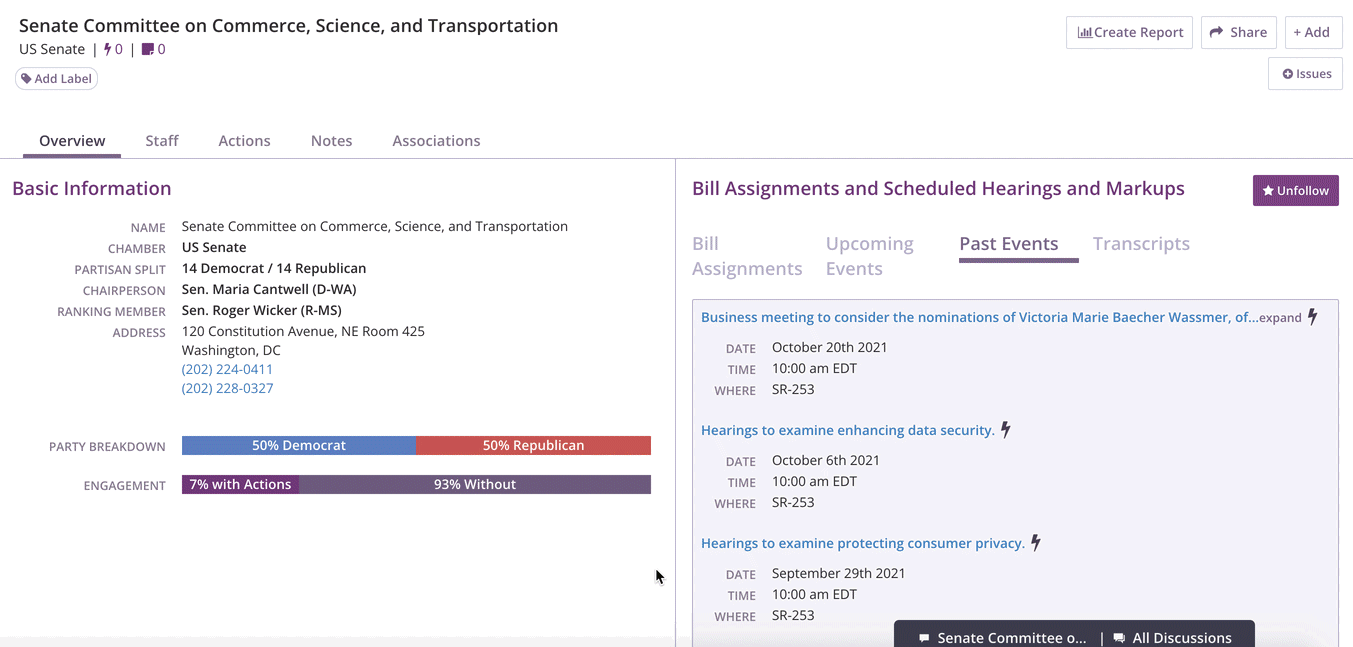 **Click here [LINK] to learn more about Subcommittees & Caucuses
Staff
Directly next to the Overview is Committee Staff. Staff lists may vary in size based on both: 1) how many staffers have been hired, and 2) data availability from the related legislature. Scroll to find Communications Directors, Counsel, general Staff and more: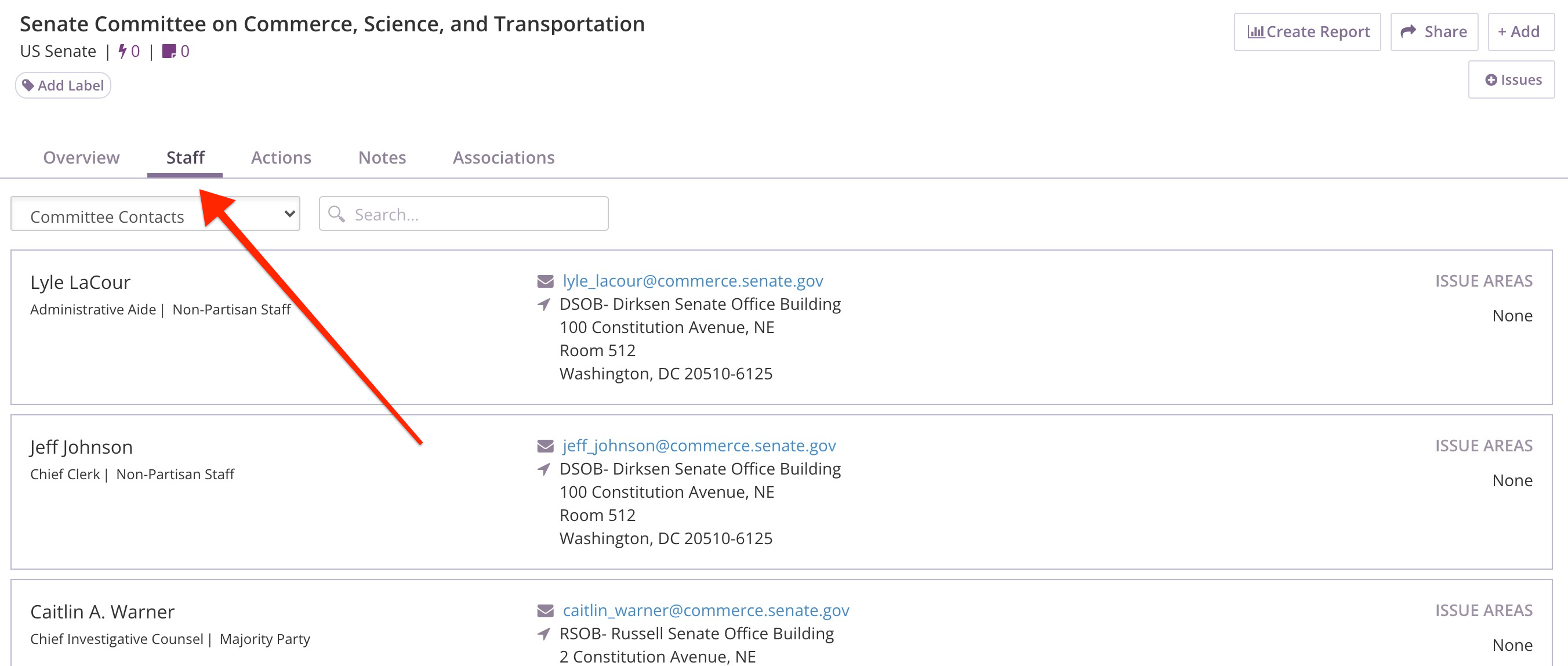 Actions, Notes & Associations
The remaining 3 tabs in the sub-menu of Committee Pages -- Actions, Notes & Associations -- are meant for your own work. Each page is designed to serve as a work hub for you and/or your team.
As Actions are added and linked to the Committee Page, a running record of the relationship and key events begins to become clear over time: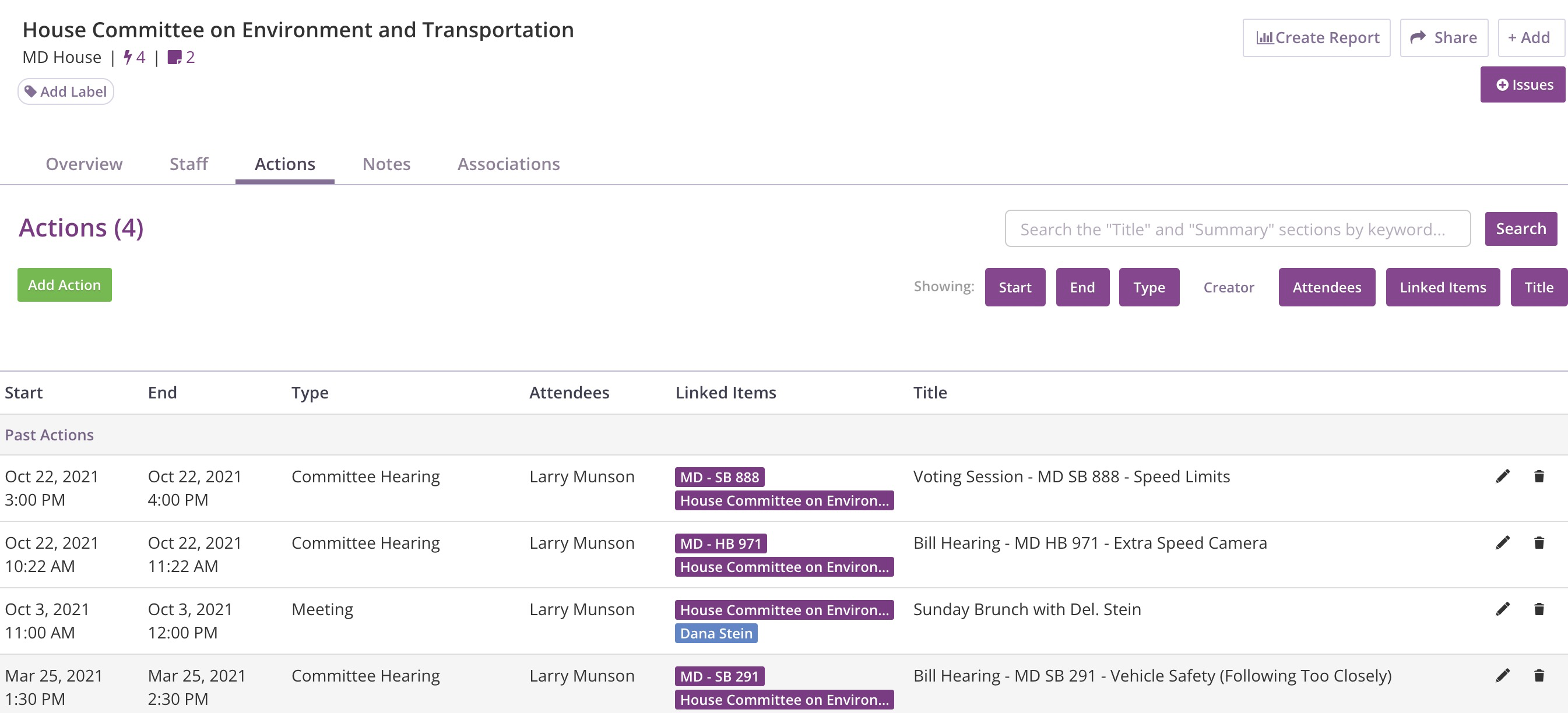 Notes & Associations are meant for storing quick bits of information or external resources related to the Committee, such as important websites and external files:

**Click here to learn more about using Actions, Notes & Associations on committee pages to streamline your work.