Why are Federal & State Committee Pages Different?
In an effort to make your life easier, state and federal committee pages were designed to look the same. Basic Information, Rosters and Committee hierarchy can be found in the Overview, and any available staff contacts can be found in the sub-menu.
State and federal committees aren't always identical, however. Each particular legislature has a different modus of operandi by which information is made available to the public. As such, the information that can be gathered across all state legislatures will be normalized and look the same. Other information, however, will not be available on state committee pages, such as Transcripts.
Read below to learn more about the differences and how to leverage each type of committee page in FiscalNote.
How are they Different?
Federal committee pages offer a few extra tools to help manage committee work.
For example, Following and Transcripts are only available on Federal Committee pages.
Following
Following allows you to be notified via email of potential future committee events (once they have been scheduled). To follow a committee, find the committee page in FiscalNote and click 'Follow':

When hearings are scheduled, you will receive an email notification from 'FiscalNote Hearings':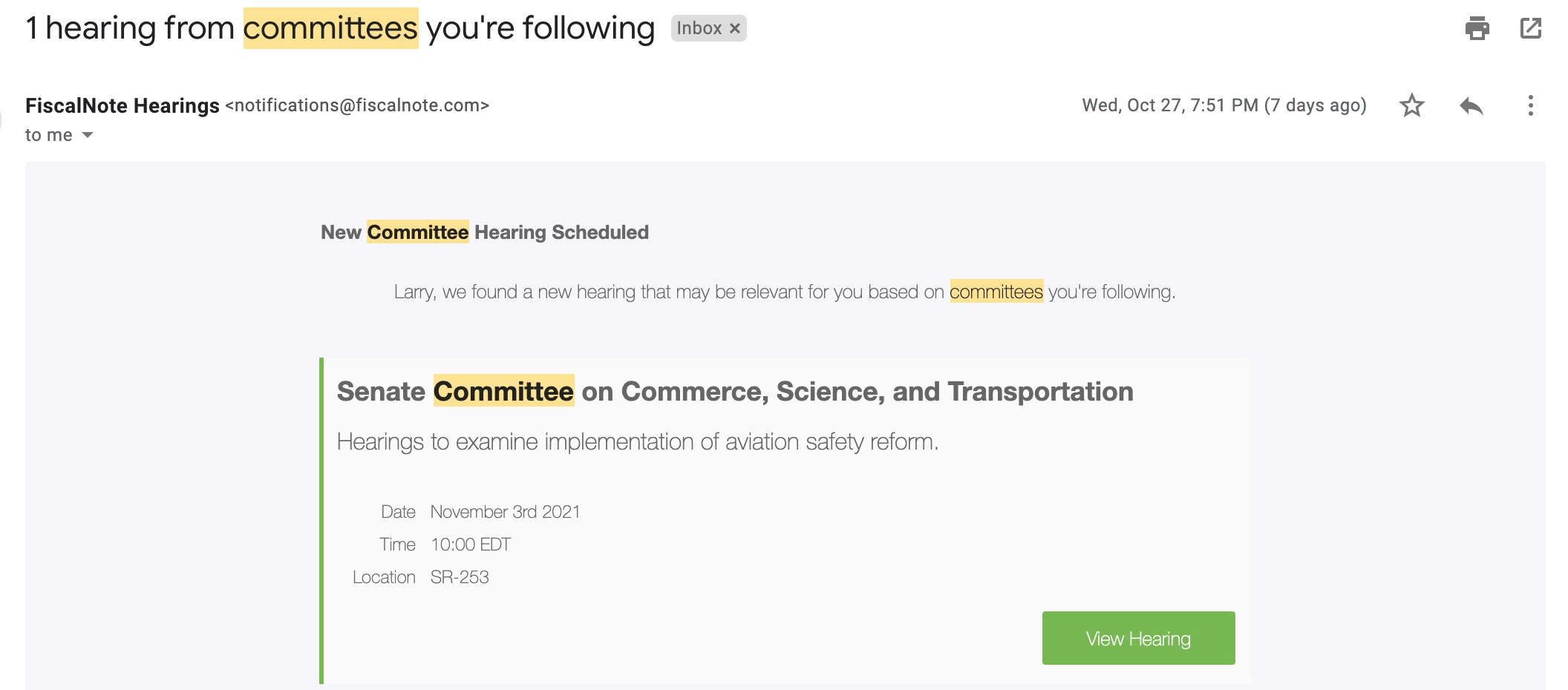 Transcripts
After a federal committee hearing occurs, you may want to review the transcript to ascertain any potential risk or opportunity stemming from the discussion.
Click 'Transcripts' within the Overview of a committee page to find them: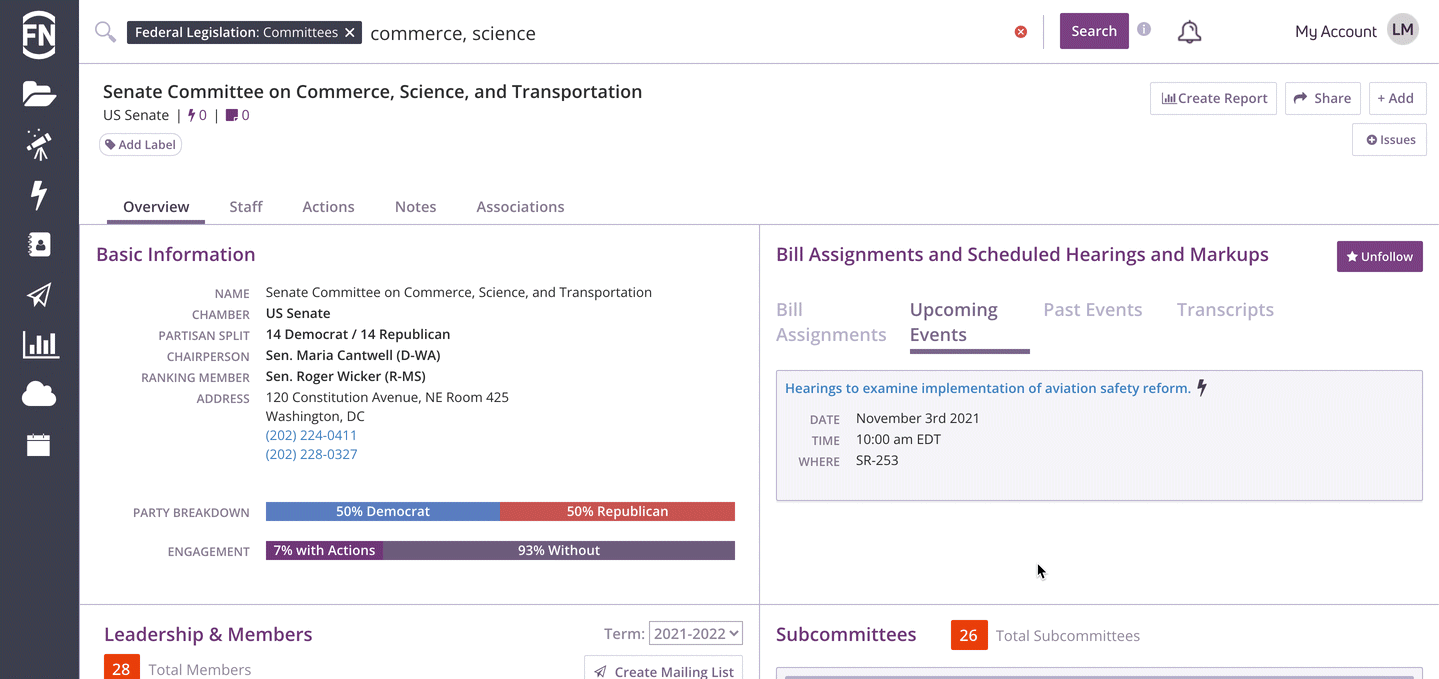 Much like Hearings, Transcripts provide a direct link to the resource (in the above example, the original PDF).
NOTE: Some committee transcripts may be loaded, but not all. We cannot guarantee complete coverage. If Federal transcripts coverage is important, we recommend speaking to your Account Manager about CQ Federal.
Caucuses
Much like the 'Following' option, searching by caucus is only available on the federal level. Federal caucuses may hold some of your top stakeholders, as members are generally interested in pursuing like-minded legislative opportunities, as opposed to a committee's more standard responsibility of reviewing proposed legislation.
As such, treat them with care and organize federal caucuses for future access.
First, find Caucuses by using the 'Type' filter when searching Federal Committees: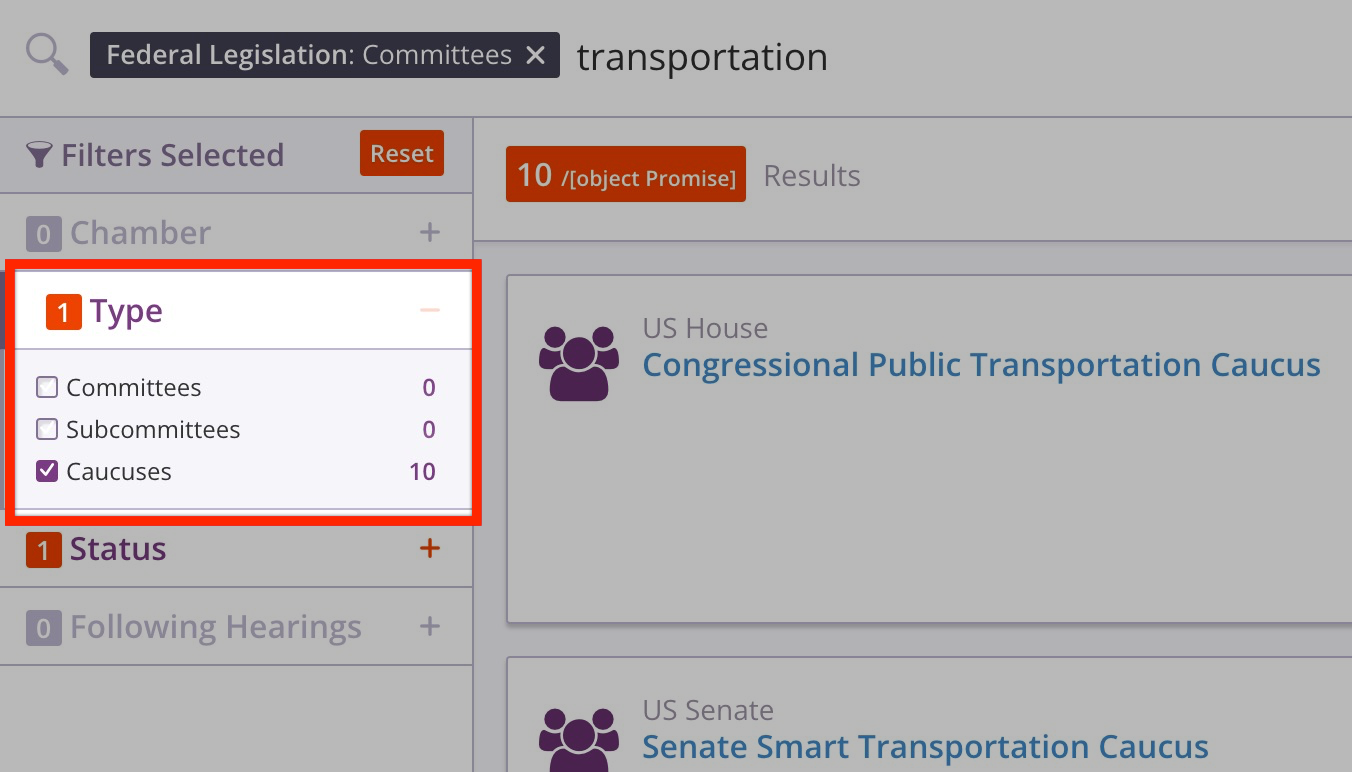 When caucuses of interest are uncovered, Add them as Stakeholders to any correlating Issues:

How to use them:
Due to the slight differences in data and functionality between the two, we recommend taking a mindful approach with how you leverage federal and state committee pages, should you have access to both.
Federal
Your 1-Stop-Shop for all committee-related work. Federal committee pages empower you to:
Follow and Track key committee events such as scheduled hearings
Monitor top stakeholders in Transcripts and event updates
Centralize your work with Actions, Notes & Associations
For example: Let's say you're working on a Government Affairs team at a vehicle safety organization. You just uncovered a Transcript that you absolutely know will need to be referenced in the future. Not only will you always know where to find it (the Committee page), but you can also download the file, then upload it to the Committee page for faster peer access: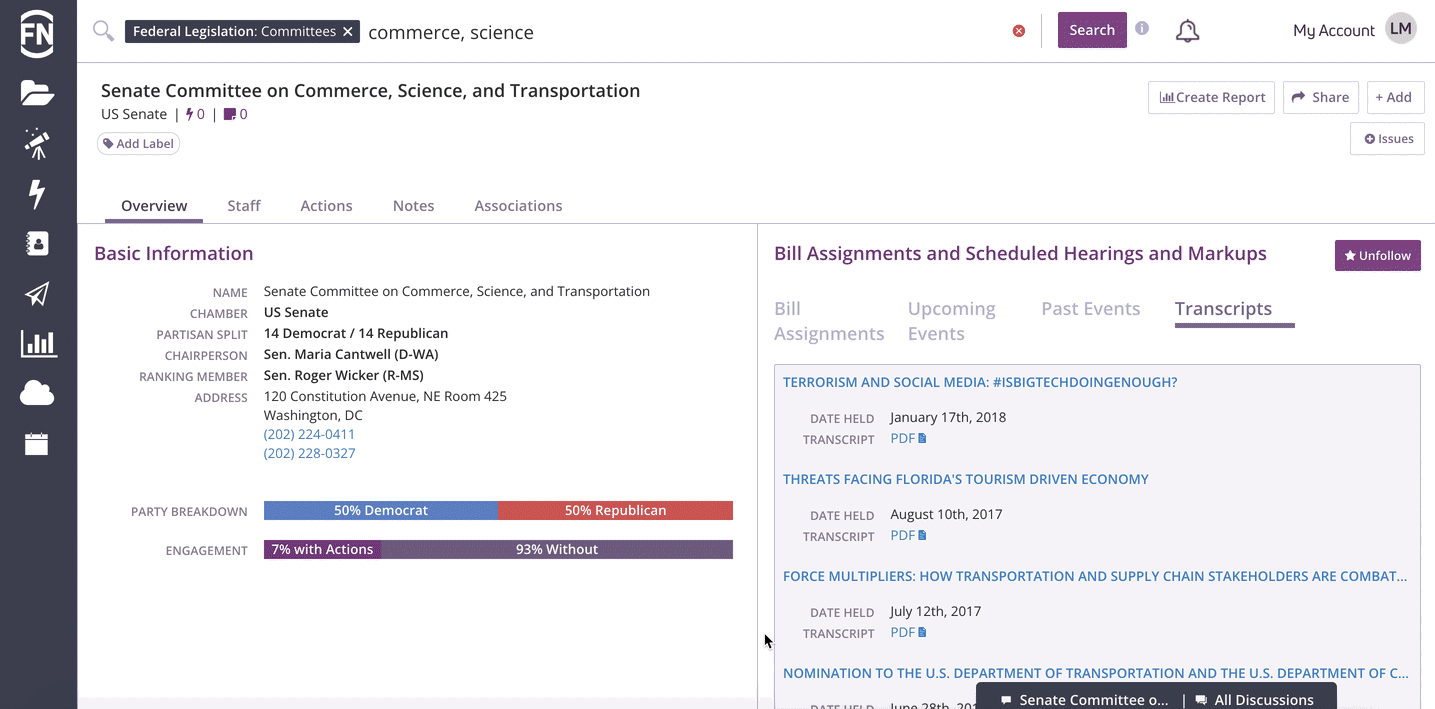 Adding important files such as Transcripts to the Associations tab makes the file both accessible and noticeable, simultaneously raising awareness to any colleagues also working out of the page: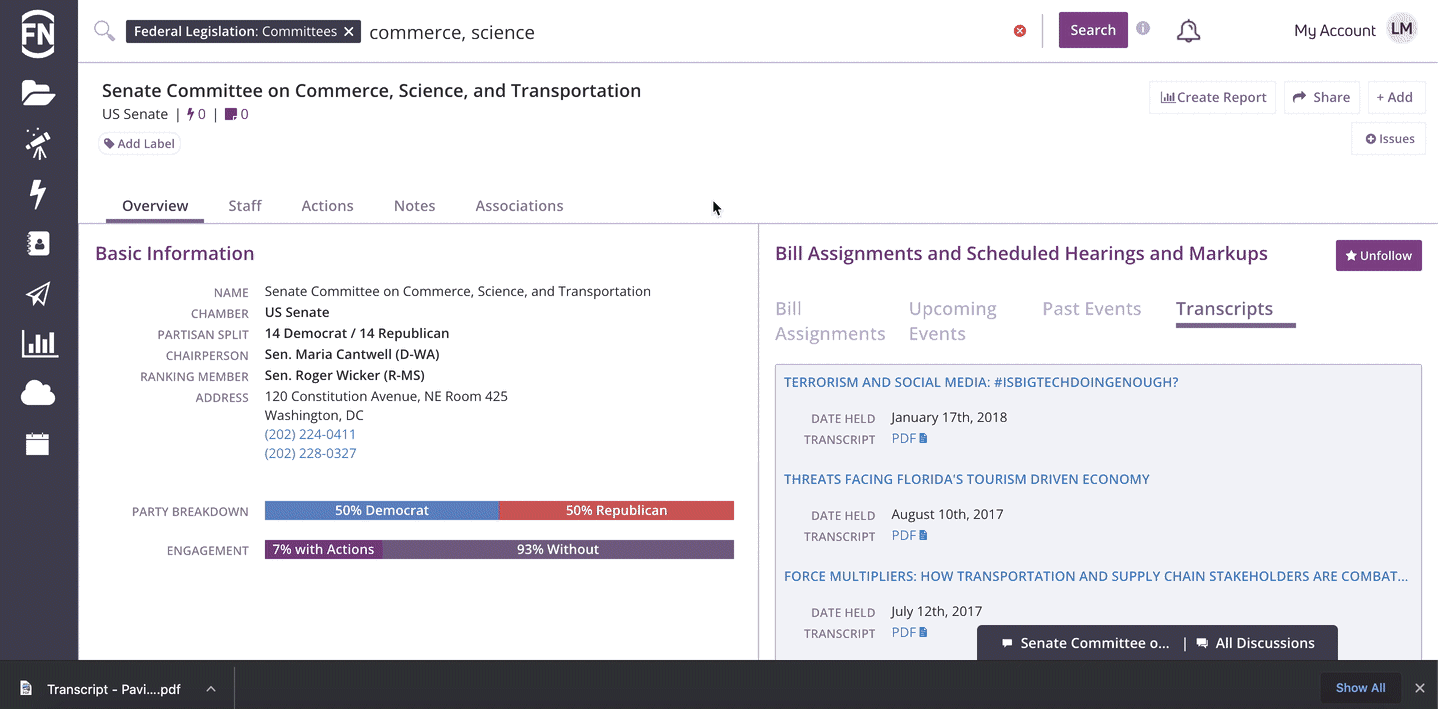 Furthermore, Labels can help add context as to why this particular document is important. Use the tools at your disposal to organize critical resources while also classifying why they require attention. Your future self (and colleagues) will thank you.
State
While state committee pages may not offer 'Following' or Transcripts, they still serve as a perfect hub to centralize your work, just as a Federal committee page would.
Add Actions to document your engagement with the committee and/or its members. Create Notes and upload Files and Links to centralize your collective knowledge and resources in one location: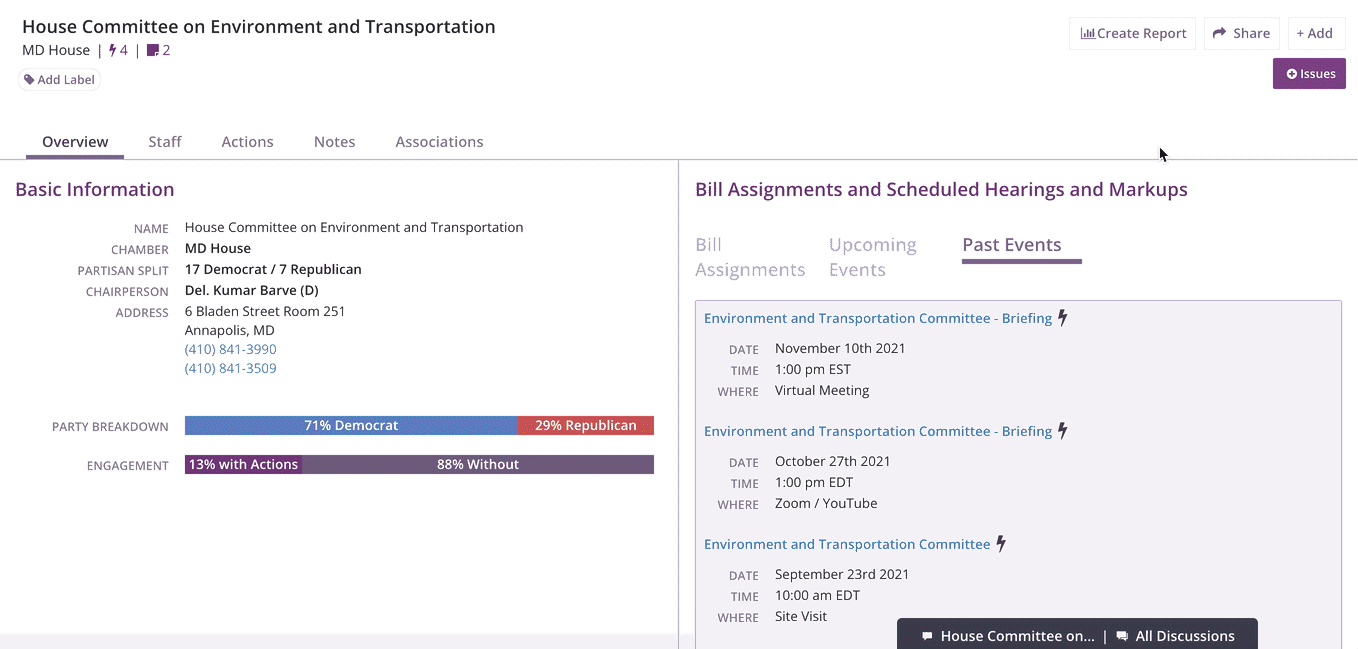 Furthermore, like Federal committee pages, State committee pages also allow you to begin committee outreach work with Mailing Lists. Click the Mailing Lists tab within the Leadership & Members panel of the Overview to get started: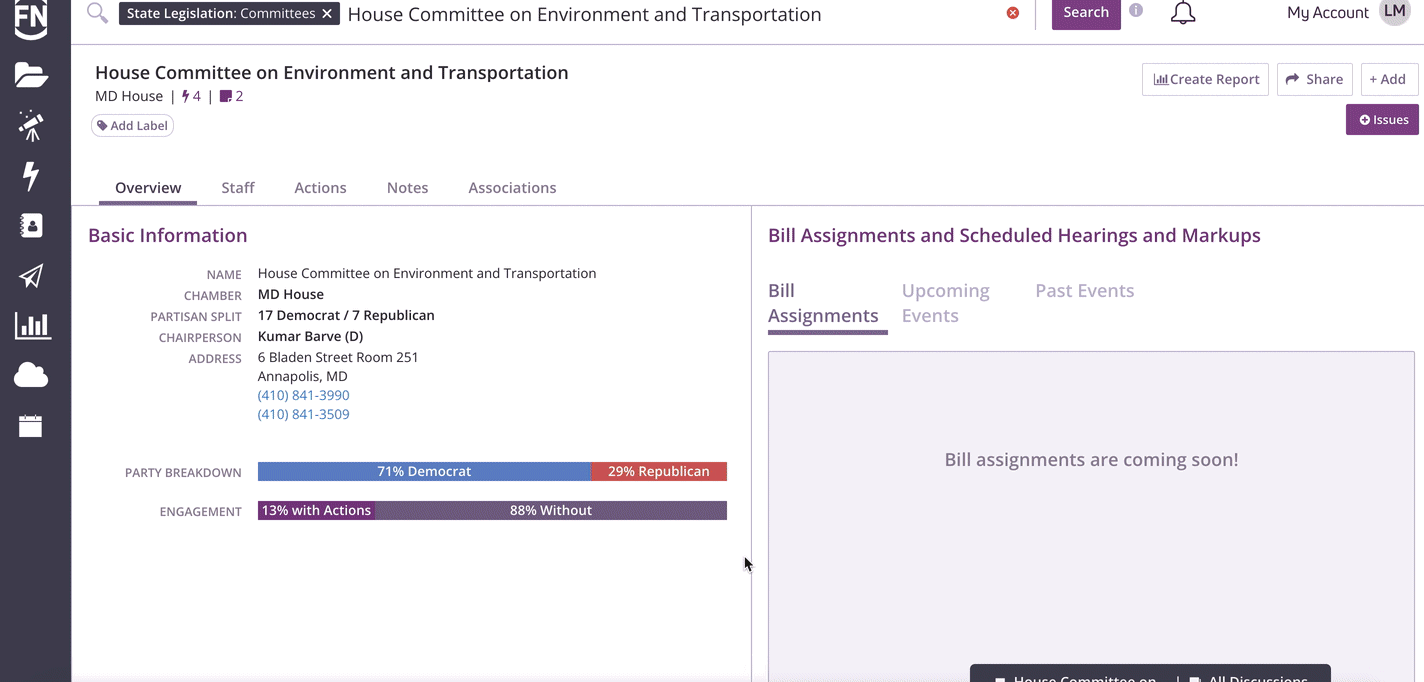 Choose to email staffers of the members on the committee, a specific party, or specific individuals.
**Click here to learn more about Mailing Lists
**Click here to learn more about using Committee pages to your advantage