Introduction
As of September 2021, you can now create visually dynamic, comprehensive reports that include both U.S. legislation and regulations, in addition to Global legislative and regulatory data! Enjoy new data visualizations and create completely holistic global or U.S. policy reports to update your stakeholders in one fell swoop. Read below to learn more about the new Reports offerings, review best practices, and learn the step-by-step instructions to create your own.
What's New?
Global policy can be included!
Rather than relying on spreadsheets provided by Exports, you can now create visual reports for the global policy you're monitoring. Legislative and regulatory data from different countries and regions can even be included on the same report. When reporting out by Bill Status for multiple countries, use this guide to learn how statuses have been normalized for each legislature into 6 "buckets": Introduced, Considering, Passed, Failed, Inactive, Other.
One comprehensive report for legislation and regulations.
Previously, separate Reports and Exports were needed to share important legislative vs. regulatory data. Moving forward, you can now capture both bills and regulations in one visually dynamic report.
Refreshed look and feel with more data visualizations.
Mirroring several 2021 platform updates such as Stakeholder Reports, Enhanced Policy Reports provide a new look and feel to your information. View total bills by Issue, regulations by Issue, and even enjoy global maps showing policy concentration across different legislatures: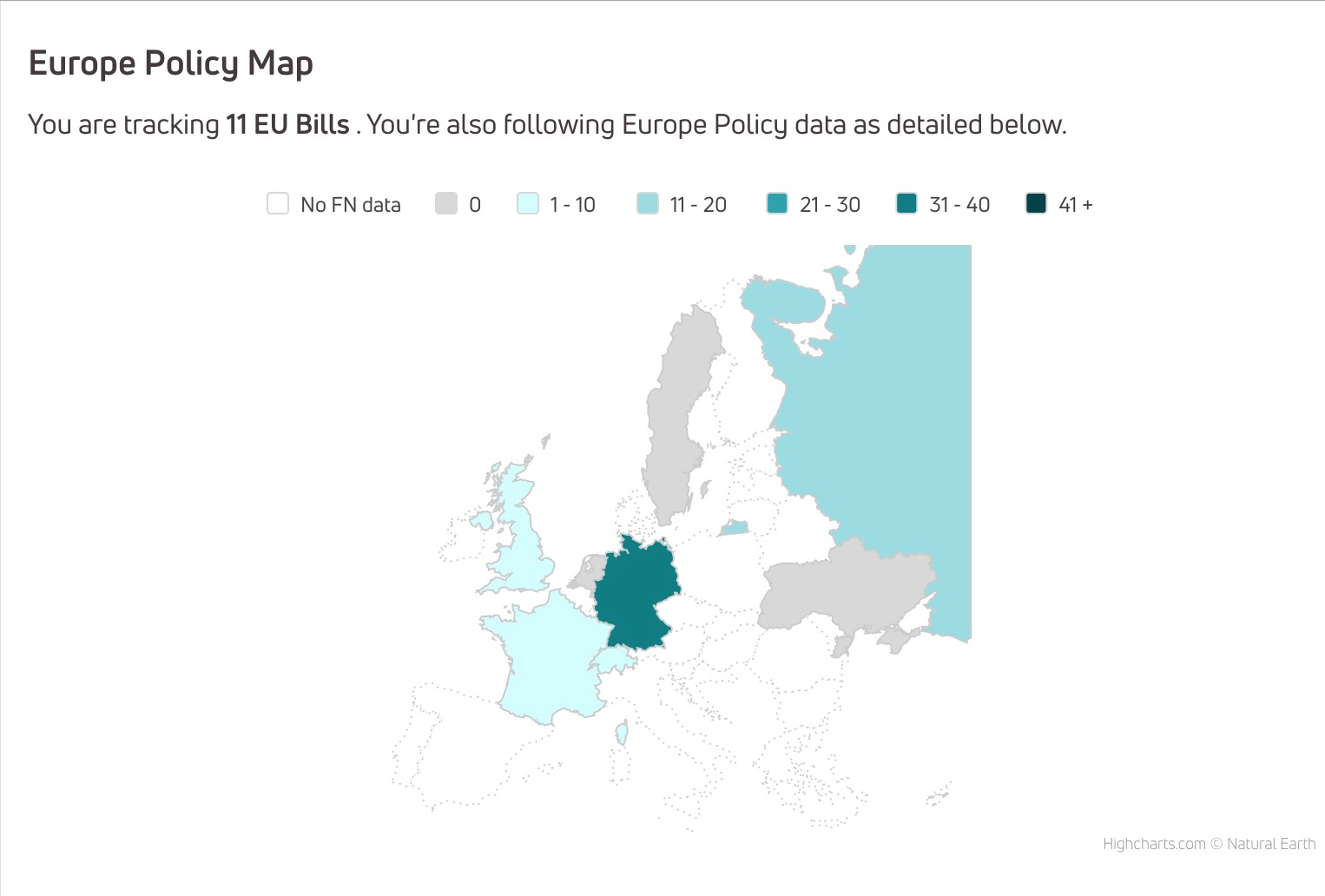 Dynamic updates.
Once you create a report, it will auto-refresh when accessed in the future. If you've chosen to report on specific policy documents, that information will update to reflect any new developments. If you've chosen to 'Select All' policy results after choosing your Report filters, any new bills or regulations that have been added to the relevant Issue pages since the Report was last viewed will be displayed.
For example: Larry at Safe Vehicles USA is provided a comprehensive policy report from his colleague, Malcolm, which captures all global legislation and regulations of interest from all Issues. Larry received the report via a Shareable Link. Afterwards, Malcolm's Government Affairs team continues to add important new policy documents to Issues. When Larry accesses the report in 4 weeks to review his monthly update, any new bills or regulations picked up by Malcolm and his team will already be displayed. Malcolm will not have to go back and "refresh" the report to produce a new version for Larry.
Shareable links do not expire.
Similar to the legacy Reports, you can generate online, shareable links for the Enhanced Policy Reports. With legacy Reports, recipients of Shareable links could leverage the Report online until it expired (after 14 days). With Enhanced Policy Reports, shareable links do NOT expire, and will capture any newly added bills or rules when the link is refreshed.
How It Works: Building an Enhanced Policy Report
Enhanced policy reports can ONLY be created from the new 'Reports' landing page.
1. Click 'All Reports' from the Reports drop-down menu:


2. Click 'Create Policy Report' on the top-left of the page:


3. Policy data that you have previously added to an Issue (or tagged with a Label) will auto-populate here. Use the filters on the left to narrow down your focus:

The following filters are available to help collect the policy data you need:
Type (Bills, Regulations)
Issues
Labels
Date
Location
Priority
Position
Bill Status**
**Bill Statuses for global legislation have been normalized into 6 potential 'buckets' to help streamline reporting needs. Click here to review how statuses are broken down for each available legislature.
4a. To report out on a handful of specific policy documents, un-check 'Select-All' after leveraging Filters. Next, use individual checkboxes to choose the ones you need.
*To build a report that will update in the future to display bills and regulations that your team continues to add to Issues, do NOT alter the checkbox selections. Keep 'Select All' checked and skip to step 4b.
4b. Click the 'Next: Review and Edit' button on the top-right of the page. FiscalNote will get to work and automatically build your Report, producing a preview for review:

5. Click 'Edit Report Sections' to customize which visualizations and data you would like to include:

**We highly recommend re-naming your policy report as soon as you create it. If not, your report will be saved as generic name with the date, such as 'Policy - Jun 28, 2022'.

6. Click 'Save as PDF' and re-access your downloadable report back on the 'Reports' landing page. Or, click 'Share' to send a shareable link to others (accessible by FN and non-FN users - this link will not expire).

Sharing Enhanced Policy Reports
After building a new Report, you will be presented with the option to 'Save as PDF' or 'Share'. The decision is not final -- you may also generate Shareable links or download PDFs from the saved Report in the Reports Center:

You can enjoy some time back in your operational work flow as well, as recipients can simply refresh the URL in their browser or access the Shareable link in the future to review any updates.
Best Practices
Use shareable links for reports that are being leveraged across multiple stakeholders or teams.
Once recipients have the link, they can simply refresh it to review all of the most recent developments, without having to ask for and then re-download another report.
Continue using the original Legislative Reports to produce data visualizations on team activity with Actions.
Unlike the original Legislative Reports, Enhanced Policy Reports do not allow for reporting out on Team Actions. If your team needs to continue showing how their efforts may have impacted U.S. legislation in the same policy report, continue using Legislative Reports.
If you need to compare Reports month over month (or other intervals), download a PDF each time.
Shareable Links will continue updating with new information. We recommend downloading a PDF version at each interval to create a 'snapshot in time'. Change the Title before downloading to reflect the month (or other interval) accordingly, and save your files.
If you need a Report delivered to you, your peers, or other stakeholders at specific intervals, you can now choose 'Schedule Report' and FiscalNote will deliver the newest version via email.
New as of November 2021, Scheduled Reports are designed to give you more time back in your day to day workflow. Once a Report that will need to be reviewed weekly or bi-weekly has been created, let FiscalNote deliver the updates on your behalf. Click here to learn more about Scheduled Reports.
FAQ
Q: What policy data can be included in the new, Enhanced Policy Reports?
A: Enhanced Policy Reports support global policy data for the following:
North America

: U.S. Federal, U.S. State

*

, Canada, Mexico

South America

: Argentina, Brazil, Chile, Colombia, Peru,

Europe

: EU, France, Germany, Netherlands, Russia, Sweden, Switzerland, Ukraine, UK

Asia-Pacific

: Australia, India, Indonesia, Thailand
*Old U.S. state regulatory data cannot be included in reports (only U.S. State Rules & Notices).
------------------------------------------------------------------------------------------------------
Q: I'm signed up for FiscalNote Professional Services's U.S. Policy Analysis & Reporting. Will I receive a different kind of Report now?
A: No.
The U.S. Policy Analysis & Reporting service will continue to exist and be delivered, as is, via the original Legislative reports.
------------------------------------------------------------------------------------------------------
Q: Can recipients of Enhanced Policy Reports click policy titles to access Shareable Pages, where other resources such as Documents can be found?
A: Yes & No.
With Enhanced Policy Reports, recipients will be able to access full bill or regulation pages only if they have a FiscalNote account. If the recipient does not have a FiscalNote account, they will be directed to the FiscalNote login screen.
------------------------------------------------------------------------------------------------------
Q: Can I add a logo to Enhanced Policy Reports (similar to the legacy policy reports)?
A: Not at this time.
Please continue using the original Legislative Reports if this is a need, and keep an eye out for notices about future updates.
------------------------------------------------------------------------------------------------------
Q: Can I include data or visualizations on our 'Team Actions' (similar to the legacy policy reports)?
A: Not right now.
If you rely on this information for reporting needs, please continue to use the original Legislative Reports. Alternatively, you may track actions on key stakeholders with the new stakeholder reports.
------------------------------------------------------------------------------------------------------
Q: How long are the shareable links for the Enhanced Policy Reports available?
A: They don't expire!
Users and non-users can access the shareable links for Enhanced Policy Reports at any given time. Additionally, links will auto-refresh to capture any updates to the information included.
For example: when a new bill or rule is added to an Issue that is included in the report, it will auto-populate on the report link when a recipient accesses the Report in the future.
------------------------------------------------------------------------------------------------------
Q: I like to create Reports directly from an Issue page. Will that process change?
A: No.
Creating Reports from an Issue page will still direct you to the original Legislative Reports or Regulatory Exports builders. If you wish to build a single Issue Report with the Enhanced Policy Reports presentation, head to the new Reports Center to build your policy Report.
------------------------------------------------------------------------------------------------------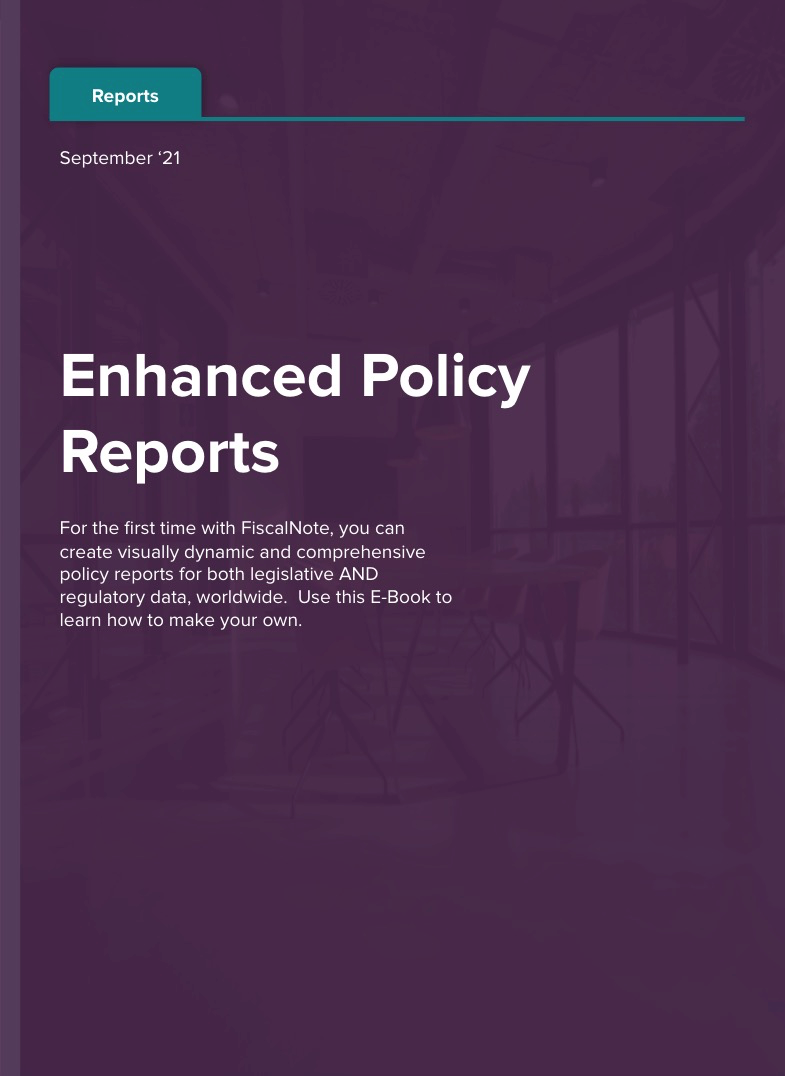 View a Sample Online!
See it in action: Click here to see a sample "Vehicle Safety" Report and review how you can interact with it online. Click bill titles to dive into the content deeper and hover over visualizations to interact with the data within.