Introduction
We understand you likely have a unique workflow in mind for FiscalNote. And that's fantastic! If/when you begin to leverage User Groups, use what we call 'The 3 Main Group Types' as a starting guide for your efforts. They're the 3 most common types of Groups leveraged by FiscalNote clients: Department, Project, and External.
Video
The 3 Main Group Types:
Department
One of the most common reasons FiscalNote teams leverage Groups is for Departmental work. Some teams have multiple users from different Departments at their organization, each responsible for working on their own initiatives and topics. Other teams have a few users responsible for reporting out to various internal Departments and need an easy method to streamline their legislative updates.
Regardless of the unique Departmental need, Group-based Issues help accomplish your goals. When creating an Issue, use the Permission panel to determine which Group should use it privately: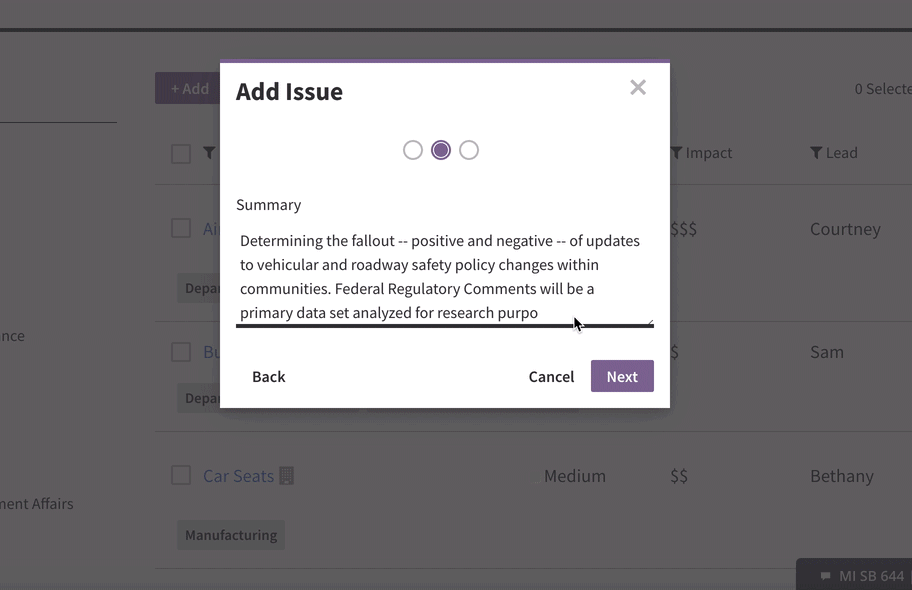 The icon next to the Issue name on the Issue list page will indicate whether the Issue is a Group-based Issue or not:

Only members who have been added to this group will be able to see the Issue, add policy to it, and create Reports for the policy within. When building Legislative Reports or Regulatory Exports, use the Issue Filter to report out on policy updates for the Group: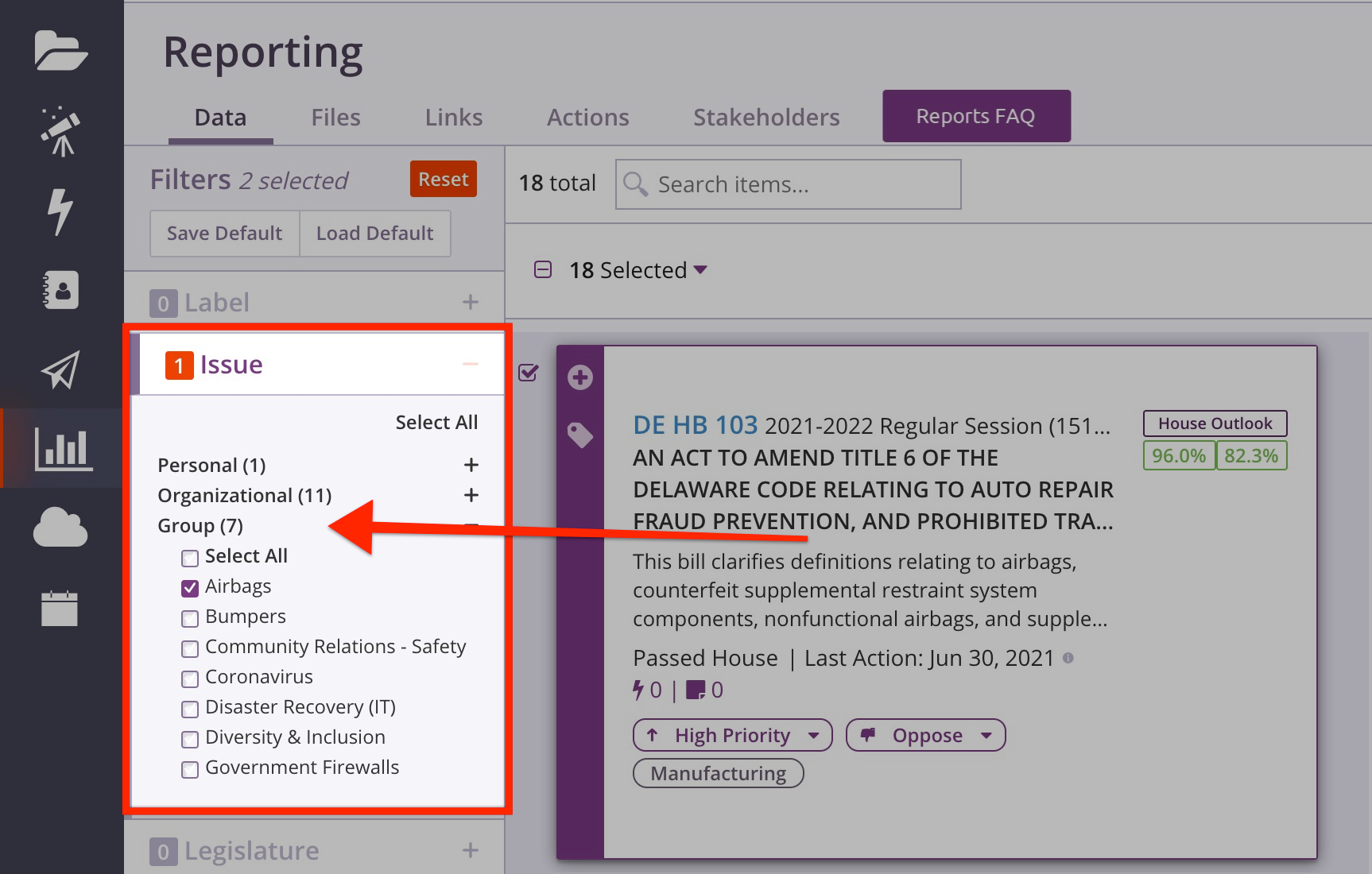 Project
There may be times when a team working cohesively on all Issues has a task pop up that only a few members are responsible for. Group-based Issue and Group Notes allow these teammates to collaborate and work separately from their colleagues. Members can collaborate both within the Issue and also throughout the platform. Under the Notes section of various pages, use Group Notes to mark important details: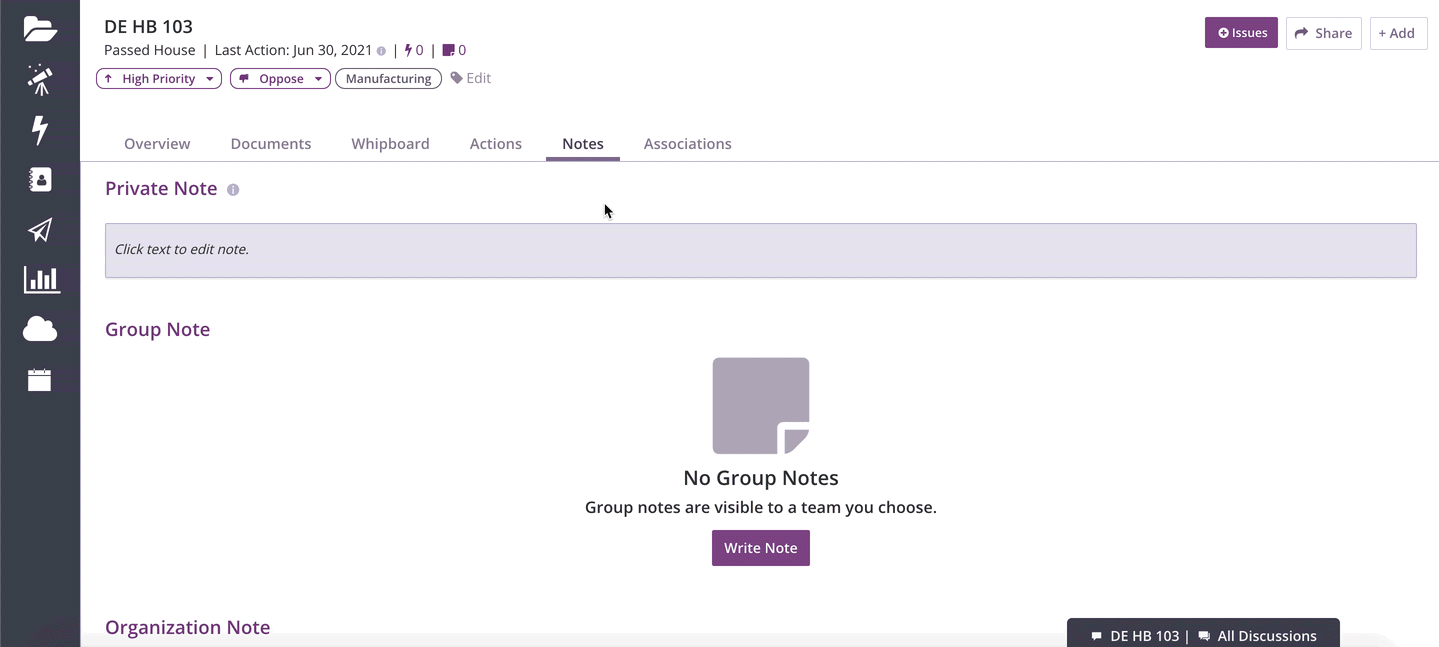 Keep in mind, Group Notes may be included in other Reports, such as Stakeholder Reports: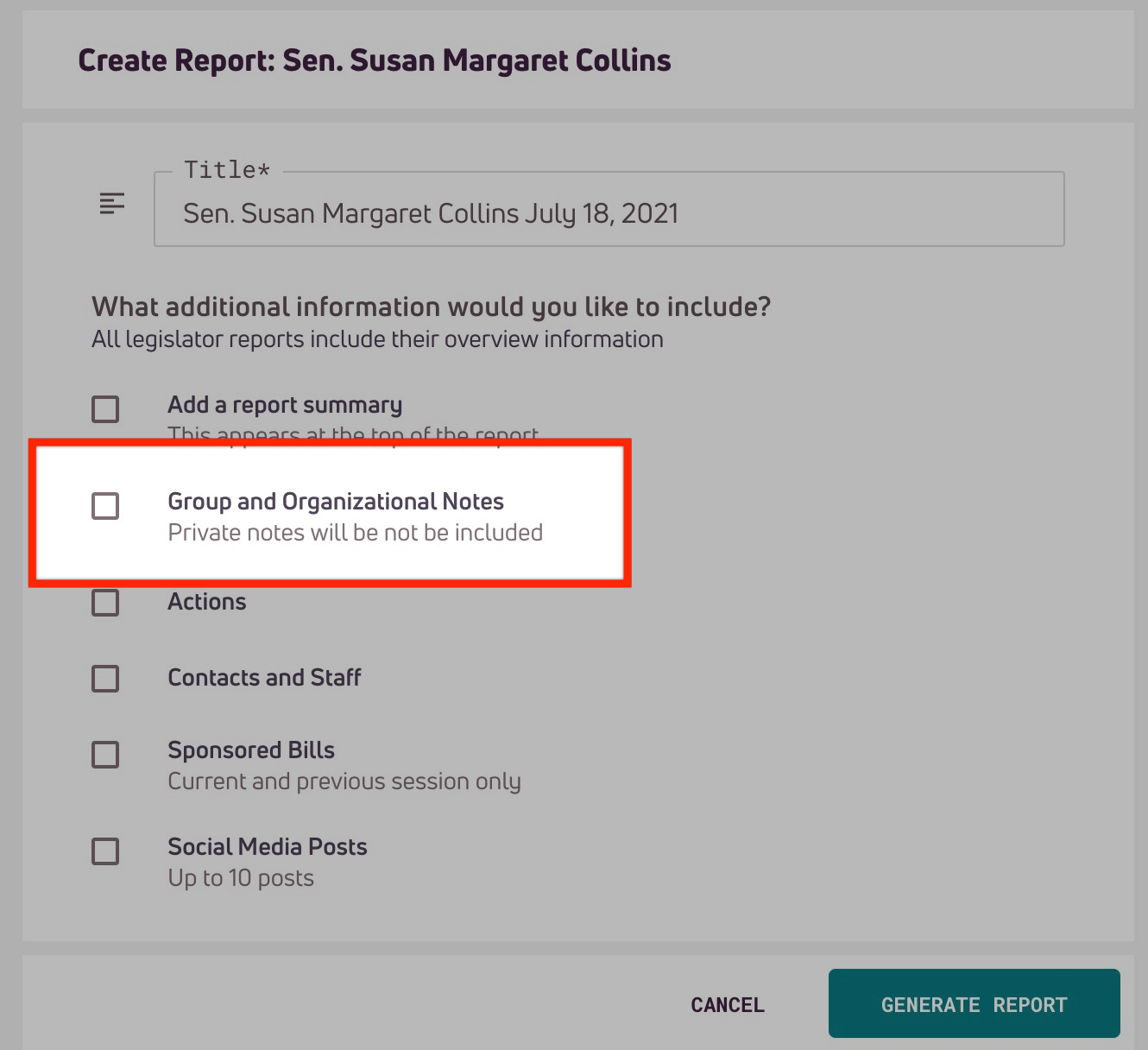 **Click here to learn more about Notes
**Click here to learn more about Stakeholder Reports
External
Creating a place for hired contractors or external counsel who have a license to your FiscalNote environment to work separately is perhaps the one of the most straightforward reasons to leverage Groups. Especially when your external help isn't restricted with a Read-Only license, Groups allow them to complete their work as necessary.
NOTE: If other Issues are set to Organizational access, external help will still be able to see them. Review permissions settings for ALL Issues if you need them to work entirely separate.
The 3 Main Group Types: Best Practices
Organizing Names
To help not only yourself as a Systems Administrator, but also your team members, we highly suggest using a naming mechanism of some kind when employing User Groups in FiscalNote. It aids in both organization management and user familiarity.
For example: if using the 3 Main Group Types, you might use the type as a precursor to the title:
Department: Finance
Project: Stakeholder Analysis
External: Contractor Assistance
Sample names using the 3 Main Group Types might look like the following in FiscalNote: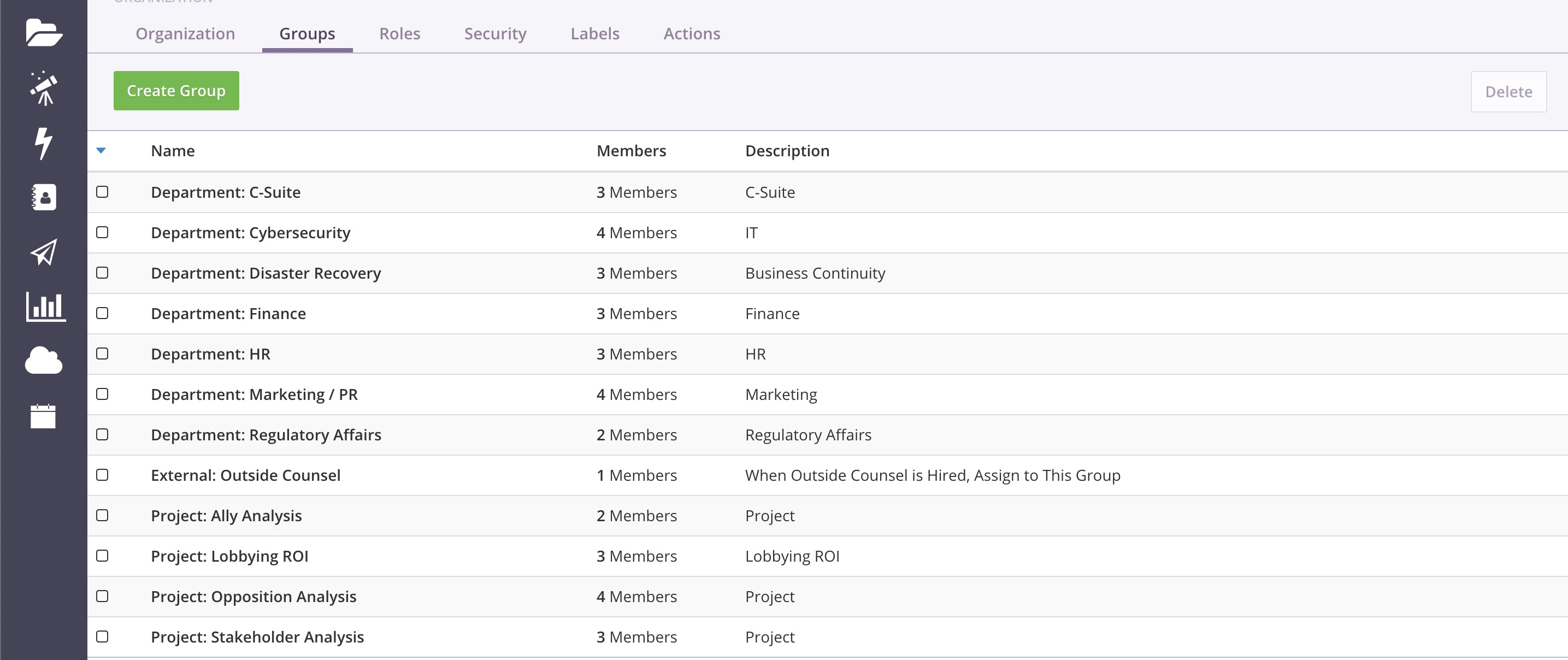 Working with External Help
It's highly important to review Issue permission settings for every Issue when external help is working alongside you in FiscalNote. While Groups may be a great way to instruct them to perform their work, their FiscalNote account will still grant them access to Organizational Issues. Furthermore, if they don't have Read-Only access, they can alter organizational data.
If you need to restrict them from viewing Organizational data, do the following:
1. Create a Group and call it 'Internal'. Add all users from your internal team.
2. Change the Permission settings for all Organizational Issues to Group - Internal: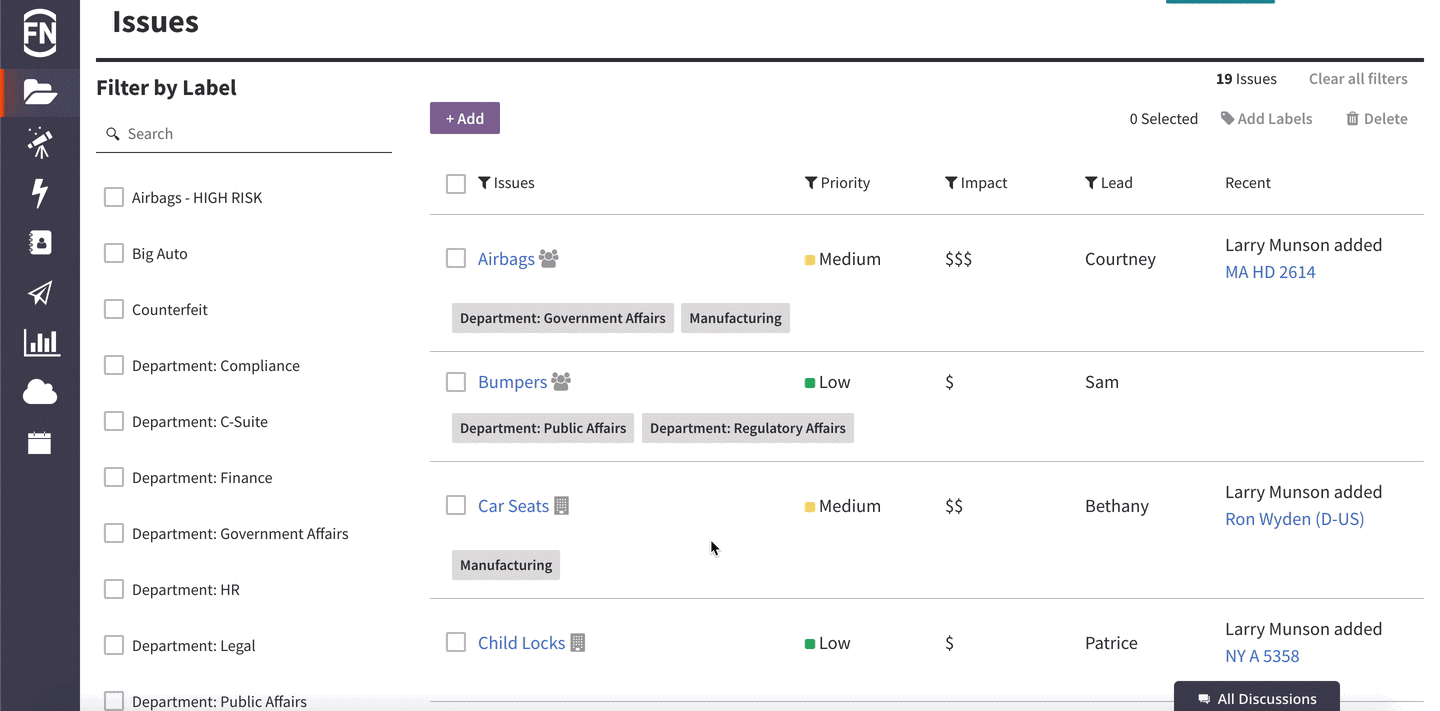 3. Create a Group and call it 'External'.
4. Instruct External help to use Issues with Permissions set to Group: External