Introduction
Do you need to analyze your work with key stakeholders to evaluate the state of the relationship, reassess your team's engagement strategy, educate other stakeholders, or maybe prepare colleagues for visits to the Hill?
We've heard similar feedback from a lot of you, our clients, which is why the FiscalNote team is thrilled to introduce Stakeholder Reports!
Quickly generate professional looking PDFs, complete with visual breakdowns of how legislators align with your organization, how your team interacted, committee rosters with party splits and accompanying headshots, and more! Read on below to learn which data sets Stakeholder Reports are available for, how to create them and tips for getting started.
Video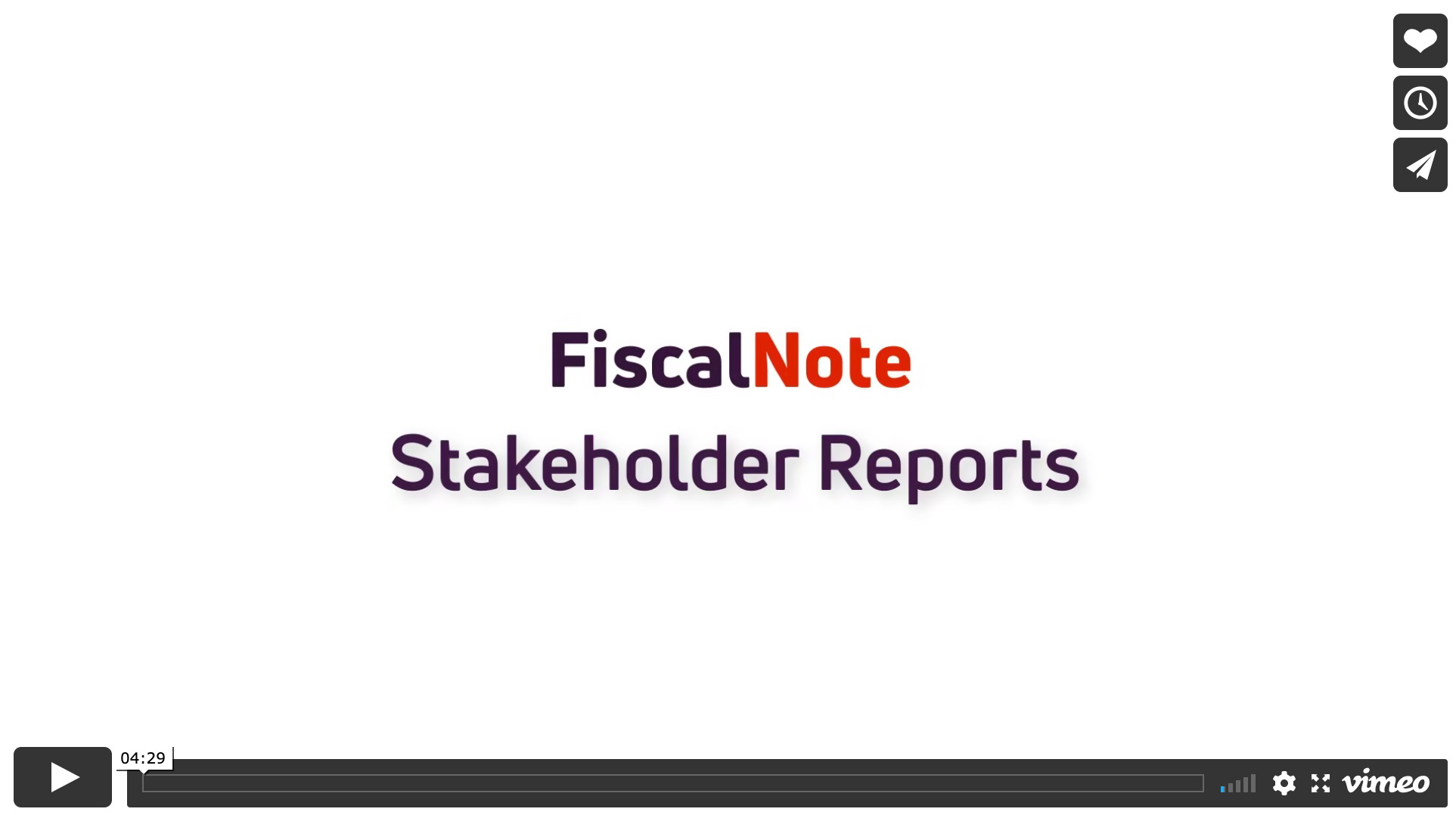 Who Can I Make Stakeholder Reports For?
US State & Federal Legislators, Executives & Committees
EU Commission & Council of the EU
Custom Contacts (Individual & Organizational)
Head to the Directory from the top navigation menu to find your stakeholder(s), whether they are Legislators, Executives, Committees, or even your own Custom Contacts.
Apply Filters as necessary to aid your efforts:

Creating a Stakeholder Report: The How-To Steps
1. Find your Stakeholder in FiscalNote and click the 'Create Report' tab on the top right of their page:

2. Choose which information you would like to include in the report. The available data will vary by stakeholder type. For example, only Legislators have Social Media Posts as an option for inclusion: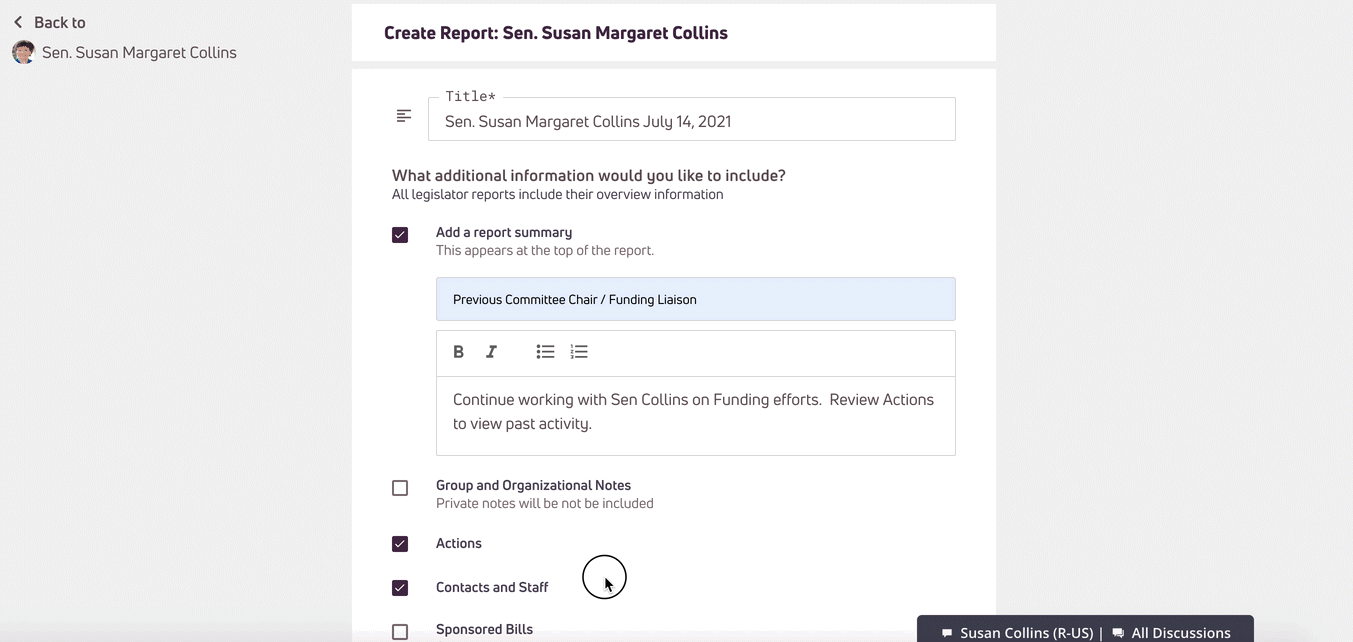 Give your report a title and click Generate Report. The ensuing screen gives you the option to either download as a PDF, or share the information via the web:

Once finished, you may access your Stakeholder Report in the Reports Center.
Tips & Best Practices
1. Customize the About sections on stakeholder pages to include that information in your report:

2. Keep Your audience in mind. Do not include possibly sensitive information from Group or Organization Notes if presenting the information Externally, for example.
3. Mark any bills of interest by organizational Position: Support, Monitor, or Oppose. If the Stakeholder Report is being designed for a Legislator, include 'Sponsored Bills' to illustrate how any of those bills sponsored by the Legislator in question are broken down by Bill Status and Issue: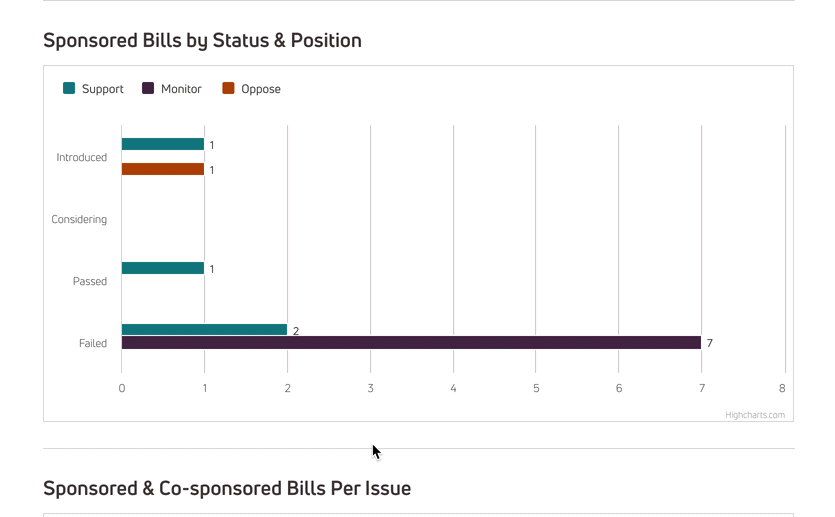 FAQ
What data can I include for US Legislator Stakeholder Reports (Federal and State)?
Name, Title, Jurisdiction, Status, Photo, social URL, Name Pronunciation
Party, Chamber, Years in office, Re election
Contact information, Address, Phone, Email
Contact Type
Biography
Custom About Summary (User generated)
Committees
Sponsored Bills
Actions, Notes, Linked Items
Staffers
Labels, Issues
Tweets
What data can be included in Stakeholder Reports for Custom Contacts?
Contact Type
Name
Email, Phone Number, Address
Any Biographical Data Available
Title
Position
Organization
Notes
Actions
Labels
Issues
About Summary
Linked items
What happens if some biographical data isn't available for one of my stakeholders?
Answer: It will not be displayed, and there will be a blank space in its place.