Introduction
User Role controls is a feature unique to System Administrators. If you're like most teams using FiscalNote, you likely have 1 person who is a System Administrator (usually the team lead). If you are the only Systems Administrator on your team but wish you had colleagues to bounce ideas off-of, fear not! We are here to help. Review what we recommend doing for each feature with Custom Roles, as well as our suggested tips for User Roles management below.
Video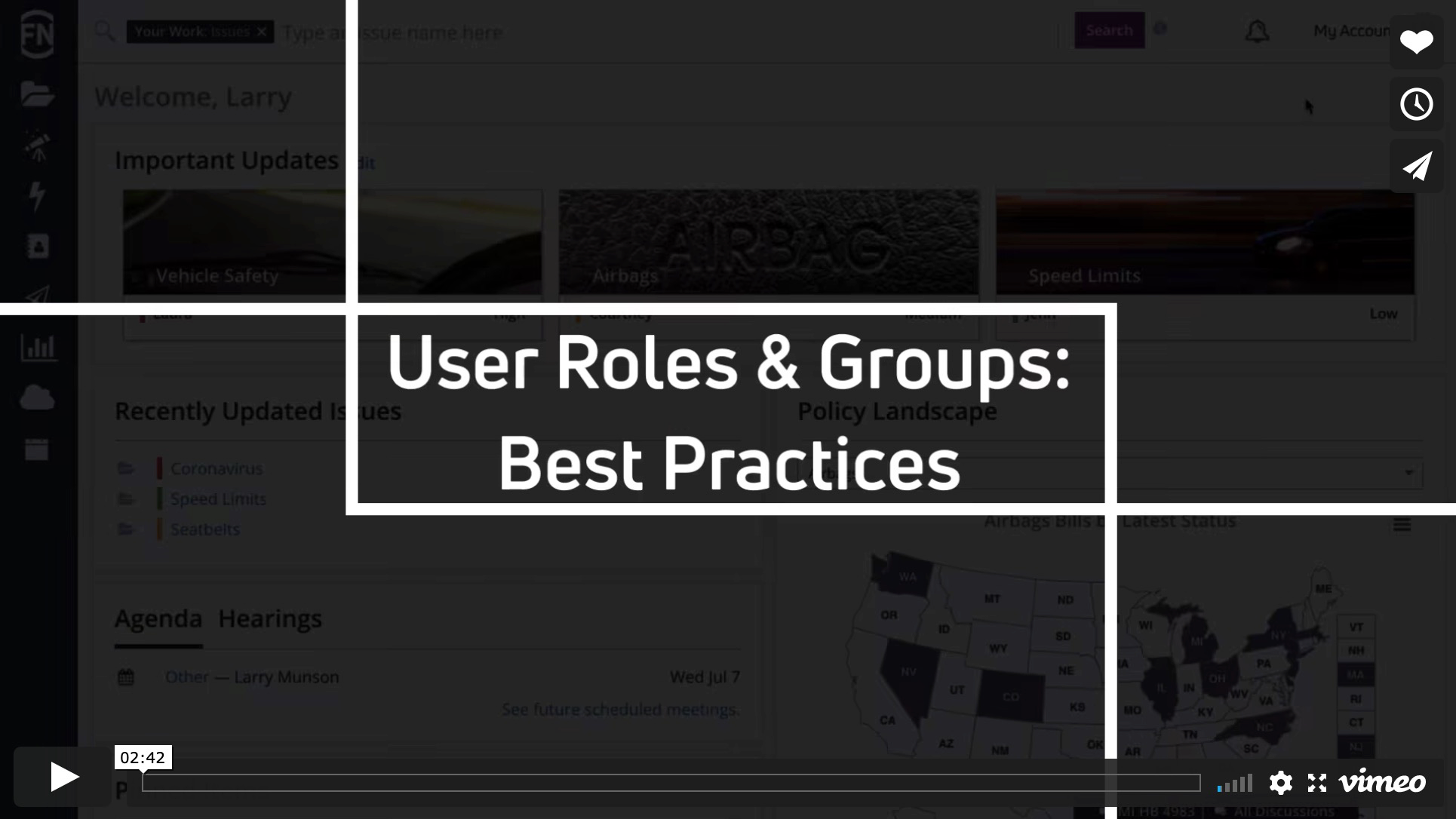 Securing System Administrator Access
System Administrators are the "keepers of the keys" to your FiscalNote environment. They have the ability to create other User Roles, change User Role assignments, create Groups, and more. As such, it's critical to always know whose account is assigned this role, any why.
Those with System Administrator accounts will see Organizations Settings in the 'My Account' dock:

Head there to view the Roles page. Click the hyperlinked 'Members' link of System Administrator to ensure the user list is accurate. Remove anyone who should not have System Administrator access immediately:

Add or remove colleagues as necessary, but always remember who has System Administrator access at any given time.
**Click here to learn more about the System Administrator user role.
Ensuring Accurate Role Assignments
After securing System Administrator access, ensure the rest of your team is set up for success. Review the Member lists for each Role. Change access to the FiscalNote features and information as necessary for them to perform their job:

The numbers indicating total Members assigned per role will update after clicking 'Submit'.
Using a Naming Mechanism for Groups
To help not only yourself as a Systems Administrator, but also your team members, we highly suggest using a naming mechanism when employing User Groups in FiscalNote. It aids in both organization management and user familiarity. For example, on the Issues list page, users will be able to work more efficiently when quickly recognizing which Issues are being worked on by which Group they belong to:

We recommend using the 3 Main Group Types to start, but when branching out to more custom needs, use a single name as a precursor. Sample names using the 3 Main Group Types might look like the following:
Project: Opposition Analysis
Department: Cybersecurity
External: Contractor Assistance
User Roles & Groups: Best Practices 1-pager (Click here to download)