Introduction
Let's face it: you know your team better than we do. You know who should have the ability to edit bill summaries, or maybe you have thoughts on who should and should not upload contacts. Regardless of the case, if you have been granted a System Administrator user role, you have the ability to manage your team's FiscalNote workflow and environment.
Understanding Feature Controls
Especially as a Systems Administrator, we highly recommend familiarizing yourself with each feature. Doing so will help you optimize user roles to their highest potential. After navigating to Roles via Organization Settings, try creating a 'Test' role to see how the restrictions work, or to simply view the available features for customization: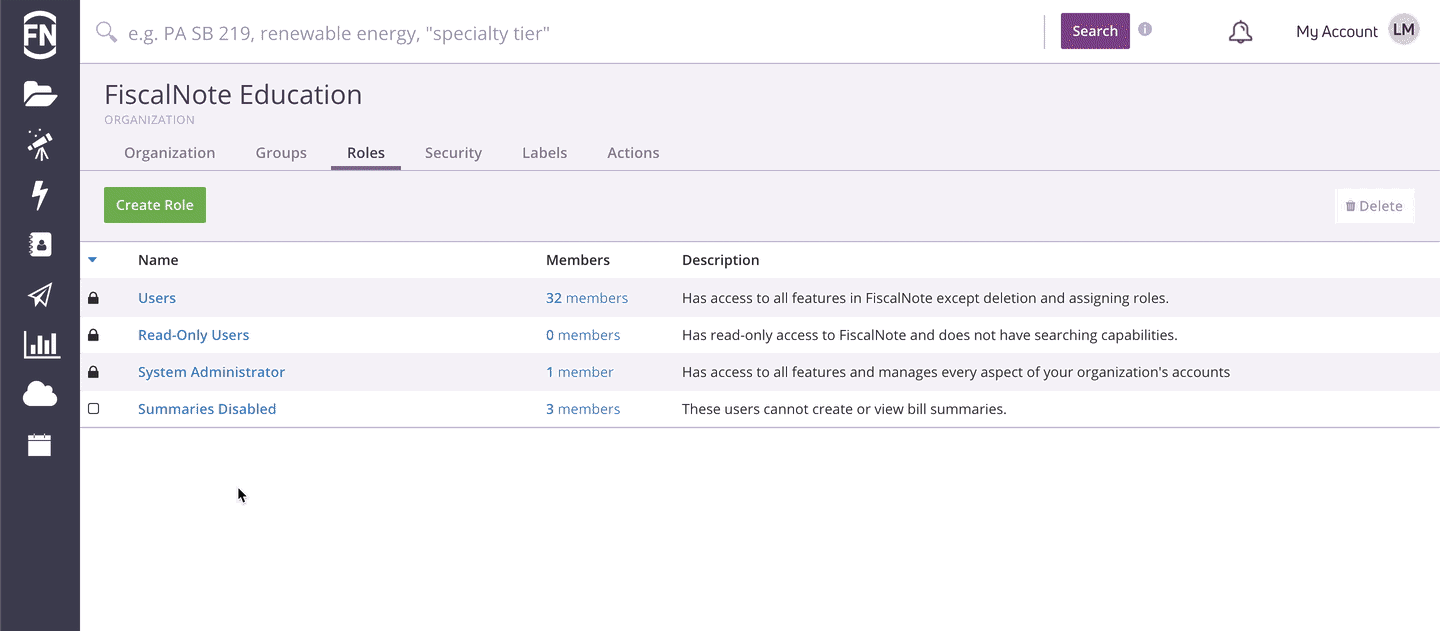 Some commands may be fairly straightforward, such as the ability to create, edit, and delete Discovery Alerts. When it gets a bit more complex with Collaborative Tools, Contacts, and the Drive, we've added an (i) information guide to help you along the way: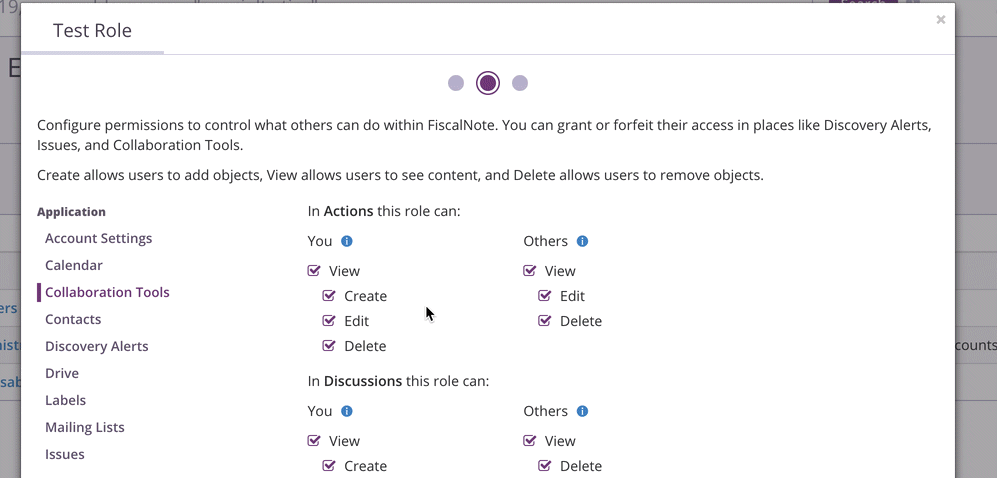 For example, the Drive (i) will say: "If the User has Upload checked but View unchecked, they will only be able to view their own files in both Files and Links".
Assigning User Roles
After learning which feature controls are available and what they do, ensure your team has proper access. Add or remove users to each roll by clicking the 'Members' number: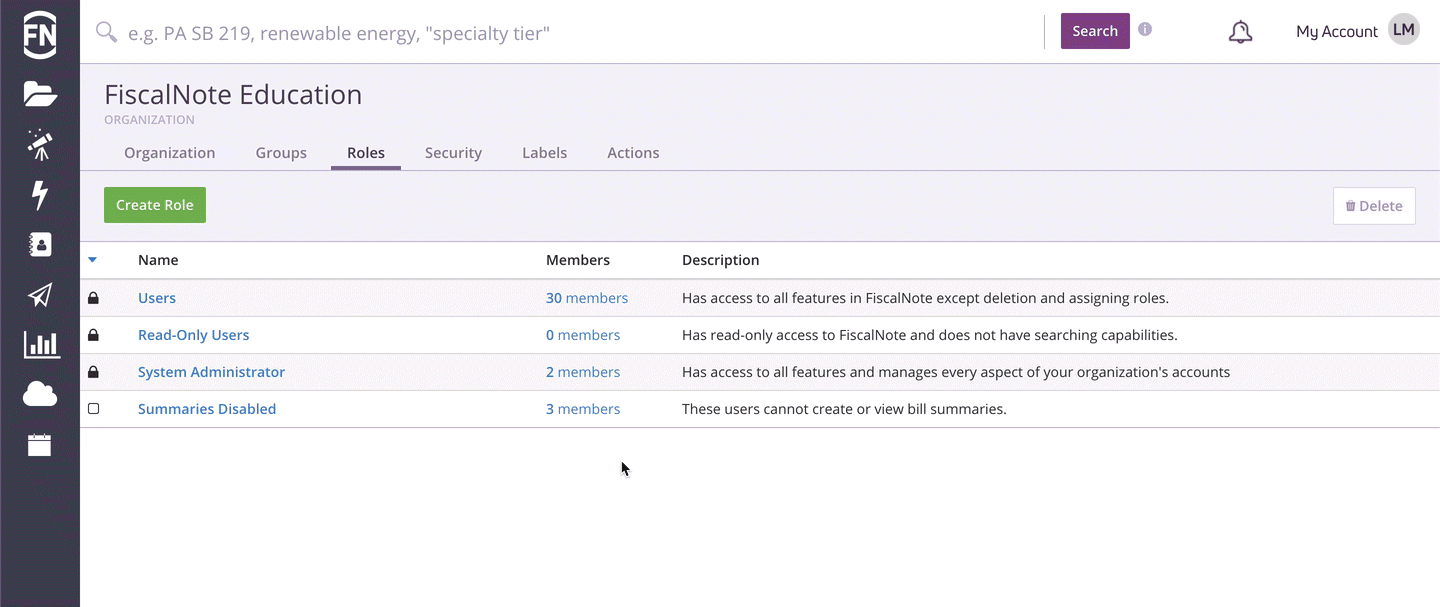 When a new user is created, the default role assignment is 'User'. The access controls for Users, Read-Only Users, and System Administrator roles are all locked. If you need to create a new User role with different access controls, create a new Role.
**Click here to learn more about Custom User Roles
Creating User Groups
Occasionally, sub-sets of your team may need to keep their work separately from others. Come instances in which FiscalNote clients have utilized this feature include:
Keeping work for a client separate from those working on internal initiatives
Allowing Departments to work on sensitive information separately, when necessary.
For example: an IT Department working on your organization's cybersecurity practices
Working on Project-based tasks for which only some members of the team are involved
When external consultants are granted a license, instructing them to work in separate Groups
As a Systems Administrator, you alone (and anyone else with a Systems Administrator Role) has the ability to manage who is in which Group. To create them, head to Groups under Organization Settings:


Click the Green create tab to create a new Group. Give it a name, assign team members, and save it: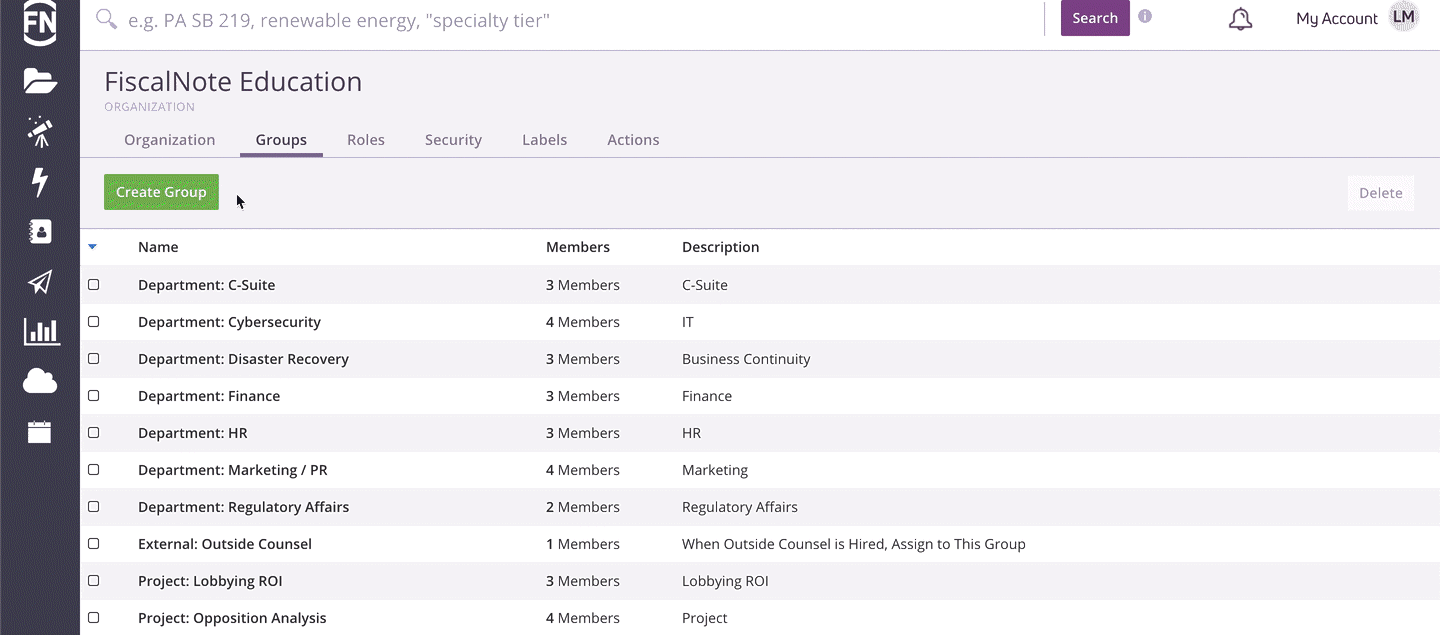 **Click here to learn more about User Groups
Labels Management
When your team begins to leverage the workflow tools that FiscalNote has to offer, odds are Labels will be used to document themes, regions, markets, and more. To ensure your team's workflow stays intact, we recommend making it a routine to review your team's Labels usage. As a Systems Administrator, only you can do so. To find how your team is applying Labels, head to Labels from Organization Settings:

Most users on your team will be able to Create Labels as well, but only you will be able to review how many times the Label has been applied across all data in FiscalNote, as well as Merge any duplicates. Check for human error such as spelling mistakes and Merge Labels when necessary:

**Click here to learn more about Labels