Introduction
Each FiscalNote account is designated a specific role in the platform, allowing for access and when necessary, restricted access, to certain features and commands. Accounts are assigned 1 of 4 user roles when created: Systems Administrator, User, Read-Only User, or Make-Your-Own. Review the information below to learn more about the 4 Fundamental User roles and why they exist.
Video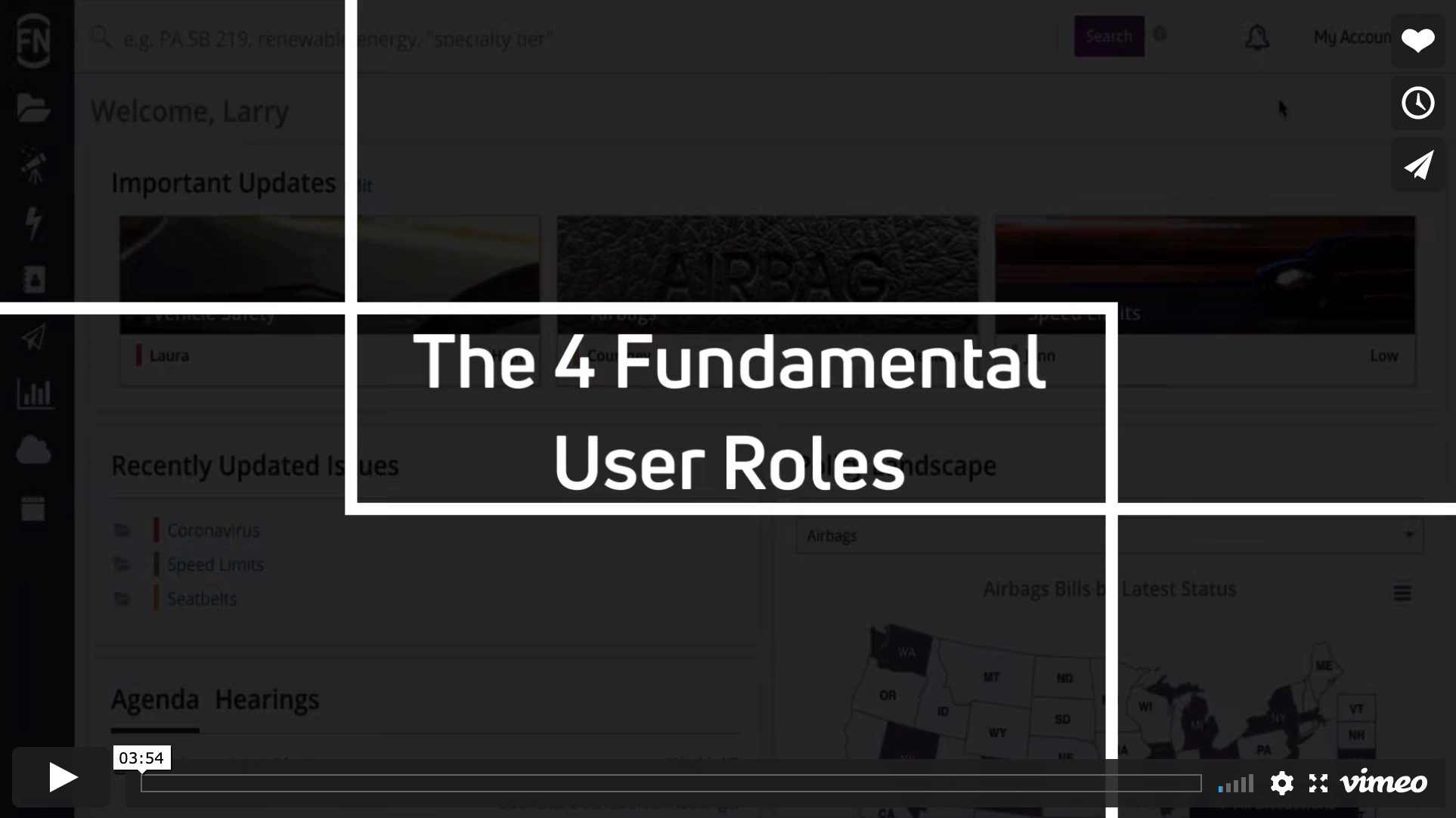 What Are User Roles?
User Roles may either grant or restrict access to the following features and information in FiscalNote:
Account Settings (Receive Notifications)
Calendar (View - the Calendar, Session Dates, and Map, & Sync - to External Calendar)
Actions (Create, View & Edit - Your own, and those of Others)
Discussions (Create, View & Edit - Your own, and those of Others)
Notes (Create, View & Edit - Your own, and those of Others)
Summaries (View & Edit)
Contacts (Create - Single and/or Bulk, View & Edit - Your own, and those of Others)
Discovery Alerts (Create, Edit, Delete)
Drive (Upload, View, Delete)
Labels (Attach, Detach, Edit - Position & Priority)
Mailing Lists (

View, Create, Edit, Delete)

Issues (View, Create, Delete)
Every account is assigned the User role by default when created. If you joined your team after they have been using FiscalNote for some time, you may have instead been assigned another role by your team lead.
Why Do User Roles Exist?
Because every organization leveraging FiscalNote is unique in its own great way, User Roles exist to grant each team the opportunity to make FiscalNote their own. Some common reasons clients leverage User Roles to their advantage include, but are not limited to:
Determine who should be an active participant vs. on-looker
Ensure your team's data management stays top-notch
Optimize a specific policy-tracking workflow amongst a large team
Increase efficiency when managing interactions performed across multiple stakeholder networks
The 4 Fundamental User Roles and Their Purposes
Systems Administrator: Team Lead(s). Determine how User Roles are assigned. Manage workflows such as note-keeping on key stakeholders and assign project-based User Groups.
User: View and use all available features and data in your organization's FiscalNote subscription. Perform your individual or team role as necessary. Contribute your work and collaborate, just don't delete the work of others
Read-Only User: The hands-off approach. You don't have the need to create notes or view the work of others. View Issues others have created and review any Fiscal-Note provided data.
Make-Your-Own: The customized approach. Your team has a unique structure, and your user role reflects that. Speak to your Team Lead if you need to review exactly what you can and cannot do.
Can I Access Our Roles? And Where?
If you are a Systems Administrator, you can access User Roles via Organization settings.
Click your initials to open the My Account Dock, and click Organization Settings. Next, click Roles:

If you need to change team assignments when getting started, click the 'members' number to adjust: