Introduction
As part of FiscalNote's ongoing efforts to improve your user experience, we're happy to introduce stakeholder exports! Much like Issues, stakeholder networks can be complex. Your most influential contacts may impact a number of Issues on varying levels. With Stakeholder Exports, quickly pull a number of contacts using a combination of labels, issues, and other filters in the Directory to curate a list of stakeholders specific to your unique need(s).
Stakeholder Exports -- What is it?
We heard you: your stakeholder networks are complex. Using Labels and Issues to organize contacts within FiscalNote certainly helps, but what happens when you need to share that information with a colleague who doesn't have access? Enter: Stakeholder Exports.
Let's say Larry at Safe Vehicles USA needs to organize his contacts for 4 main purposes, 3 organizational and 1 personal:
To track those who are most influential to internal departments & clients
To create campaign lists for specific targeting purposes
To quickly identify top champions by Issue or topic
To track those he has personally interacted with
To accomplish this, he would add stakeholders to Issues of interest, as well as implement a label strategy. If contacts have already been uploaded to FiscalNote, use the Directory to find them with the Custom Contacts Filter: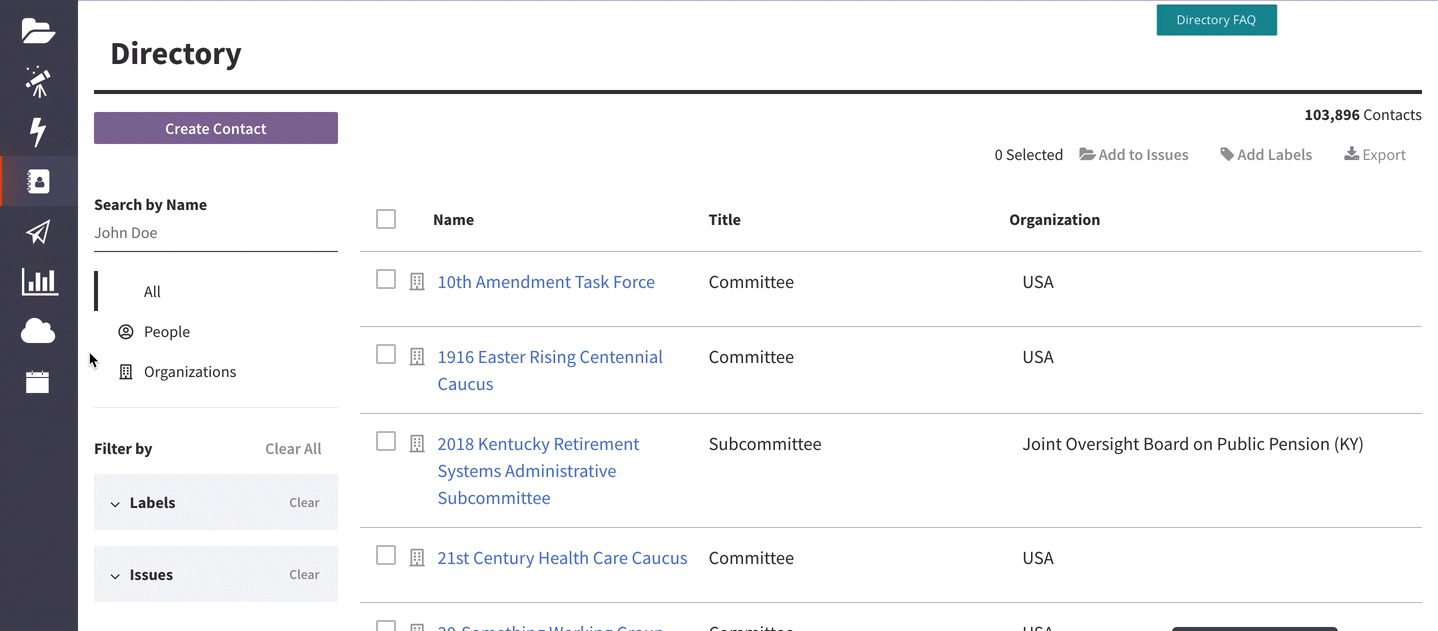 You can perform both activities (add to Issue, add label) directly within the Directory to save time:

You can now curate a unique list of contacts from the Directory using Issue, Label, and other filters to export them into a CSV or XLSX file.
**Click here to learn more about using Issues and Labels together
**Click here to learn more about Labels Management
Stakeholder Exports -- How it works
Head to the Directory from the collapsible left-hand menu. There, use filters on the left to narrow down the contacts into a list that you might want to export. Available filters include: Contact Type, Label, Issue, Location, Title, and/or Organization: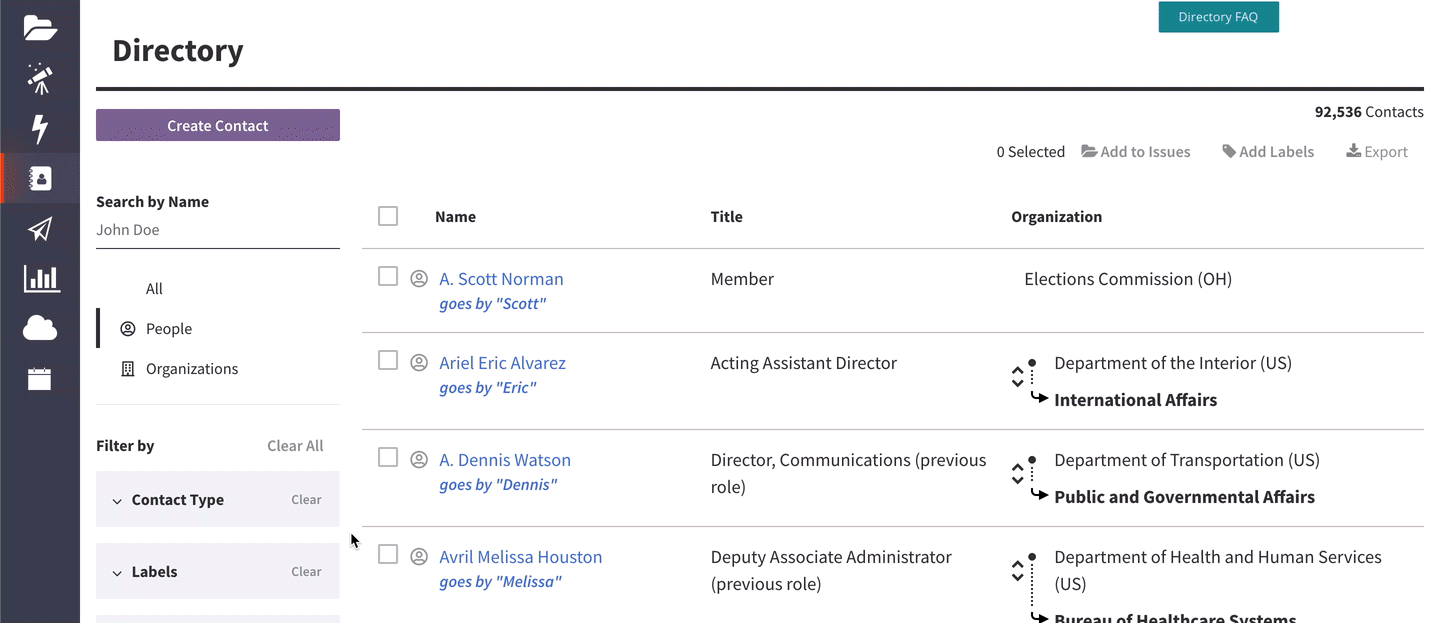 Select your contacts, click the Exports tab on the top right, and give your List a name:

FiscalNote compiles your contacts and presents you with a downloadable file in the Exports Center, which can be found via Reports in the menu on the left.
FAQ
Q: Can I mix Custom Contacts with those provided by FiscalNote, such as U.S. Legislators?
A: Yes! You may co-mingle different contact types in the same export to meet your unique need(s)

Q: Which contacts can I export?
A:
Custom Contacts (Individuals)

US State Executives

US Federal Executives

US State Legislators

US Federal Legislators

EU Commission

Council of the EU



Q: Are there any contacts I cannot export?
A: Yes. Global legislators, MEPs and organizational contacts cannot be exported at this time (But they are in the works for a future release!)
Q: What is the maximum number of contacts I can export at once?
A: 100 contacts