Policy Reporting: The Basics
There are endless reasons to track and monitor new policy documents. The end goal can vary from monitoring new policy, researching potential changes in your industry, creating a fast response plan to harmful bills, and so much more. FiscalNote's Issues Management design helps organize policy documents into any group of choice, allowing you to meet your own policy reporting goal.
Reporting Tips
1.) Edit Each Section to Meet Your Needs
Every section of the Report Template is customizable. Change the Bills by Last Status and Position to a comparison by Issue and Priority, for example:

We recommend reviewing your options when creating a Report for the first time. Familiarize yourself with the options available so you're prepared to produce a new report in just a few clicks, if necessary.
WHY? Each Report has a different purpose. Use the Information selections to highlight the right data. Use the different data visualizations to enhance that purpose.
Example 1: A Priority Report should change the bar chart visualization to Bills by Issue and Priority, as seen above.
Example 2: If sharing a report externally, make sure any internal Notes from bills are excluded via the checklist in the Bills section of the template. Exclude Organizational Notes if they include any sensitive information: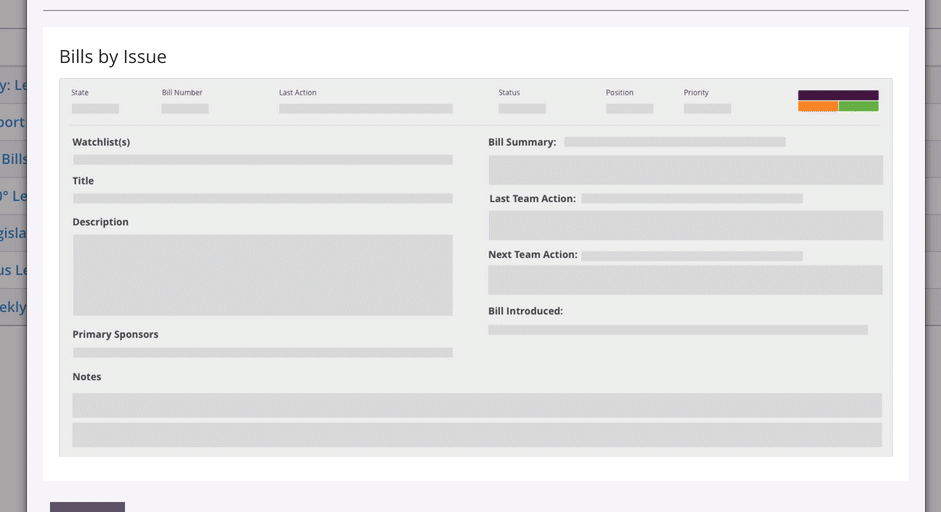 2.) Highlight Changes Week over Week
It's one thing to review a comprehensive legislative report weekly. It's another altogether to try and identify any changes. FiscalNote let's you highlight these weekly changes with one simple adjustment in the report template. Click the checkbox for 'Highlight Changes Over Past 7 Days' in the Bills section:

Rather than sifting through the report bill by bill to analyze weekly changes in monitored policy, your audience will be able to immediately identify them.
3.) Refreshing Reports
If using our best practice (see #5 below) of choosing 'Select All Bills' during the creation process, Reports can be refreshed to capture both changes to previously captured bills and any new bills that have been added to your Issues since the Report was last produced. When you need to provide a Weekly or Monthly update, just click Refresh!

*Pro Tip: Select all Reports and click Refresh at the top, updating ALL reports simultaneously.
4.) Editing Saved Reports
If a stakeholder or team lead requests changes to any Report you've produced, FiscalNote makes the editing process a breeze. Simply click the pencil icon for the Report in question on the Reports screen, and jump back into the template to make any adjustments. Save your changes when done:

5.) Sharing Reports
Shared Reports is a big differentiator for FiscalNote clients. Any policy report becomes interactive when using shared links, as recipients are able to click into any bill included and use a mirror image of the FiscalNote platform for further investigation -- and a FiscalNote account is NOT required to do so! Click the 'Share' icon after hovering over options, or click the title and copy/paste from your browser:

The recipient of the link can click bills to hop into a Shared Page for exploration:

Make your reports live by sharing electronically! Click here to review an example.
*KEEP IN MIND: Shared Links expire after 15 days for platform security purposes. If a report is needed for a longer duration, we recommend downloading the file as a PDF.
Best Practices
1.) Make Titles Relevant
Ensure your audience knows exactly what this Report covers with a title. Avoid vague titles such as 'Policy Update'. Instead, detail what the update covers with descriptors, such as 'Bills by Priority'. This saves the reader's time when comprehending the data within.
2.) Add a Logo
A lot of effort goes into producing a logo. They are typically designed to evoke a certain emotion by the public at-large. Use them to your advantage in policy reports -- evoke the emotion that this Report was designed and curated specifically for your audience for added levels of appreciation: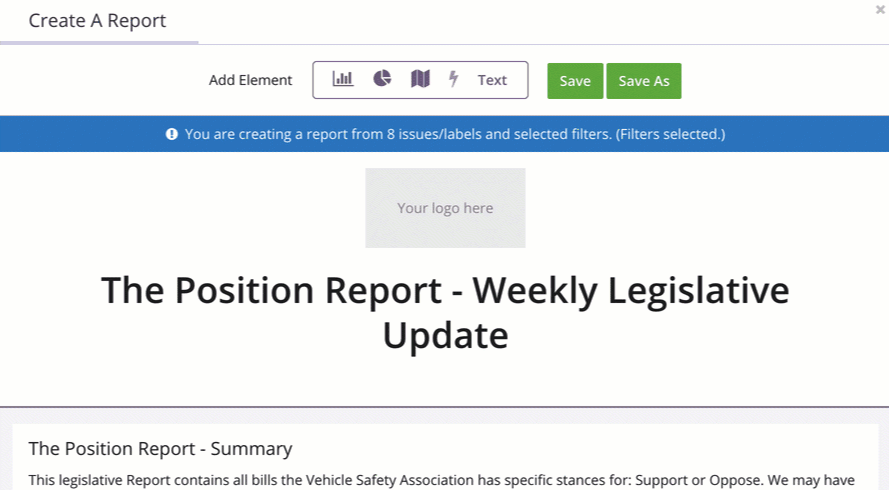 3.) Know Who Owns the Responsibility
We recommend including a line in the Summary, detailing who owns the responsibility of maintaining the Report. It could be as simple as "Please ask Jeremiah if you have any questions". Don't leave your audience wondering who they should refer to for follow up work or questions. Provide them with an immediate resource.
4.) Personalize
Each section of a FisscalNote Report comes with auto-generated titles. We highly recommend changing these based on your audience. For example, if working for a lobby shop and reporting on activities performed, change 'Actions' to 'Lobbying Activities'. Actions are interpersonal activities such as meetings or phone calls, recorded in FiscalNote and linked to related bills:

5.) Don't Select Specific Bills
There may be one-off occasions where reporting on a select few policy documents is necessary. However, for any other instance, we recommend ALWAYS choosing 'Select All' after making your Filter selections in the creation process. This ensures that you never have to create the report again -- choosing 'Select All' prompts FiscalNote to continue adding bills to the report, even after it has been produced. Just click refresh to collect and share in an updated version!

*Reports created by selecting specific policy documents in the bills queue will NOT include additional bills captured in the future.
6.) Don't Overcomplicate It
Avoid lengthy titles and summaries. The meat of the report is the Policy data within. Use simple titles, summaries, descriptions, and general language throughout. Doing so allows your reader to hone in on what's truly important -- the policy.