Introduction
Quantifying your efforts has historically proven difficult for Government Affairs teams, especially those who work on lobbying activities only. You may have met with key stakeholders and lawmakers to get an important bill passed, but how do your measure meetings and conversations against the end goal?
Enter: FiscalNote. After logging key activities with the platform, use one of several features to show your work. Compile activity reports with a specific stakeholder or about a certain topic, track the results of your efforts along with the progress (or lack thereof) of related policy documents, and analyze trends over time.
Video
Show Your Work
Use Actions Exports to find all activity for a specific Issue, Stakeholder, or Label, over a distinct time period. Use Legislative Reports and Regulatory Exports to show your work on a specific set of policy documents.
Actions Export
When required to measure your total efforts related to a single item such as a specific Issue or Stakeholder, use Actions Exports. The filtering options make it easy to pull a list of all the records that you need. For example, if using the Label LD-2 for lobbying efforts, use the label filter and apply LD-2 as your preference: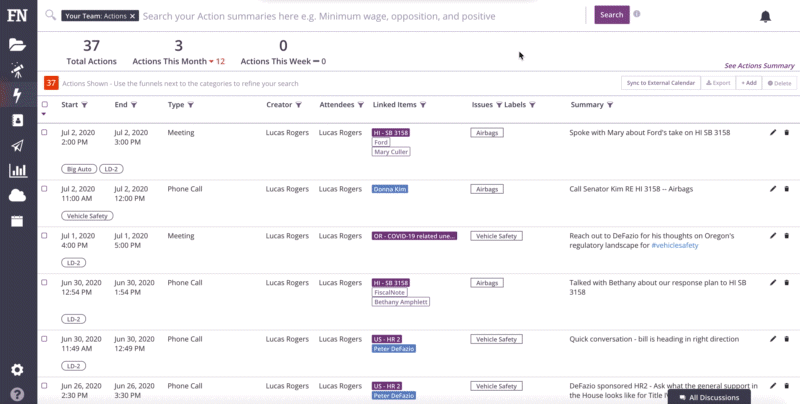 Next, use additional Filters to find lobbying activity for a specific time frame or Issue, for example. When done filtering, click the Export tab on the top right of the screen to produce a comprehensive Excel or .csv file with all of the data that you need: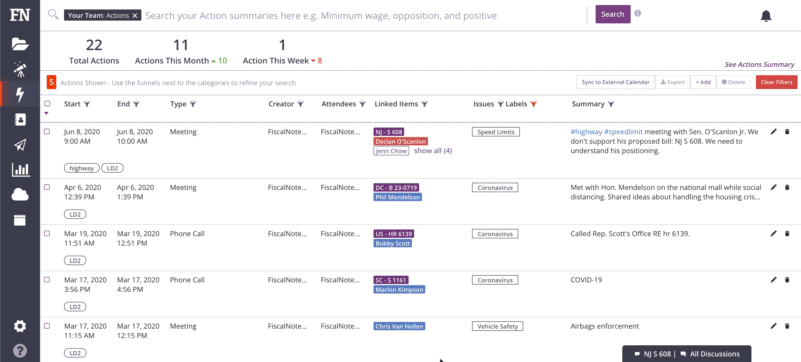 Choose your file type (.CSV or Excel XLSX), give your file a name, then download. The final copy will resemble this:

Legislative Reports
Government Affairs teams and lobbyists in particular are often asked to share their efforts around promoting or halting specific policy documents. For example, if you work for an Auto company, your board may ask what your team has done to help promote all favorable vehicle safety legislation this session, and what may have happened in the legislative process as a result. Use the following tips to show both your work, and the status of all related legislation being tracked:
Go to Reports from the Menu on the left and select your Issue from the Issue filter. In this example, we are choosing 'Vehicle Safety':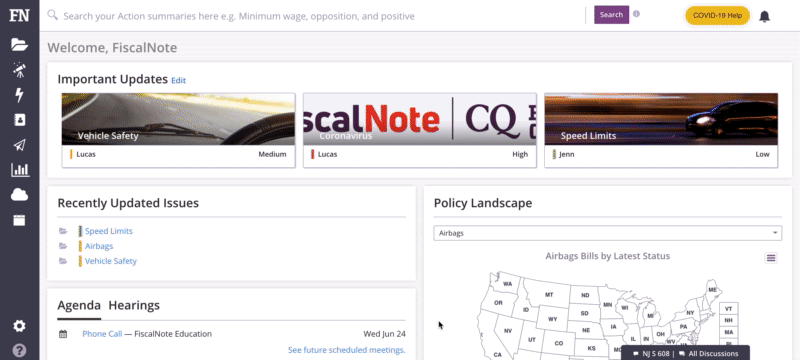 Next, click 'Select All' from the list of matches to the right to add all related bills to the Report you intend to build. In this above scenario, these are all of the bills the team has added to the 'Vehicle Safety' Issue this session, for all legislatures. If you need to report on a specific few bills, use the checkboxes next to the matches instead. *However, keep in mind that only reports that use the 'Select All' option in the bills queue will allow you to refresh the report in the future to capture new bills being monitored and any additional work the team has performed since.
After making your selections, click 'Create Report' on the top right. We recommend choosing the 'Weekly Legislative Update' template provided by the FiscalNote team: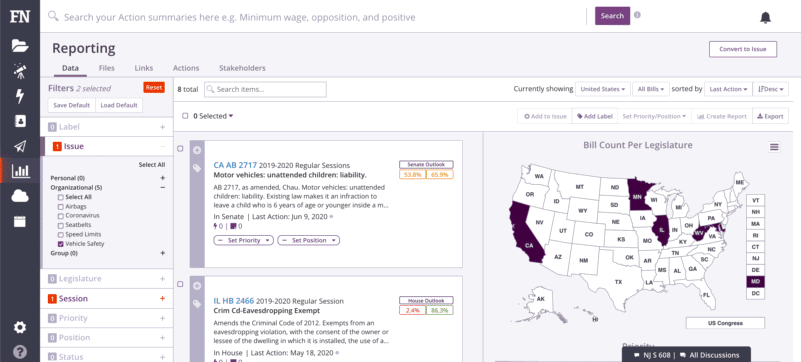 Make edits to the Report presentation by hovering over any section and clicking the pencil icon that appears. We recommend adding a logo and customizing the title for each report, especially if this is for a specific client of yours. You may also choose to switch the 'Bills by State' map to a Heatmap, for example. This helps to better understand where the largest concentration of relevant bills comes from, and perhaps who you should prioritize working with as a result: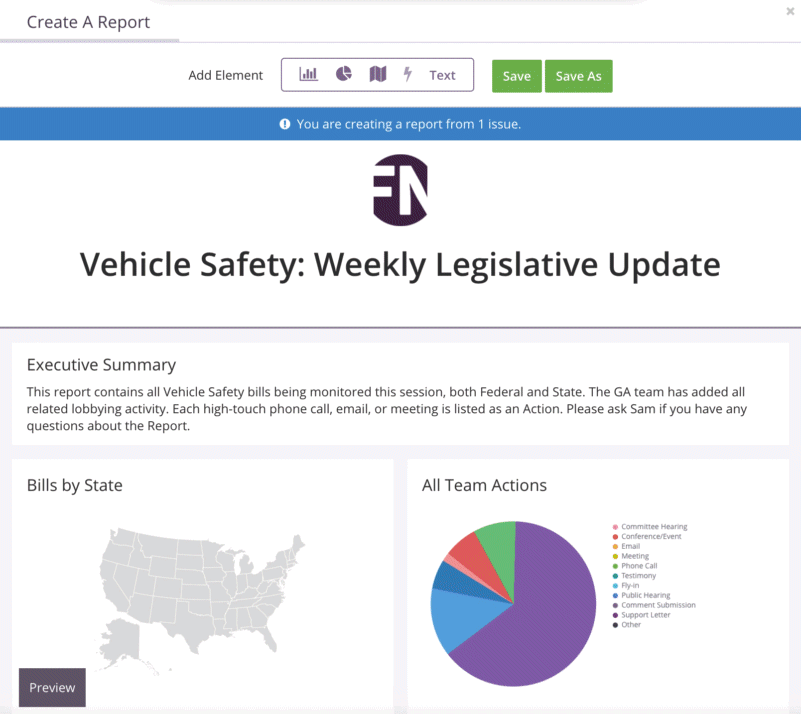 Click the green Save tab at the top of the Report builder when done making edits. Once saved, FiscalNote will store this Report for you, accessible from Reports in the collapsible menu on the left:

You can either download this copy as a PDF or share electronically. We recommend using Shared Links whenever possible. The recipient has the ability to click into any bill on the report and access the full text: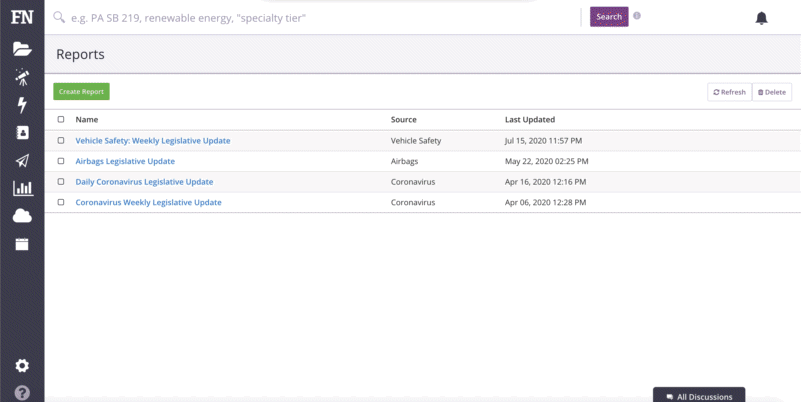 The recipient of the Shared Link Report also has access to something called a shared bill page for each bill included (click here to learn more about sharing FiscalNote content). It allows them to click through information as if they were in the platform, even without access to FiscalNote.
A shared page offers an additional, holistic view of all efforts performed by the team, found under the Actions tab: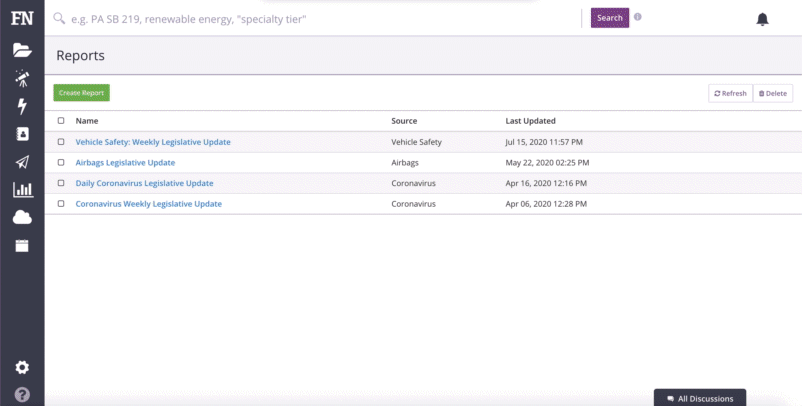 *Keep in mind that shared pages expire after 14 days.
We now have an interactive, fully comprehensive list of all Vehicle Safety legislation the team has been monitoring this session, along with detailed efforts to promote or halt each bill listed.
Because this Report was built using the 'Select All' drop down for selecting matches on the Reports screen, there is no need to recreate this Report in the future. An updated version can be accessed by simply refreshing it: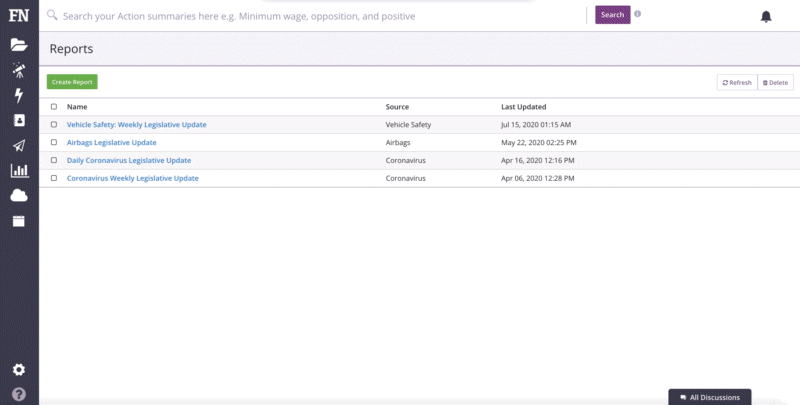 *Click here to learn more about Legislative Reports and customization options.
Regulatory Exports
Building a Report for work with regulations is done in similar fashion to the process shown above for legislation. Go to Reports, Create Report from the menu on the left to get started.
However, the default option for Report building is legislation. Toggle to regulations and pick the regulatory documents you need to report on from the 'Currently Showing' drop-down menu on the top-right. In this example, we are choosing State Regulations: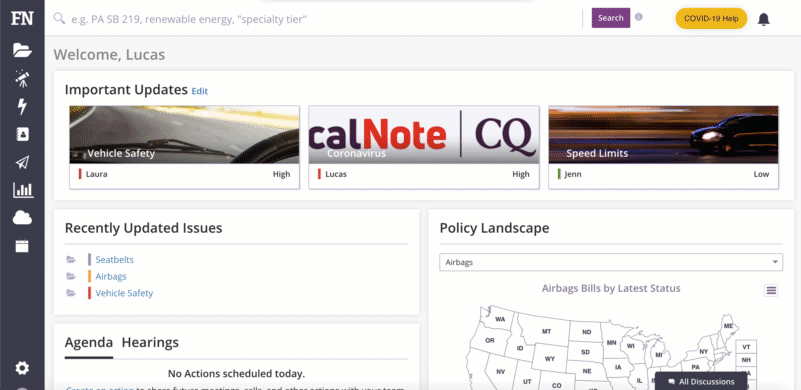 For a similar charge -- collecting all 'Vehicle Safety' state regulations being worked on with accompanying lobbying efforts -- choose Vehicle Safety from the Issues filter and Select All from the drop-down menu above the list of matches: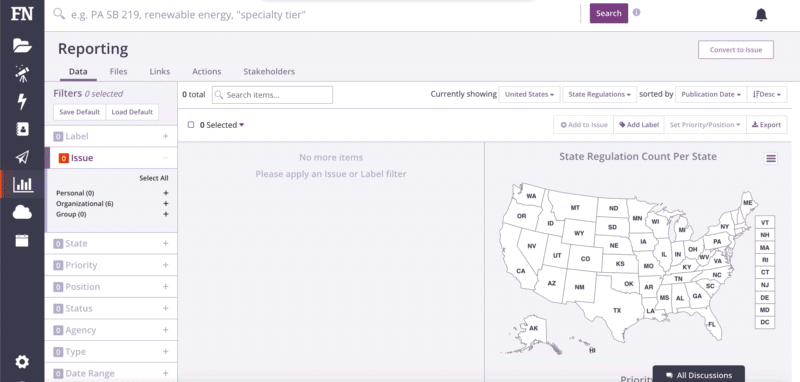 However, instead of clicking 'Create Report', click 'Export' to build your list of regulatory work: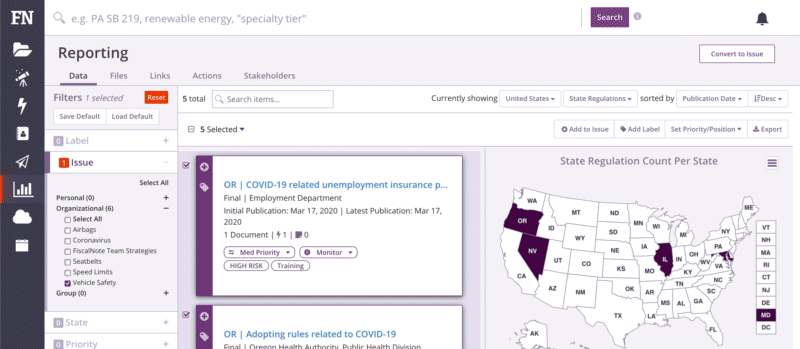 The Regulatory Export pop-up window allows you to choose what information is shared. Select what information to share with the available checkboxes, give your Export a title, and choose your file type (PDF, CSV, or Excel XSLX). Click Export at the bottom when done customizing the information: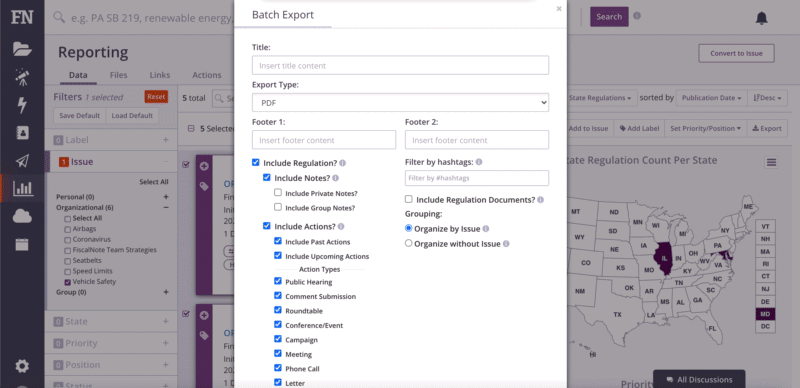 We recommend choosing the PDF option. This provides the ability to share the Report electronically with a shared link. When the Report is generated, FiscalNote will redirect you to the Reports, Exports screen. Grab the Shared Link, send to your intended audience, whether that be your board or a client, and allow them to explore the full document and list of your team's efforts in a Shared Page: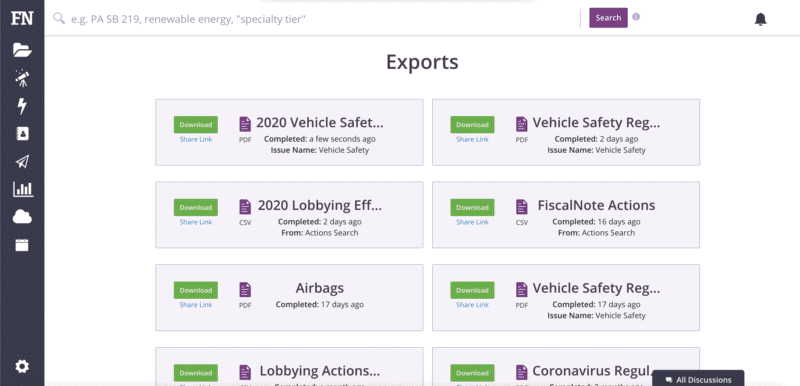 Following the above steps provides an actionable and tangible understanding of state regulations that could impact your business, and what your team has done with stakeholders to steer a response in the desired direction.
Recognizing Activity Trends
Bring all of your teams efforts full-circle with the Actions Summary. FiscalNote's Actions Summary provides a breakdown of all activity entered by your team since you've had access to the platform. Find it by going to Actions from the menu, then clicking 'See Actions Summary' in the top right: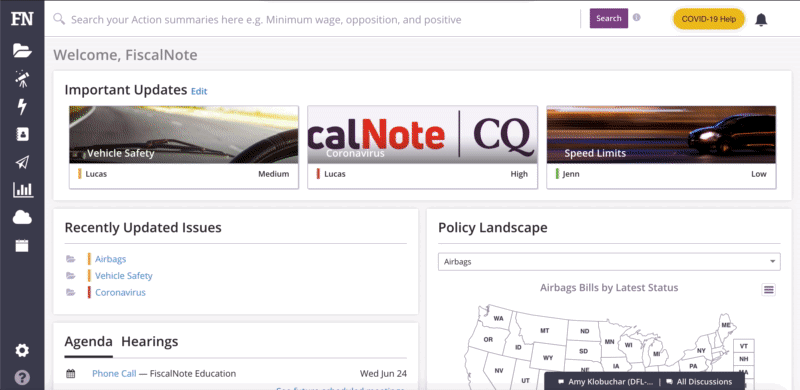 Use the Actions Summary to analyze trends such as:
Activity totals over the past week, month, and overall
Most common activity performed (ex: phone call or meeting)
Top 5 linked items (ex: bills or legislators)
If using hashtags as described in our best practices [LINK] for adding Actions, top 5 hashtags used: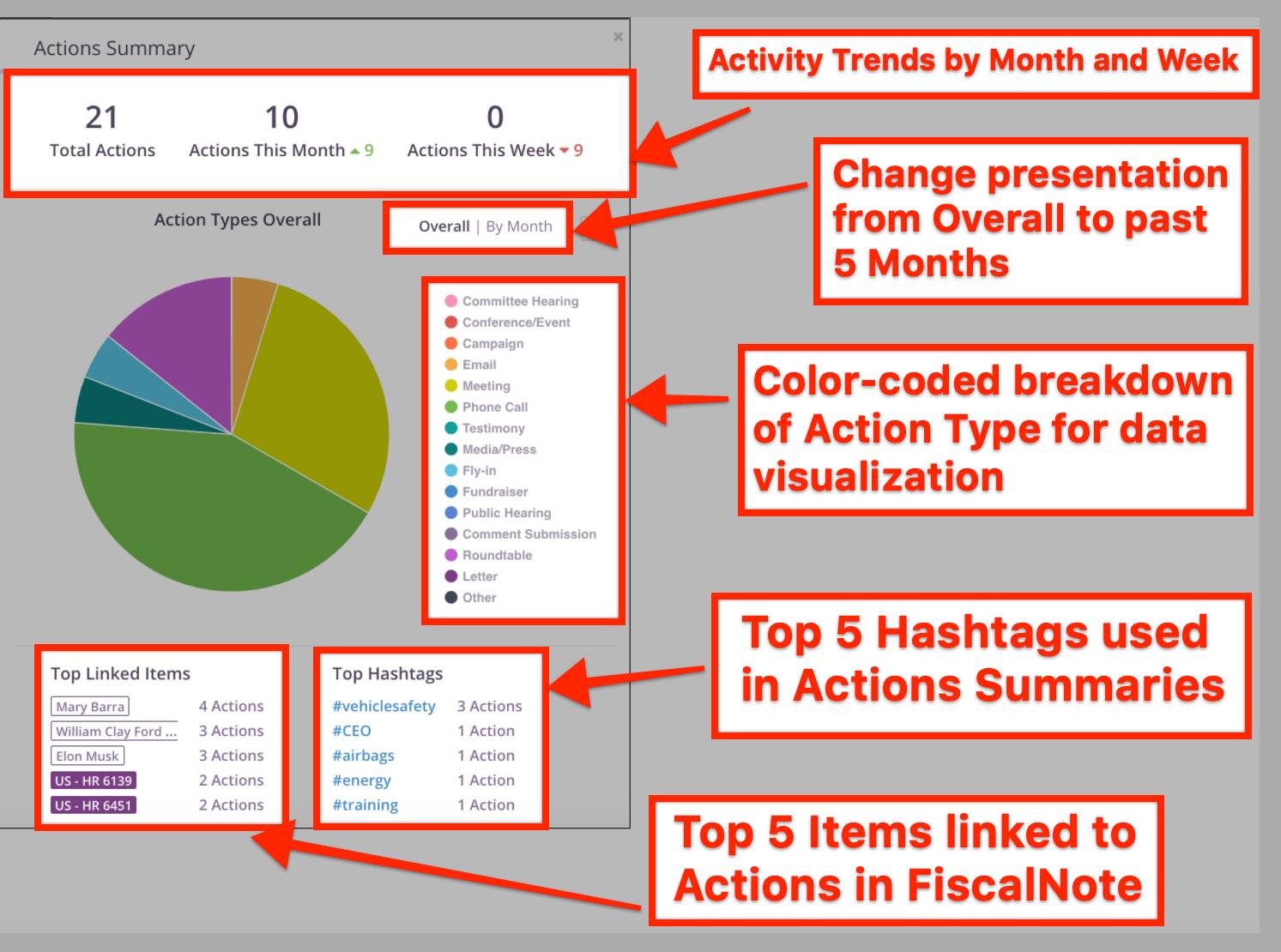 Keep yourself in-check. Choose Overall or By Month to see historical activity trends vs. those performed over the past 5 months. Make sure you're keeping pace with past benchmarks for success. When you settle on a visual representation you would like to share, click the 3-bar icon to export the image: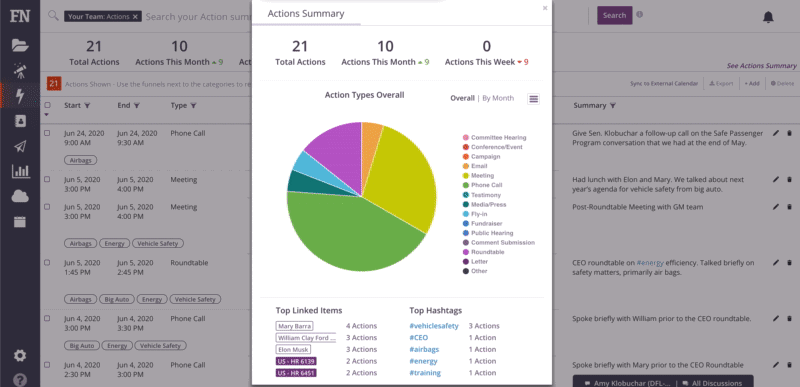 Use this image as a quick file share or as part of a larger internal board report.