Introduction
Your colleagues each have their own personal network of stakeholders. They all are typically divided into three groups: government, internal, and external contacts.
Government stakeholders are just that: elected officials, staffers, agency executives, and anyone employed by a branch of the government that could impact your interests. Internal stakeholders can be an organization's members, employees, contractors, and subsidiaries while external stakeholders are comprised of everyone else, from affiliates, clients and supporters, to even your direct competitors.
FiscalNote allows you to bring these personal worlds together with Contacts. Assign government stakeholders, already accessible in FiscalNote, to Issues and raise team awareness around who to contact for each topic. Upload your internal and external stakeholders and assign them to Issues. This creates a database from which you can leverage one of your greatest assets: each other's relationships.
Video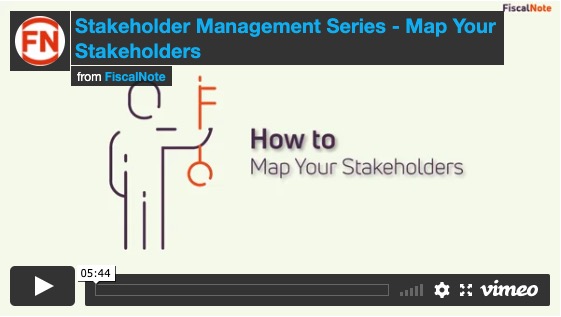 Upload Key Contacts
Desktop
The fastest way to get started with Stakeholder Management in FiscalNote is to organize your existing contact information in a spreadsheet (.csv format). A template with acceptable column headers is available for download from the People page.
Find it by taking the following steps:
Select 'People' from the Search menu,
Click the 'Search' icon without entering any text
Click 'Import Contacts'
Click the hyperlink in the pop-up window to download the sample template:

*Click here to download the template
If you don't have a pre-existing file with everyone's contacts, have each team member upload their own network to FiscalNote on a spreadsheet using all relevant information:

When your file is ready, click the Import Contacts tab and upload:

FiscalNote will let you know if there are any errors: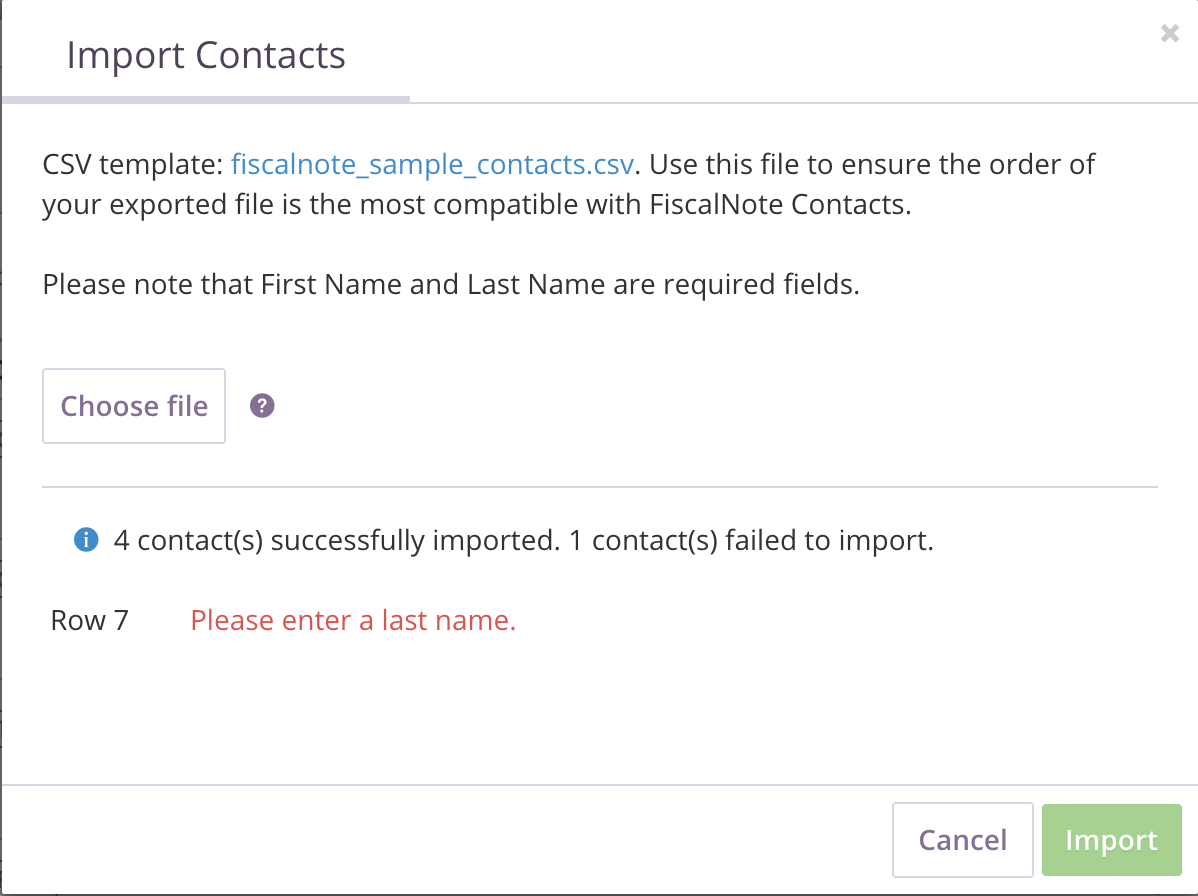 Professional networks tend to evolve and grow over time. After getting started, add newly identified stakeholders using the 'Create Individual Contact' option: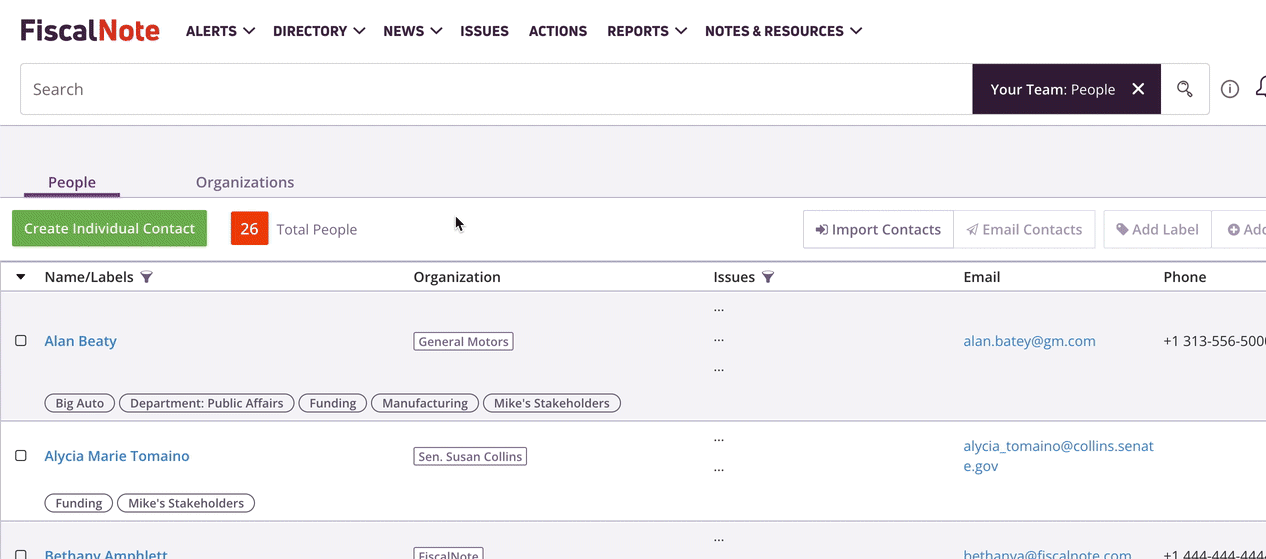 Mobile
The mobile app offers several options for adding additional contacts: create a new record from scratch, import a contact from your phone, or even scan a business card: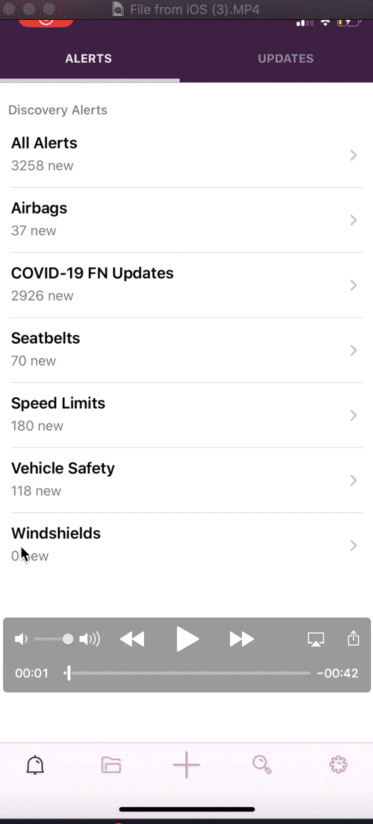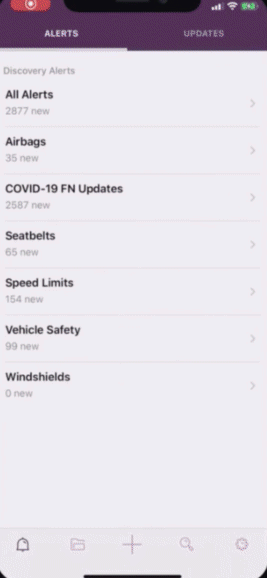 Who Should I Upload?
Your non-government stakeholders. Think: industry collaborators, influencers, reporters, and internal contacts. You own the contact information and relationship history with these individuals and organizations -- add them to FiscalNote for your whole team to leverage, or for easy access for yourself.
Do NOT add people such as elected officials, government executives, or in some cases, staffers. Staffers tend to move around so often that they're hard to keep track of. FiscalNote also provides the largest repository of government contact information in our Directory.
Find Stakeholders in the Directory
FiscalNote takes care of half of the mapping process for you. Find profiles for federal and state elected officials as well as contact information for over 100,000 government executives** already stored in the Directory. Even browse your own contacts after you've uploaded them.
**Number totals will vary based on your FiscalNote subscription package. If you have questions, please contact your Account Manager.
The Directory can be found from the navigation bar at the top of the page. Click Directory, then 'All Contacts' to browse your entire database:

Use filters to find officials and executives that could impact your interests. Select your contact type and search Organization to find members of a Committee or Caucus, for example:

If stakeholders are identified, add them to the Issue they would most likely impact:

In the future, use the Issue filter to quickly find all key stakeholders, government and beyond, for any specific Issue you or your team is monitoring.
Using FiscalNote as a Virtual Rolodex
You can use more than just the Directory to find your contacts in FiscalNote. If you know an exact name, use a People search from the search bar, which is available on any page in FiscalNote:

If you're not entirely sure of the person's full name, you can use the Directory to browse both your own custom contacts and the government contacts provided by FiscalNote:

Each individual and organization has their own page in FiscalNote, detailing contact information, meeting history, and notes. Use your or your team's past work to understand recent conversation trends before re-engaging with each stakeholder:

All linked items are interactive. Jump to an organization page and view all contacts, actions, notes, and more: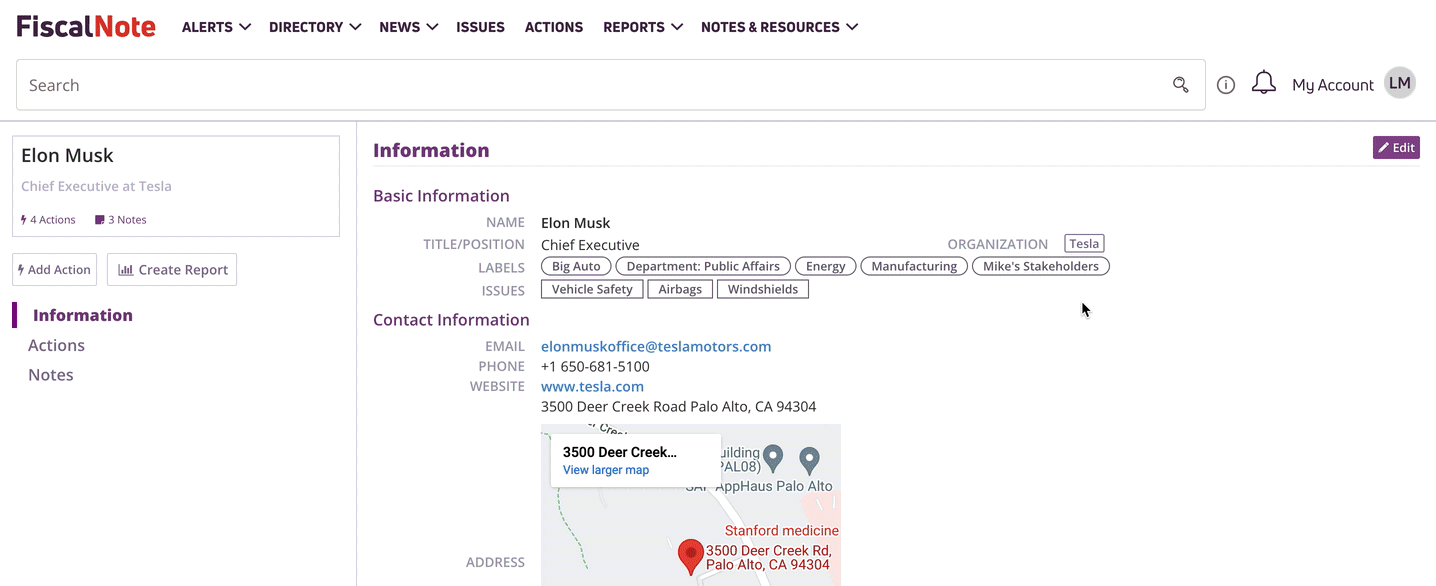 Once stakeholders have been added to FiscalNote and mapped to Issues and Organizations accordingly, all team members can instantly access their information.
Map Your Stakeholders Best Practices 1-pager (Click here to download)