Introduction
Depending on your own unique responsibilities, there can be anywhere from 100 to over 100 thousand new policy documents introduced every session that you need to sift through. FiscalNote's Discovery Alerts are here to help. Receive daily emails with lists curated by topic to streamline your tracking and decision making process.
Video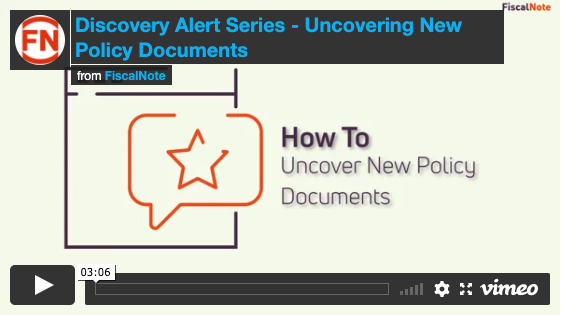 Discovery Alerts - What Are They?
FiscalNote's powerful search engine drives the Discovery Alert feature in FiscalNote. When used successfully, it can use saved searches to automatically read the text of new policy documents as they get added to the database. If a match is detected, you will have a notification waiting in your inbox detailing the specifics.
Finding New Policy Matches - How it Works
Odds are, your Client Success Manager added Discovery Alerts to your FiscalNote account during the onboarding process. If not and you still need help getting started with alerts, please contact your Client Success Manager or internal team lead first.
Getting Started
Find your Discovery Alerts by clicking Alerts, then 'All Discovery Alerts':




To add a new Discovery Alert, click the 'Create Discovery Alert' tab on the top left. Skip to Your Digest if you already have Discovery Alerts added to your account.




In the pop-up panel, Choose the document type for this Alert. If the document type that you need isn't listed, contact your Account Manager.




Name your Discovery Alert. We strongly recommend giving it a name that is the same or similar to an Issue you have created.
(Click here to learn more about Issues.)
Under keywords, enter a Precise Search for your topic.
(Click here to learn more about Precise Searches.)
Choose additional settings by Alert type. For example, choose specific legislatures, if not all, for US Bills and State Regulations. Choose specific agencies for Federal and State Regulations.




Set your delivery timeframe via Options. Receive realtime, hourly, 4-hourly, daily, or weekly updates.
Your Digest
If there are new policy document matches, an email notification will be sent at the delivery timeframes selected for the Discovery Alert: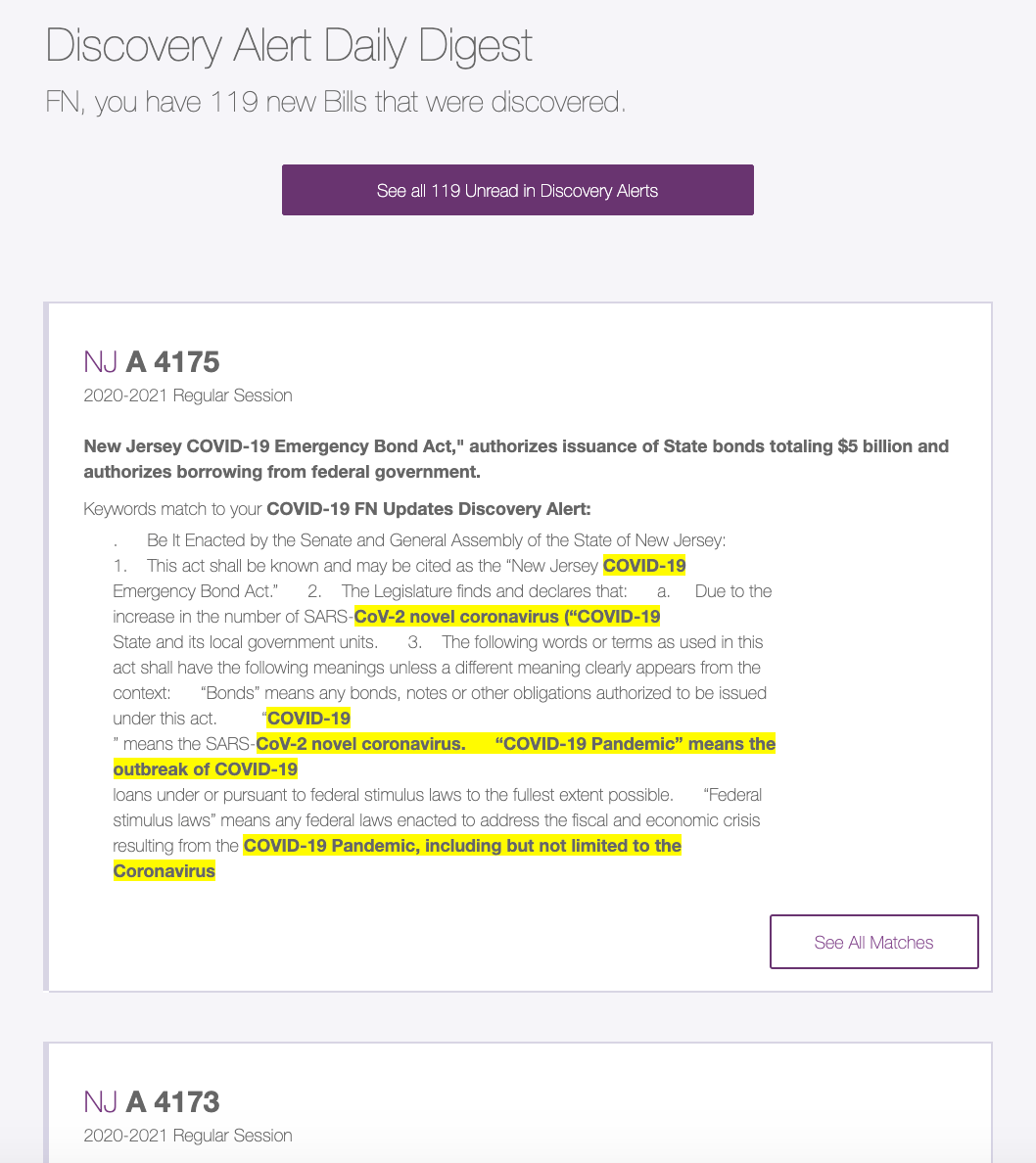 If the volume becomes too large or seems too low based on expectations, please contact your Client Success Manager and request an audit of your search terms. Share key items such as expectations for totals and significant keywords you expect to find in the text of important bills or regulations.