Introduction
The majority of FiscalNote clients track newly introduced policy and determine importance as a team. How your team manages shared responsibilities is always unique to your interests and needs. Regardless of the topics you track, FiscalNote saves everyone time in the long run thanks to its collaborative design. Use our suggested best practices to increase your team's efficiency with FiscalNote even more.
Video - Team Tracking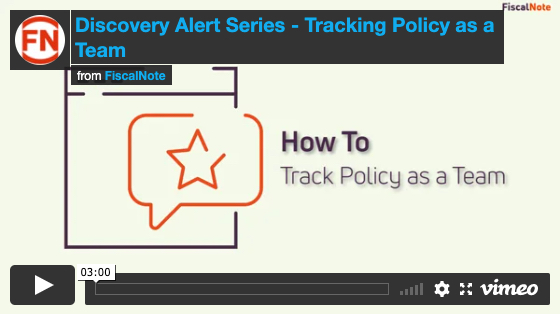 Split Assignments By Topic
FiscalNote's Issues Management design allows your team to leverage the work of each individual. If one team member adds a bill or regulation to an Issue that everyone has access to, all team members will receive activity notifications for it in the future. Trust your colleagues to monitor for new policy matches for their assigned topics.
*Click here to learn more about Issue access settings.
Split Assignments by Region
Many teams collaborate on similar topics. Sharing industry trends and sub-topics to keep an eye on can prove especially valuable when splitting Discovery Alerts by region. Organizations that take this approach typically split assignments by a handful of regions, such as the South East, North West, North East, South West, and Central regions. Each Discovery Alert can be altered to track for newly introduced policy for only the legislatures in the region: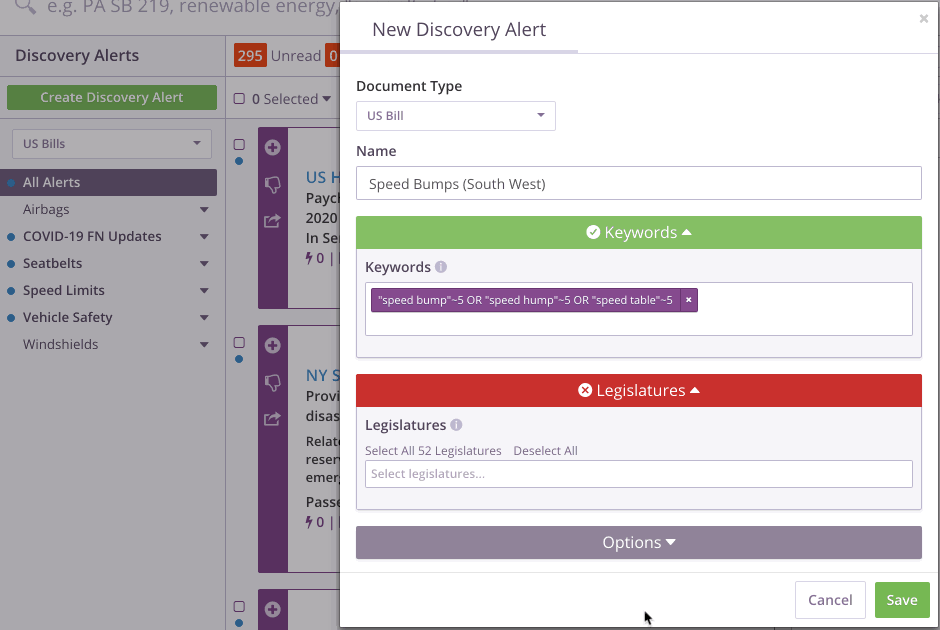 Hold Each Other Accountable
We suggest a weekly touch point for all teams, even during "slow" weeks of legislative or regulatory activity. Items that successful clients typically review in team meetings include, but are not limited to:
Total number of bills or regulations added to Issues by each individual
"What was the most important new bill introduced?"
Consequence or organizational risk resulting from potential passage of newly introduced policy
Response strategy to newly introduced policy
Follow-Up tasks or activities relating to a specific bill (ex: Call Senator's office, email campaign to advocates, schedule meetings with legislative staffers).
Important updates to new policy that was previously captured by Discovery Alerts
Plan for Vacation Coverage
Legislatures do not stop because someone is on vacation. Neither should your team. Use the following tips to stay ahead of the dreaded post-vacation backlog of work:
Pick a Policy Partner. This partner will serve as your backup in more ways than one. Inform each other of the topics or regions you track and share top-line items to be aware of. Describe the stakeholder landscape and who to interact with when outreach is necessary to push forward your efforts.
Forward FiscalNote email notifications to your Policy Partner when you are Out of Office. Have your backup review new matches while you are unable to.
Develop a system for coverage. After changing settings to forward FiscalNote emails, document a coverage strategy. The most common and suggested approaches are the following:
Trust your Policy Partner to add the most important matches to Issues. Because Discovery Alerts are unique to each individual account, use a Policy Search in FiscalNote to find the match in question.
Take notes on what the most important matches might be. Share that list with your Policy Partner when he or she returns. This helps expedite the review process within the Discovery Alert inbox.