Introduction
FiscalNote is leveraged for more than tracking specific policy documents. Many organizations employ what we call a Simple Search to gather key information on topics of interest. Simple Searches are broad in nature and allow you to collect data such as total bills or regulations introduced per legislature(s), better understand general policy landscapes, or gather general intel for other research purposes.
Simple Search - Video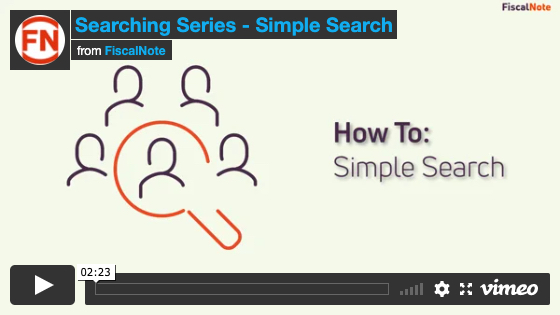 How to Perform a Simple Search
For any Search, you first need to select the data that you want to browse. Click into the Search bar to view the Search menu options, then make your selection. In this example, we'll choose State Bills: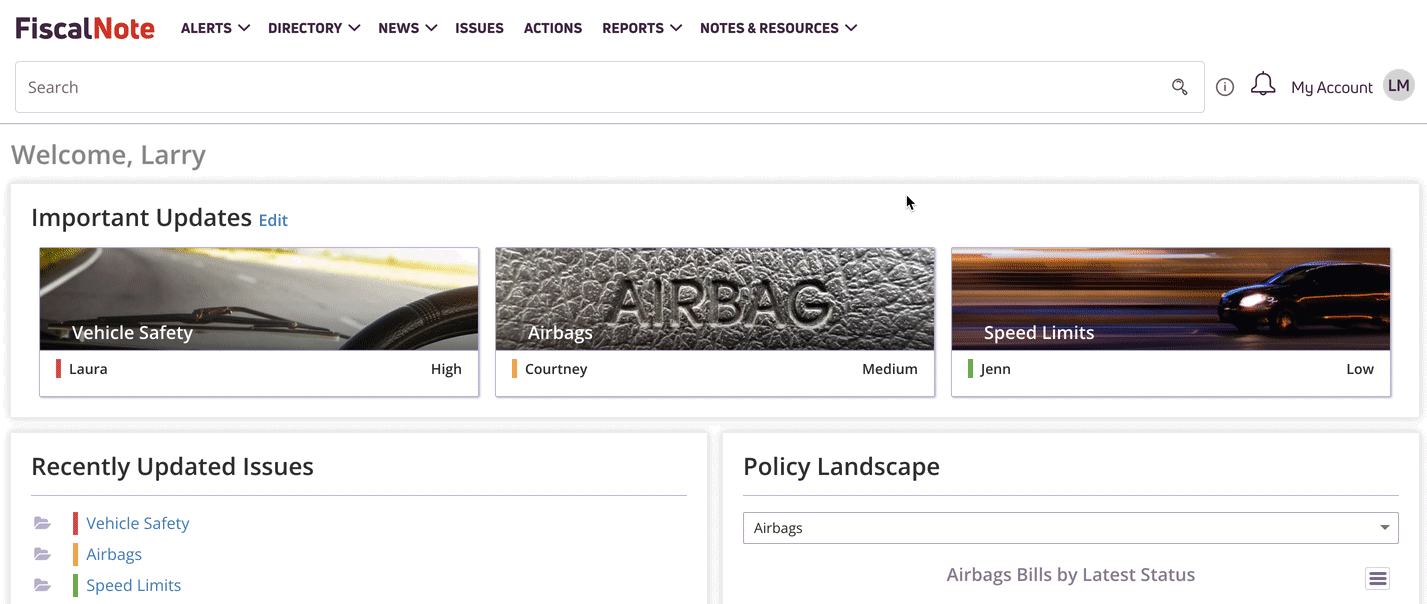 NOTE: Your Search menu may look different. Only the data sets that your organization has subscribed to will be visible.
To perform a Simple Search once a selection is made, use keywords as opposed to specific bill numbers or regulation titles. Simple searches are most informative when using a small amount of keywords, if not one.
If using more than one keyword, use Search Helpers** to combine them.
For example: If using the 'Exact Phrase' Search Helper, we would type the phrase Vehicle Safety in quotation marks before clicking Search: "Vehicle Safety". This tells FiscalNote: Find all State Bills that mention both 'Vehicle' and 'Safety', but only when the two words are listed directly next to one another in the bill text.
**Click Here to learn more about Search Helpers.
In this example, we will use the Exact Phrase Search Helper to better understand the state-level policy landscape about safety, specifically when referring to vehicles: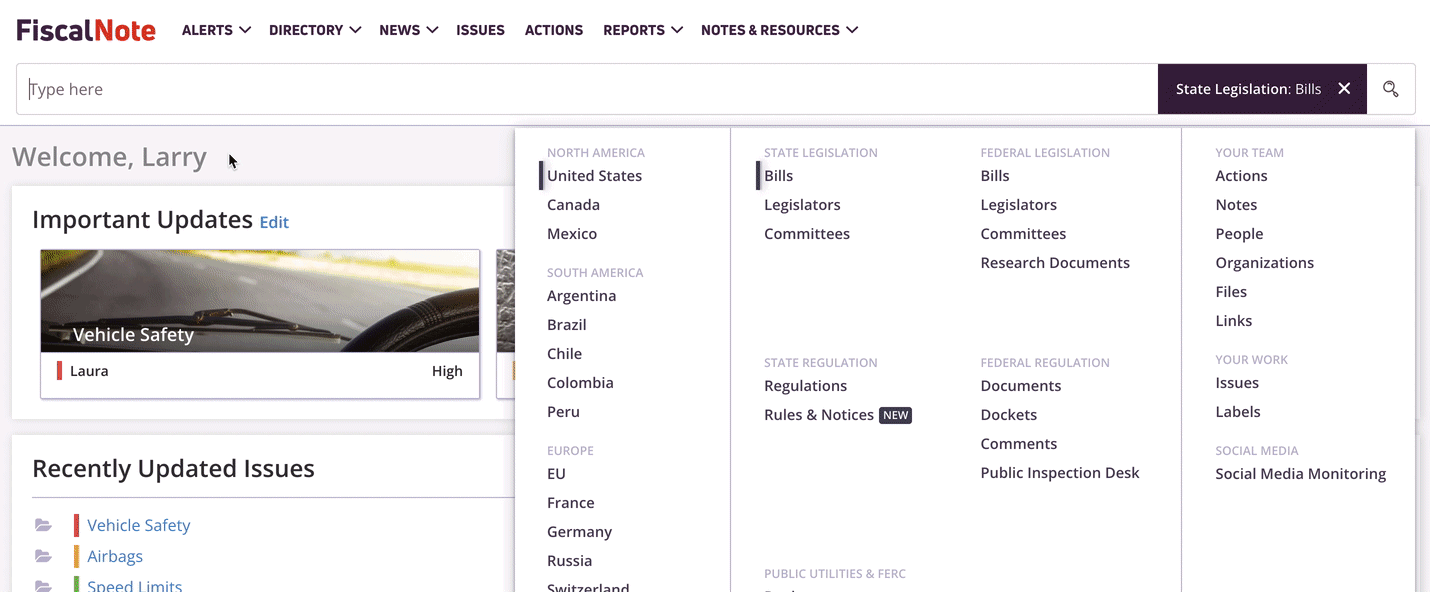 Valuable Research Information:
The Search Results page will immediately tell you the following:
1.) Total bills introduced this session:

2.) Total bills introduced per legislature, with both a filter and interactive map selection fields: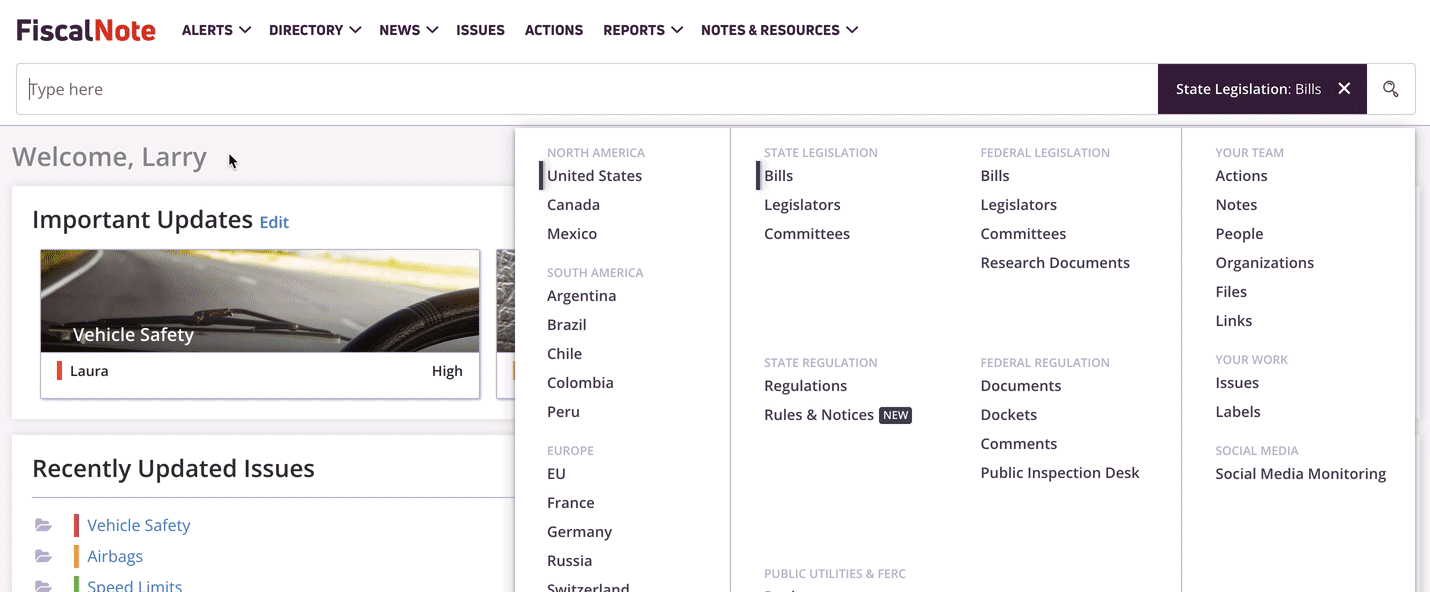 3.) Bill Statuses, also complete with both a filter and interactive map selection fields: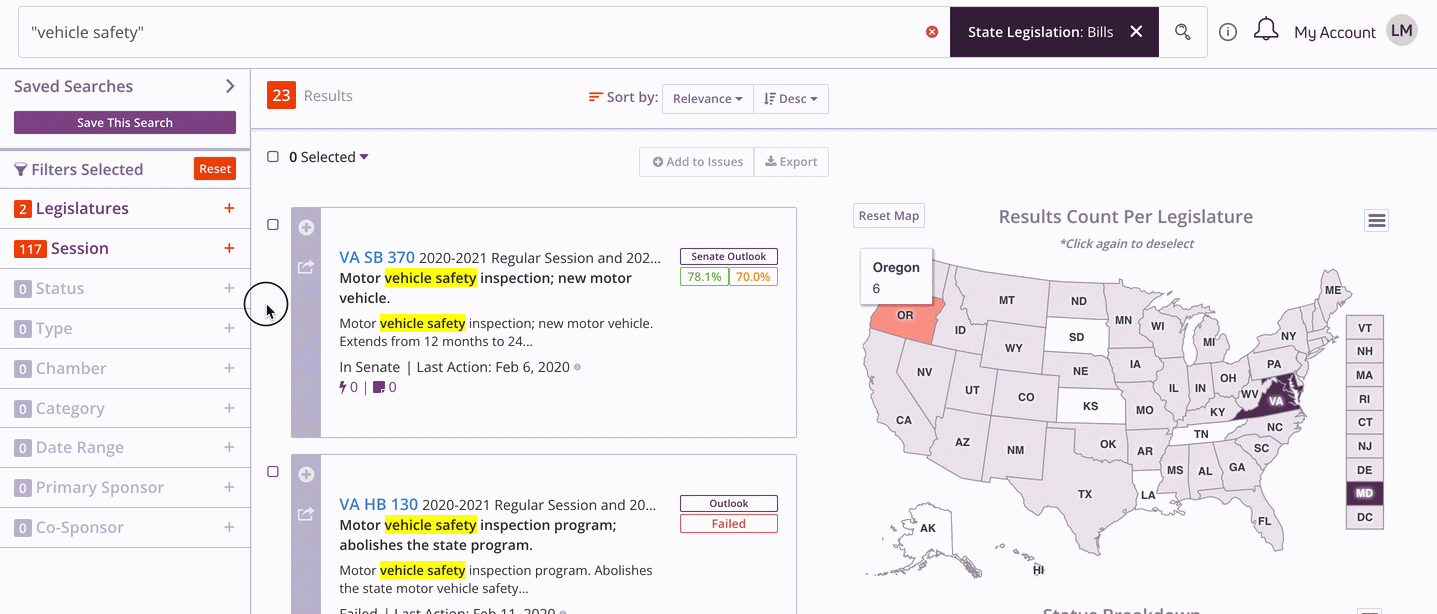 4.) Bill Types: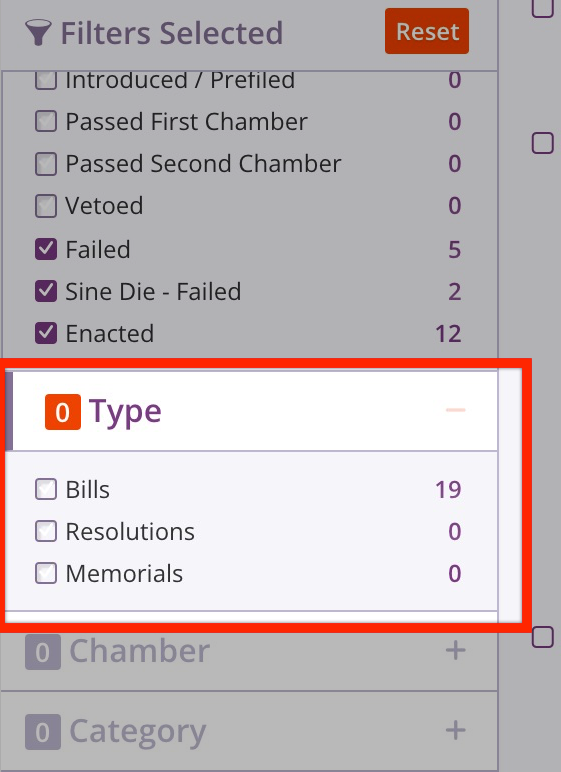 5.) Totals by Chamber: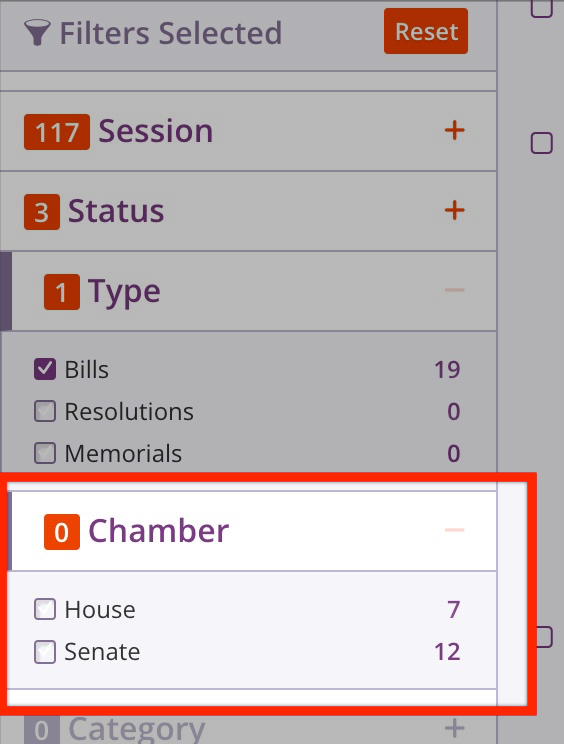 6.) Categories, identified by FiscalNote's advanced machine learning: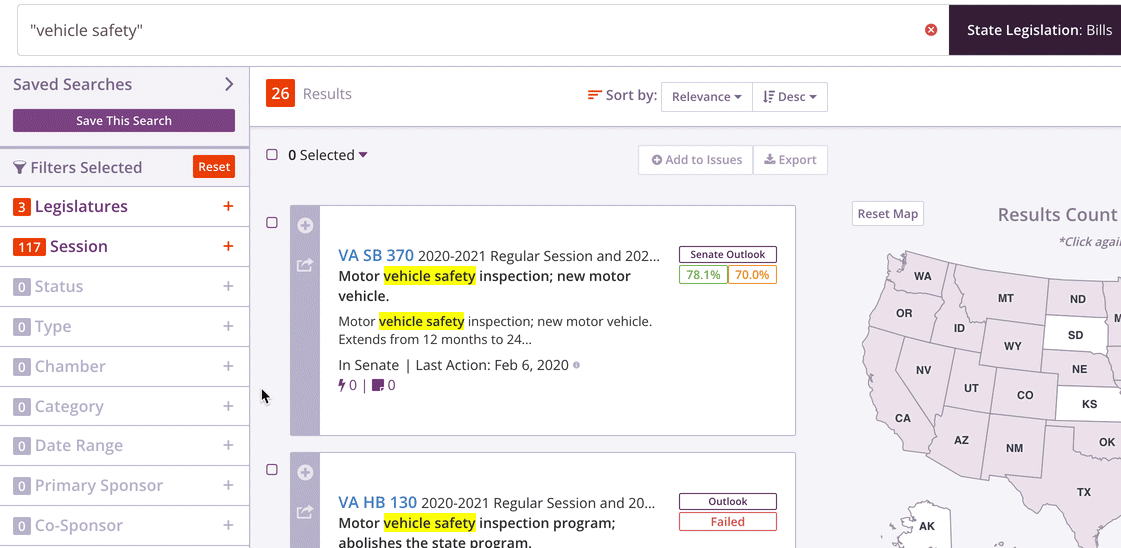 Choose a category to narrow your focus, more closely aligning the results with your interests.
Other Filters used for Research purposes:
As you continue to make Filter selections, the results dynamically update.
For example: If you were hired at a vehicle safety firm in Maryland, you might choose the Legislatures Filter and select Maryland, then use additional Filters such as the ones below to perform research.
1.) Bill Count by Session to understand historical trends: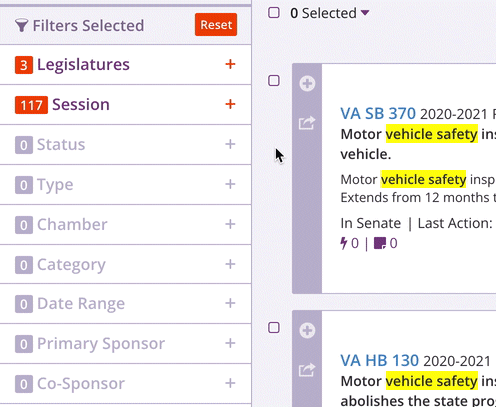 2.) Sponsorship and Cosponsorship totals. Filter by name to understand an official's legislative trends: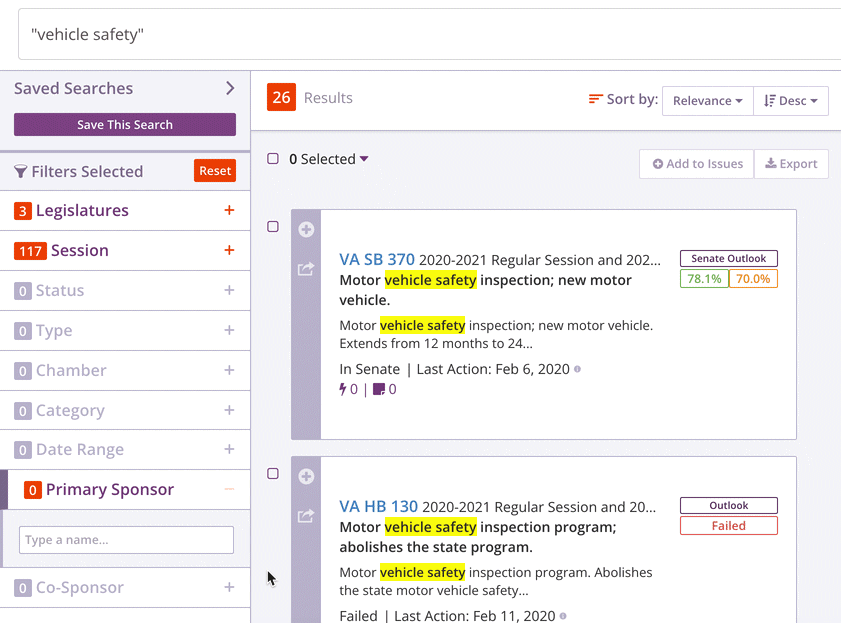 3.) Date Range to browse distinct periods of Last Activity: