Why Does Local Coronavirus Policy Matter?
Most organizations track policy documents on the federal level, state level, or both. With the Coronavirus crisis, we are already seeing interplay between federal and state governance. Many governing bodies are introducing similar response measures in new policy documents. However, we are also seeing interplay with local ordinances.
Even if your organization is not typically focused on monitoring local policy documents, your employees live in localities where this information matters. Understanding the impact on labor and workforce should be a high priority during a pandemic. In these scenarios, local policy is where the rubber meets the pavement. You may need to build a response plan to the most rigorous controls enacted at the local level to ensure your work force maintains productivity. Learn about curfews and public gathering mandates and formulate appropriate organizational response measures.
How to Get Local Coronavirus Policy Updates
FiscalNote is granting access to COVID-19 Local Monitoring to all clients, free of charge! To sign up, please click here and complete the brief 3-step survey.
What You Get with Local COVID-19 Policy Monitoring
Spreadsheet:
FiscalNote's Professional Services team will provide you with your own spreadsheet of local policy updates. The team is hard at work, making updates as soon as FiscalNote is made aware of them. The spreadsheet will include local policy updates from cities and counties with a population of 50,000 or more and is sent out via email every Wednesday.
Your spreadsheet will include the following information:
City or County of the proposed ordinance
Date the meeting information was published
Date the meeting occurred or will occur
Where the meeting will occur
Brief Summary
Link to the meeting agenda document
There are two tabs in spreadsheet:
Latest Alerts - this tab highlights ordinance that have a meeting date within the past 7 days. This content in this tab will change from day to day as the date changes.
All Time - this tab includes everything in Latest Alerts, and has all of the alerts since FN started COVID-19 specific local monitoring.
It is important to note that this information cannot be printed nor downloaded.
Email:
A weekly email will deliver a compilation of all local policy updates from the previous week. This information is valuable in evaluating the holistic impact of Coronavirus on your workforce.
COVID-19 Local Monitoring Example (download):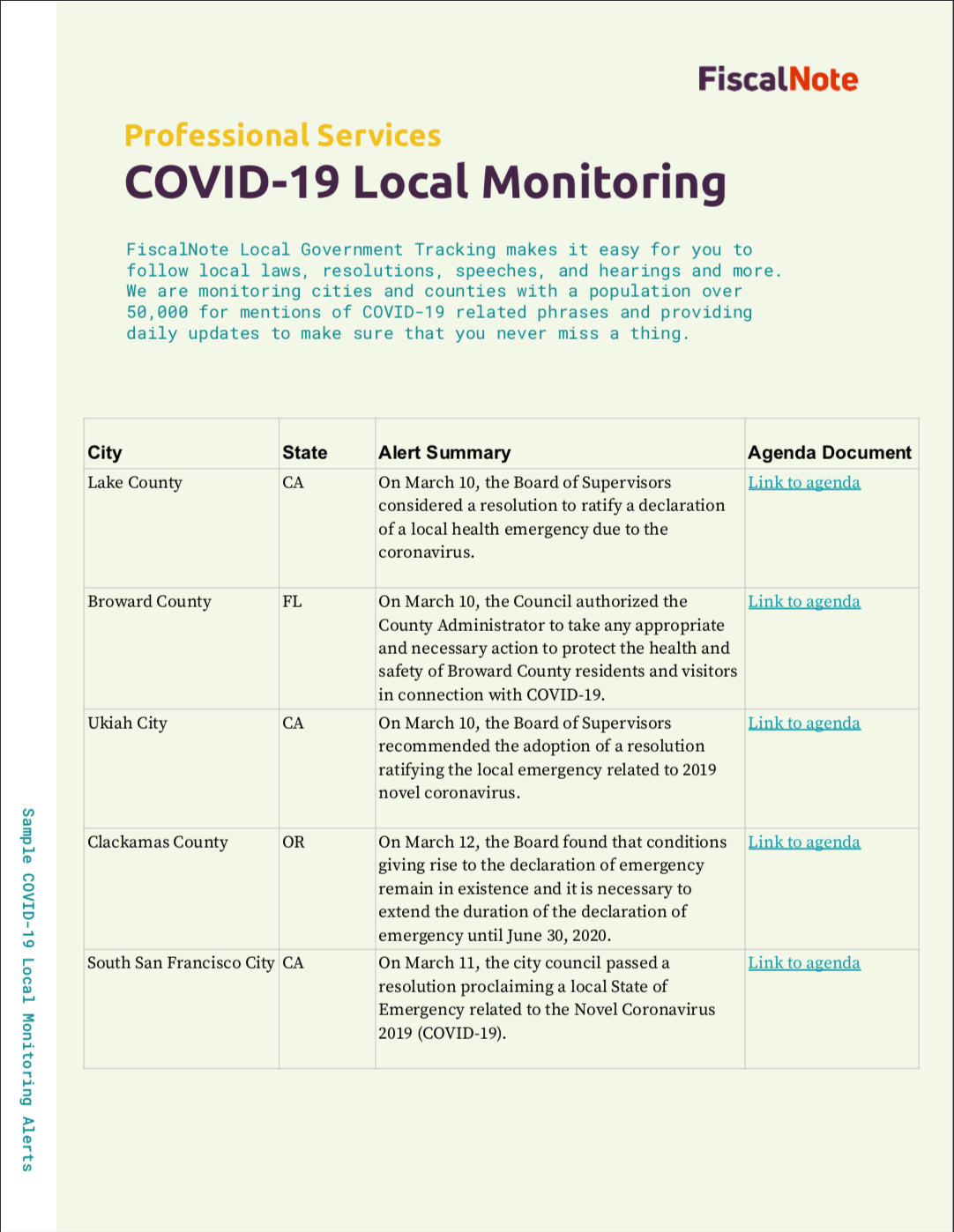 Best Practices for Using Your COVID-19 Local Policy Spreadsheet
The data in your spreadsheet is extremely valuable. How you leverage the data can increase its utility.
1.) Add the entire Google Sheet link to your FiscalNote Coronavirus Issue. For brief tips on adding links, please click here to learn more. Adding the Google Sheet link to your FiscalNote Coronavirus Issue will give all team members access to this information from one location when needed.
2.) Add links from relevant policy to your Coronavirus Issue in FiscalNote to save time in the future. Rather than sift through all Coronavirus related updates each time, grant your team quick and easy access to local policy documents that may impact your interests.
3.) Use knowledge acquired from Local policy updates to drive advocacy efforts. Having complete knowledge of what is occurring at all levels state-wide or nation-wide will equip you with the messaging you need to provide your advocates. Similarly, use this information to address your state-level and federal officials. Let them know how your communities are being impacted.
For tips to leverage VoterVoice for your Coronavirus Advocacy response efforts, please click here.
For tips to leverage CQ Engage for your Coronavirus Advocacy response efforts, please click here.
For more information about FiscalNote's Advocacy tools, please contact your Account Manager.