While in person meetings and events may have slowed or stopped altogether due to the Coronavirus pandemic, that doesn't mean your efforts have. Use Actions in FiscalNote to log your activity and communicate your remote efforts with key stakeholders and decision makers. Follow the tips below to learn how to engage stakeholders remotely during the crisis.
What Are Actions?
Actions in FiscalNote allow you to document your outreach and communication efforts with key stakeholders and policy makers.
Where to Find Them
In the collapsible menu on the left, hover over the lightning bolt and click "Actions":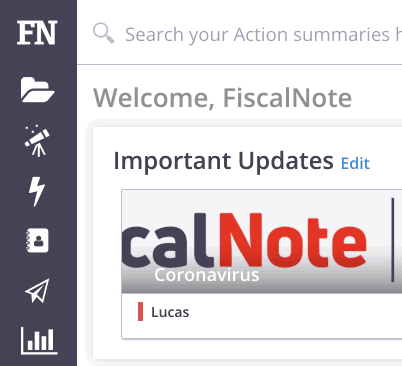 On the Actions page in FiscalNote, you will find a record of all previously logged meetings, phone calls, emails, etc. To create a new one from scratch, click [+Add] on the top right of the screen:

In the Add Action pop-up window, add relevant information to link the Action to all appropriate fields in FiscalNote. As a best practice for your Coronavirus efforts, we recommend always linking to your Coronavirus Issue. If you have not created a Coronavirus Issue yet, please follow these tips.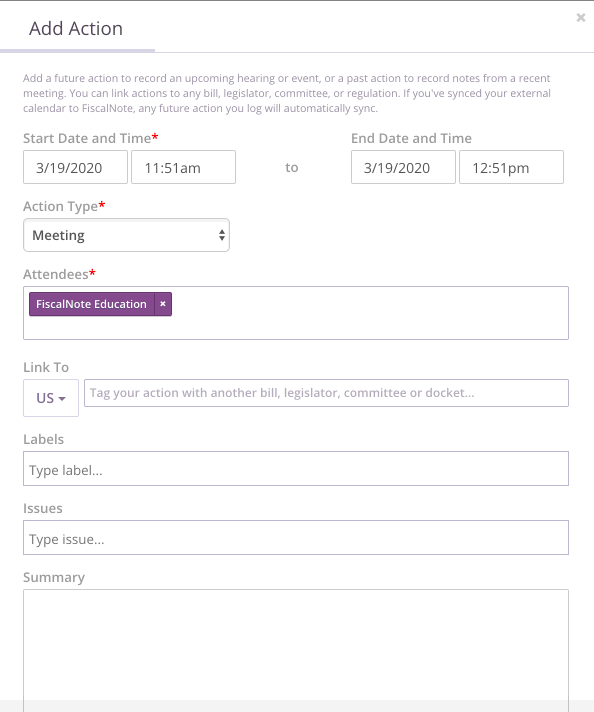 We also recommend linking to the official or key stakeholder you contacted. If your Action was related to a specific policy document, link to that information in the "Link To" field by typing the bill number, for example. In the Summary section, enter brief notes detailing your conversation or activity.
Please keep in mind that you can also link an Action to contacts such as State Governors and key Agency Directors via FiscalNote's Directory. If you need to log an action with a stakeholder who is not part of the government in some capacity, add or upload those contacts first via Contacts.
When done, click the green "Save" button at the bottom of the pop-up window:
Other Locations to Create an Action
For speed and ease of use, you can also log an Action from a Legislator, Bill, or Regulation page from the available tabs to the right of "Overview":

When you add an Action from a bill page, FiscalNote will automatically link the Action to the bill number for you: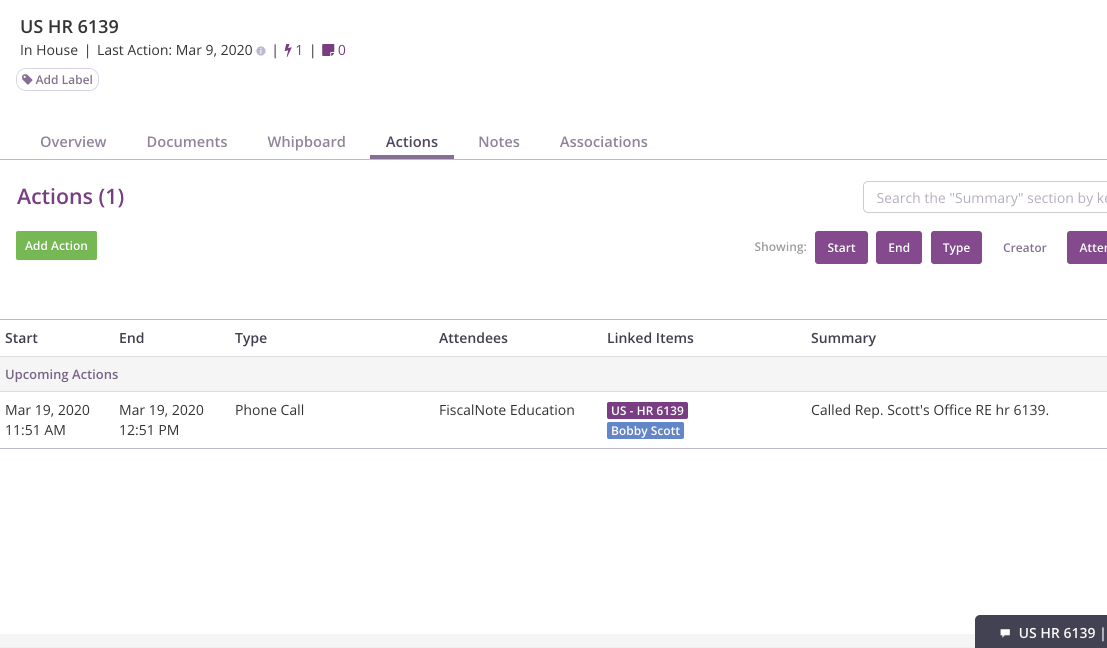 When done, the lightning bolt to the right of the page title will update to show the total number of Actions associated with the page:

How to Create an Export for All Coronavirus Actions
To produce an Export with all Coronavirus related activities, navigate back to the Actions screen by clicking the lightning bolt from the left-hand menu. Next, use the Issues filter and select your Coronavirus Issue:

After you have applied your Coronavirus Issue filter, select all Actions using the drop-down arrow under the top checkbox on the left of the screen. Then, click Export:

Give your Export an appropriate name, such as Coronavirus Actions, choose your file type (.csv or Excel), and click Download. Use this document to communicate your remote efforts with key stakeholders.