Would you like FiscalNote to create Coronavirus Discovery Alerts for you? If so, great! Please fill out this survey to start the process. If you would like to do it on your own, please continue reading below!
What Are Discovery Alerts?
Discovery Alerts are designed to help you uncover the most relevant legislative and regulatory information as it occurs during active sessions. Discovery Alerts will notify you of newly introduced or revised bills as well as proposed rules that match your criteria. You can also choose to get alerted whenever a relevant Congressional Research Service (CRS) report is published.
How Do They Work?
You will receive email and in-app alerts on newly introduced legislation or regulation that has keyword matches based on your search terms.
How Do I Create One for Coronavirus?
To create Coronavirus Discovery Alerts on your own, please use the following tips and instructions:
1.) To create a Discovery Alert, navigate to the Discovery Alerts page by clicking the telescope icon in the left-hand menu of FiscalNote: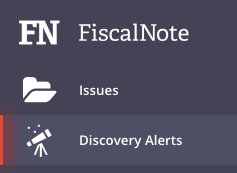 2.) Click the green "Create Discovery Alert" button to create a new discovery alert.

The Discovery Alert creation pop-up window will appear.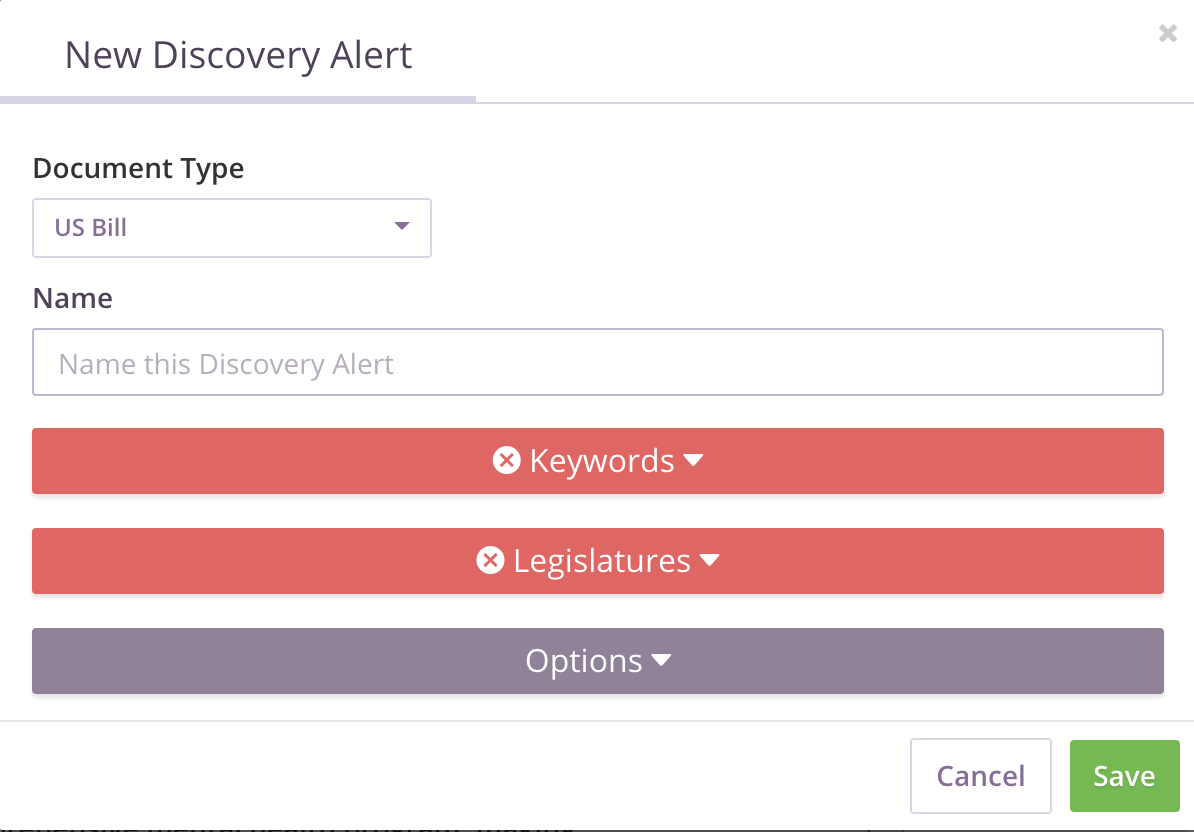 3.) Under "Document Type", select the type of discovery alert you want to make: Bills (State and Federal), Federal and State Regulations, CRS Reports, PUC & FERC Filings, International Bills or International Regulations. If you do not see a data set that you need, please contact your Account Manager.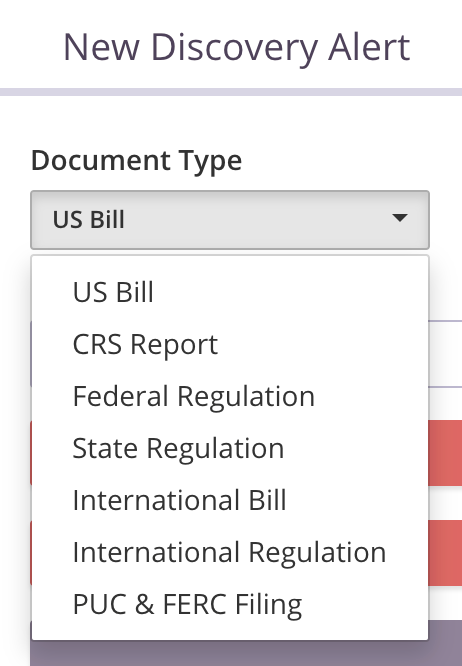 4.) Next, enter a name for your Discovery Alert. The name will not impact the criteria applied to the discovery alert. We recommend something straightforward for easy recognition, such as Coronavirus or "COVID-19":

5.) Next, enter the keywords that you would expect to appear in the policy documents you want to be alerted about. You can use boolean operators in your keyword search to be more precise.

For simplicity, we recommend the following: coronavirus OR "corona virus" OR "COVID 19"
For more complex queries, we recommend something like this: "COVID 19" OR "coronavirus" OR "corona virus" OR "Coronaviridae" OR "SARS-CoV" OR wuhan OR "emergency sick leave"~15
For more custom Discovery Alerts, please either fill out the survey

mentioned above, or contact your Client Success Manager
6.) Next, select the legislatures that you want to discover bills or regulations from. For bills, for example, you can quickly select all 52 of the legislatures we cover (US Congress, DC, and the 50 states), or you can select individual states. Selecting a handful of states is ideal for regional managers who cover only a portion of the country.

7.) Finally, select your Discovery Alert notification preferences. To receive email notifications, select "Send to Email." You can choose to receive notifications in real time, or in four hour, daily, and weekly digests.

8.) To complete the Coronavirus Discovery Alert creation process, click the green "Save" button.
Once a Discovery Alert has been created, it will populate a list of all previously introduced or revised bills or rules that match your criteria in addition to alerting you to new bills or rules. These bills will appear in your "Discovery Alerts inbox".
To ensure you are reviewing the right policy documents when reading through matches in FiscalNote, first select the document type from the drop down menu located below the green "Create Discovery Alert" button: