The Search page in FiscalNote will show you all bills in all states for the current session, including any special sessions. Clicking "Select Legislatures" in the "Legislatures" filter reveals a modal listing each state with its total number of bills from the regular session plus special sessions. You may manually extract this information and place it in a table with the following method.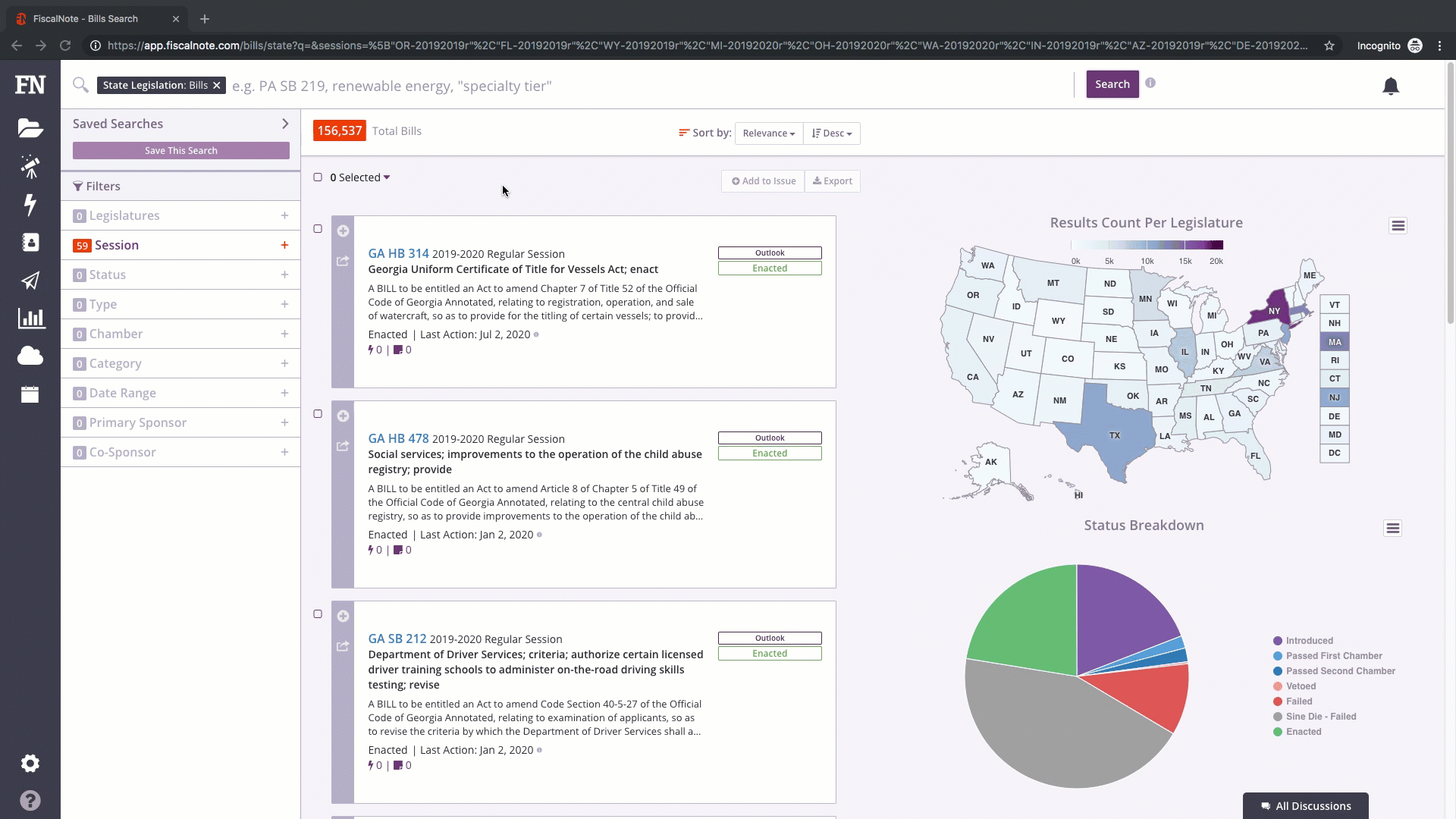 While viewing the "Select Legislatures" modal, click and drag the cursor from District of Columbia all the way through to Wyoming so all states and bill counts in the modal appear highlighted.
Copy the highlighted text, either by right clicking then choosing "Copy" or by pressing Control + C on a PC or Command + C on a Mac).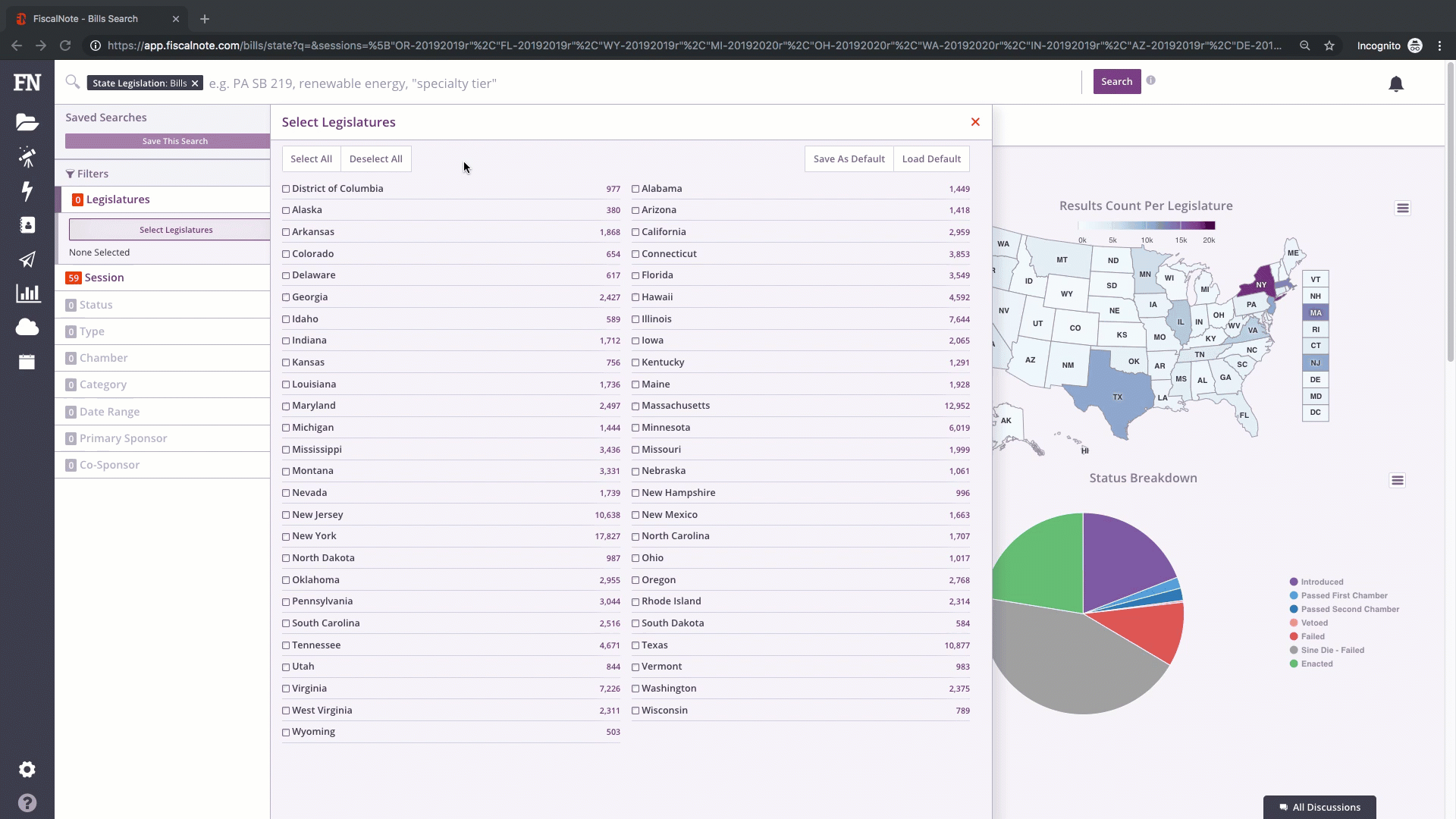 Open a spreadsheet application (such as Microsoft Excel or Google Sheets) and Paste, either by right clicking then choosing paste or by pressing Control + V on a PC or Command + V on a Mac. The Paste action will generate a column of 102 rows, alternating between state and bill count.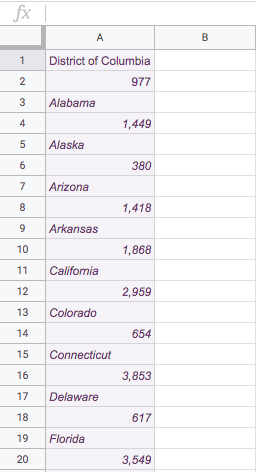 To get the state and bill count side-by-side, first enter a repeating pattern of 1s and 2s down a new column to the left of your original column; 1s for the cells containing a state name, 2s for cells containing the bill count.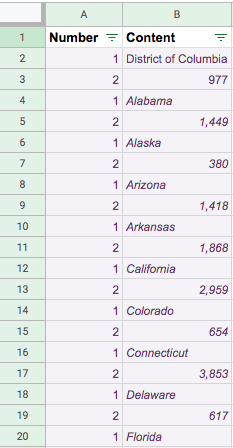 Then, copy a simple Transpose formula such as =TRANSPOSE(B2:B3)

 down the column to the right to original column.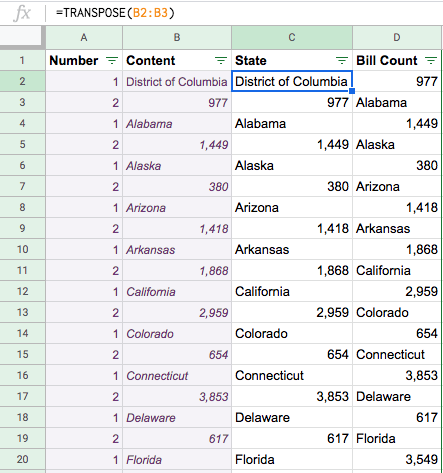 Apply a filter on the left most column for only the cells with a 1 and the result is a table with state and bill count.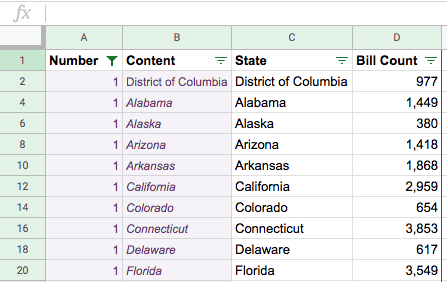 For a total number of the bills, enter a Sum formula such as =SUM(C2:C52) at the bottom of the column of bill counts.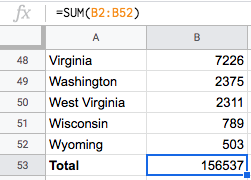 Copy paste the table created by the transpose formula to a new spreadsheet or another area for your use. Below is a sample table for the 2019 session. 
Please note, this sample table contains all bills for the entirety of the current session. Using the Date Range filter on the Search page is not recommended in this case, as that filter applies to the Last Action date on the bill; for example, applying a filter with an end date of June 30, 2019, would exclude any bills that received activity in early July. Using the Status filter is also not recommend in this case, as applying the Status filter for Introduced would limit the displayed bills to only those currently in that status. 
| | |
| --- | --- |
| State | Bill Count |
| District of Columbia | 977 |
| Alabama | 1449 |
| Alaska | 380 |
| Arizona | 1418 |
| Arkansas | 1868 |
| California | 2959 |
| Colorado | 654 |
| Connecticut | 3853 |
| Delaware | 617 |
| Florida | 3549 |
| Georgia | 2427 |
| Hawaii | 4592 |
| Idaho | 589 |
| Illinois | 7644 |
| Indiana | 1712 |
| Iowa | 2065 |
| Kansas | 756 |
| Kentucky | 1291 |
| Louisiana | 1736 |
| Maine | 1928 |
| Maryland | 2497 |
| Massachusetts | 12952 |
| Michigan | 1444 |
| Minnesota | 6019 |
| Mississippi | 3436 |
| Missouri | 1999 |
| Montana | 3331 |
| Nebraska | 1061 |
| Nevada | 1739 |
| New Hampshire | 996 |
| New Jersey | 10638 |
| New Mexico | 1663 |
| New York | 17827 |
| North Carolina | 1707 |
| North Dakota | 987 |
| Ohio | 1017 |
| Oklahoma | 2955 |
| Oregon | 2768 |
| Pennsylvania | 3044 |
| Rhode Island | 2314 |
| South Carolina | 2516 |
| South Dakota | 584 |
| Tennessee | 4671 |
| Texas | 10877 |
| Utah | 844 |
| Vermont | 983 |
| Virginia | 7226 |
| Washington | 2375 |
| West Virginia | 2311 |
| Wisconsin | 789 |
| Wyoming | 503 |
| Total | 156537 |