The Files Tab contains any content that one or more users uploaded to their organization's FiscalNote account and added to the Issue. Notably, the content that appears on the Files tab is not generated or curated by FiscalNote but by users; the content is understood to be relevant to the Issue.

In the left corner, click on "+Add File" to add a file to the Issue. Underneath the "+Add File" button is a text field containing a magnifying glass. This allows you to Search across the displayed content; type criteria into the field and then press ENTER to launch the search.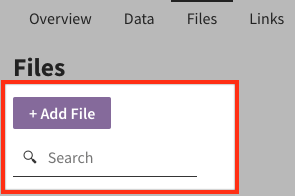 The upper right corner of the tab displays information about the usage of the organization's Drive in FiscalNote. The amount and percentage of used space is shown alongside a link to the Drive. The number of files available is listed underneath the Drive percentage. To the right, click on "Clear all filters" to remove any filters currently in use. 

Files are displayed in a chart-like list where each row represents a unique file and its attributes. Move through the list of files either by dragging the scrollbar on the right of the screen or by scrolling down with your trackpad or mouse wheel. Click on the name of a file to reveal a Preview mode with more details. Note that only certain previewable file types can be completely rendered in FiscalNote. 
Select: Selecting allows you to perform bulk actions on multiple files. Click on the square to the left of the Name column to select all. 

With multiple files selected, you may use the buttons located below the Drive link to add or change or perform tasks with those files. Options include:

Add to Issue

,

Add to Label

,

Delete

.

Name: This column includes the file name. 
Type: This column displays the type of file. 
Uploaded By: This column shows the user who uploaded the file. Click on the funnel icon to filter for a file uploaded by a certain user.
Last Updated: This column shows the date the file was last updated. 
Label: This column displays all labels assigned. Click on the funnel icon to the left of "Labels" to filter for certain labels.