An Issue allows you to manage all strategic planning, stakeholder engagement, and internal collaboration for efficient sharing, access, updating, and reporting. The sections on the Overview tab ways to share general updates, timeline, goals, talking points, and more, about your Issue. This article shows you how to: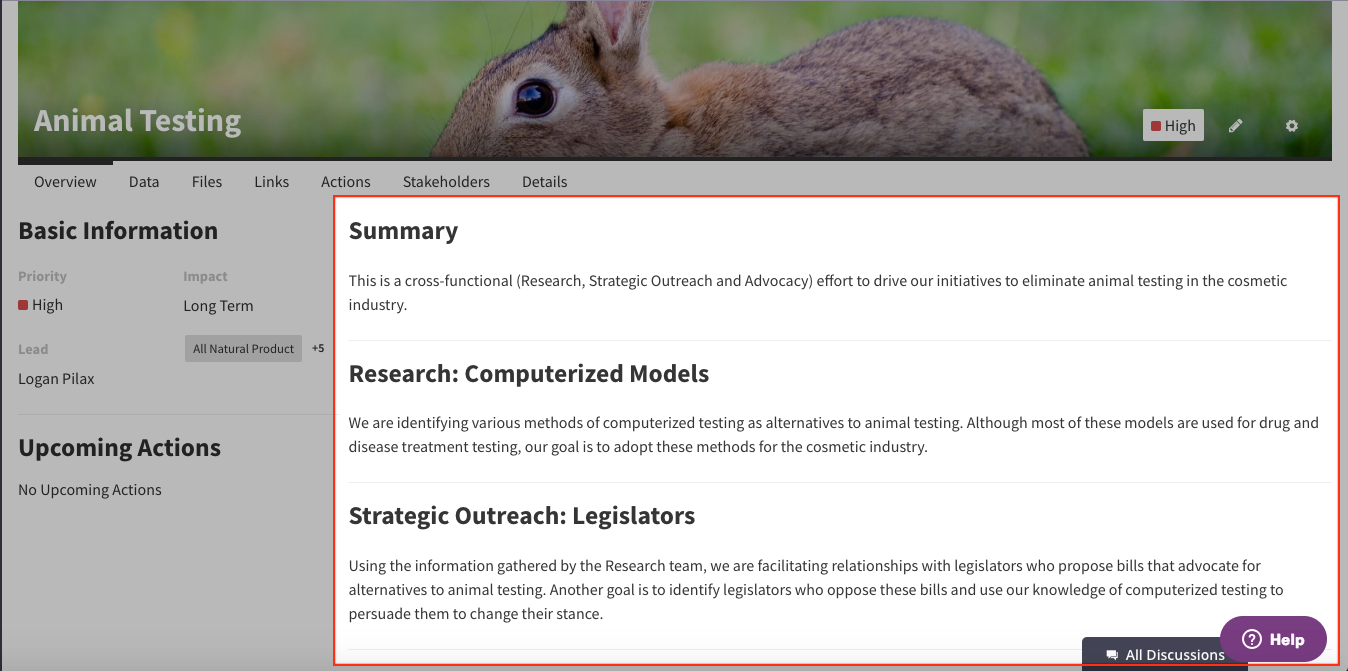 How to Add and Show Sections on the Overview tab
In setting up your Issue or keeping the content up-to-date over time, you may find that you need to add a new Section or show an existing Section not currently displayed on the Overview tab. To create an entirely new Section, goto the Details tab, navigate to the bottom of the page, and click "Add Section." Enter the Name and Text you would like for your section and hit Save.

By default, any Section you Add to your Details tab will be placed on the Overview tab. You shouldnotice for the Section you just added that the Show on Overview checkbox is ticked. To show an existing Section on the Overview tab, go to the Details tab, locate the Section you'd like to display on the Overview tab, and click the checkbox next to "Show on Overview."

How to Edit and Move Sections on the Overview tab
To edit the content of Sections already on the Overview tab, select the Details tab and locate the Section(s) you'd like to edit. Click anywhere on the Section card to open the text editor and make any edits you'd like. Hit save to confirm your changes.

Please note that you can edit the content in the Summary Section but you cannot edit the Section name. The Summary section will always be titled "Summary" and, additionally, is the one Section that you can't delete.
Once satisfied with the content, you can rearrange sections by using the arrow buttons on each Section. The arrow buttons are located in the top right of each Section.
How to Hide and Delete Sections on the Overview
To remove a Section from the Overview tab but keep the Section and its content in Details, navigate to the Details page, locate the Section in question, and click the currently checked checkbox next to "Show on Overview."

If you would like to remove the Section entirely from your Issue and FiscalNote account, click on the trashcan icon to delete the Section.