To search across all your Actions, we recommend accessing the Actions page in FiscalNote.
To reach the Actions page in FiscalNote:
Select the Actions icon in the navigation bar on the left OR
Click within the search bar and then select Actions under "Your Team"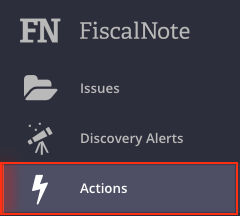 .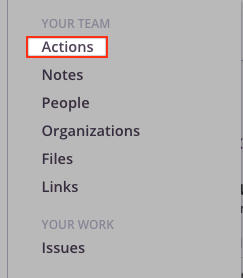 To filter the Actions page:
You may filter all Actions on this page by the following criteria:
Start Date
End Date
Type
Creator
Attendees
Linked Items
Issues

Additional sub-filters appear in a drop-down menu, including

Bills by country, ID, and (for the US only) legislature
Committees (US only)
Contacts 
Regulations (US only)
Actions without linked items

Summary

refers to filtering by #hashtag in one or more summaries
order to see all the actions associated with an Issue; for example, here is a link to all actions associated with the 'aluminum' issue page (you can export all of these action by selecting them all and then clicking Export). The search at the very top of the Actions page will search across all your actions by keywords within your summaries.
Then, in the Search bar, type in a specific hashtag (#) or keyword
To view all actions logged by your team to FiscalNote, do not enter any criteria and click Search
Click on any action to view it or edit it