Using the Session filter
In Search, you can expand the "Session" filter by pressing the plus sign to the right of the filter. Explore each jurisdiction by pressing the plus sign to the left of the jurisdiction. You may scroll through the list of all jurisdictions.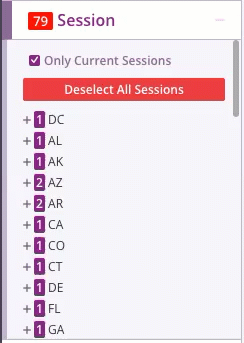 You may also review data from past sessions on the Data Tab or on the Reporting page. Please note that the most granular filtering by session is available in Search.
FiscalNote has legislation for Congress, the 50 states, and the District of Columbia, each of which has different concepts of session length. Further, each jurisdiction has its own nuanced procedure for handling how bills move from one session to the next. The following identifies key terms and explains the way the FiscalNote session filter accommodates them. 
Session Length - Annual, Biennium, and Biennial 
In order to standardize legislative processes across all 52 legislatures, FiscalNote classifies a legislative session as either a two-year period ("biennium session"), a one-year period recurring every year ("annual session"), or a one-year period occurring every other year ("biennial session").
Examples of states with annual sessions include Mississippi, New Mexico, and Utah. Examples of states with biennium sessions include New Jersey, New York, and South Carolina. Examples of biennial session examples are Texas and Nevada—they each met in 2017 and convene again in 2019.
Carry-Over
Bills that are introduced in the first year of a biennium session have the possibility of being carried-over to the second year of the biennium. In contrast, bills introduced in an annual session, or in the second year of a biennium, have no opportunity to carry-over.
A bill that is carried-over to the second year of a biennium session in FiscalNote retains the same bill page and will continue to have any new actions added to its timeline. These new actions, votes, and other activities will be sent as Watchlist notifications. 
Reintroduction
For bills that did not get Enacted at the end of a biennium or annual session, there is a chance for that bill to be reintroduced in the subsequent session. While occasionally reintroduced bills will share the previous bill's number, just as often states assign them a new bill number. For this reason, FiscalNote treats reintroduced bills like newly introduced bills—the bill will appear with the status "Introduced / Prefiled," and you will be alerted by your Discovery Alert if there are matching terms. Through our Similar Bills feature, you can look for predecessor legislation in past sessions.