This article explains Where to view the matching Keywords? and What if Multiple Alerts have a Keyword Match?

Where to view the matching Keywords?
FiscalNote will alert you to relevant legislation and regulations based on your Discovery Alert keywords. You can see why the information was flagged by looking at the keywords matched section in your email alert or in the preview panel in your Discovery Alerts. The keywords that were found in that specific document or bill will be highlighted to easily see how relevant that information is.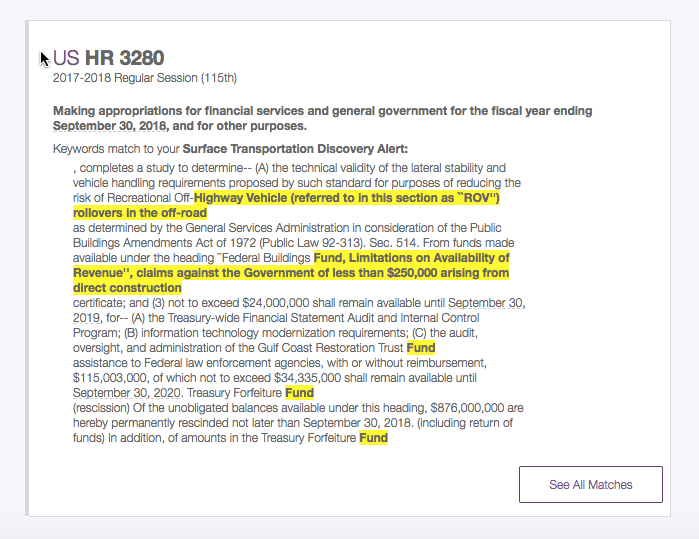 Unfortunately, we are also constrained by the state websites' text quality. As you know from interacting with these sites, some states are very good at uploading clean documents, and some are, well, not as good. Fortunately, most states provide clean documents.
In other words, we are only able to display clean text from states that provide clean documents and web pages. We are continuously editing this process and bringing in cleaner and more robust text for those states that are not completely "clean." This explains why there might be a bill in your discovery alert email that does not display the "matching keywords."
What if Multiple Alerts have a Keyword Match?
Keep in mind that it is possible for an item to match keywords in multiple alerts. If you'd like to verify whether the item matched multiple alerts, click the "All Alerts" section of your inbox and locate the item. Click on the item card to activate the preview panel. Read the Keyword match region. If you notice a note that the item "Also matched X other discovery alerts" then you can click the "See All" link to view all other matching alerts.