Introduction
As legislators introduce new bills, give public speeches and make important voting decisions, it's important to communicate with your team and develop engagement or response plans. Use the tools in FiscalNote to start the conversation, document your activities, and monitor a legislator's alignment with your stances over time.
Video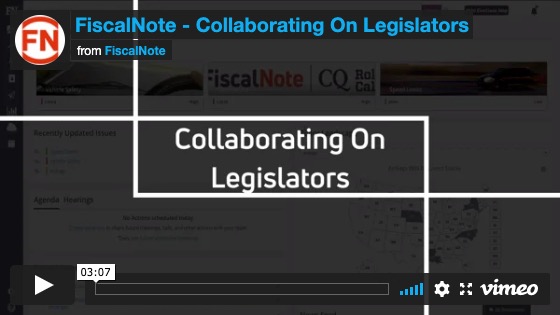 Communicating in FiscalNote
The discussion tool is useful for communicating on a number of pages in FiscalNote, but it's particularly useful when working with legislators. For example, if you would like a colleague to reach out, provide them with a direct link to the Legislator page with a message and include your ask: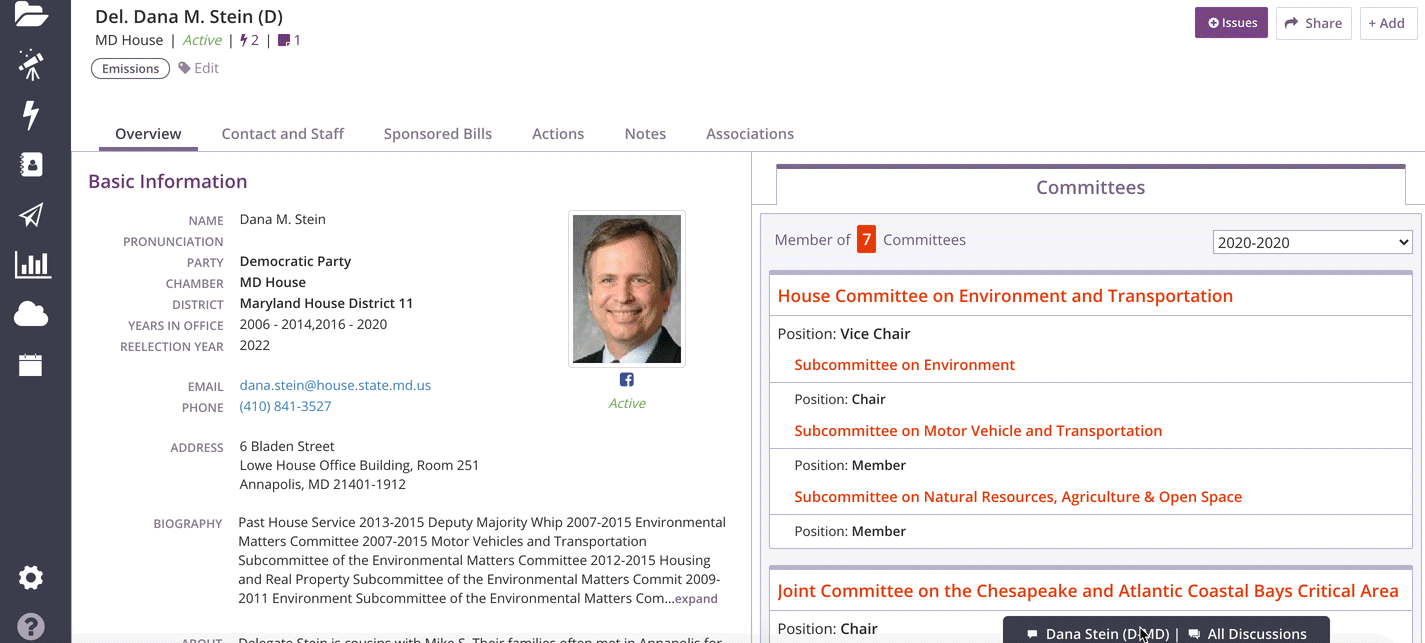 Click Submit when finished. The recipient will have a notification waiting for them via the bell icon at the top of the page:

Documenting Engagement
Whenever important outreach is performed or legislator engagement occurs, always add an Action and link the legislator to that Action. Actions summarize meetings, phone calls, hearings and more to help track activity over time. Use them to determine how effective certain engagement activities are, and evaluate where efforts can be better spent moving forward. Moreover, colleagues can access them to understand the relationship status from recent engagement notes.
To view past Actions, click the Actions tab from the Legislator page menu. Click the green Add Action button under this tab to add a new engagement note:
The FiscalNote user who creates the Action will automatically be linked to the note. Include all team attendees to know who spoke with who.
The legislator will also automatically be linked when adding a new Action directly from their page. When creating one from scratch, always add their name in the 'Linked To' section.
*Click here to learn more about Actions in FiscalNote.
Monitoring Alignment
As your team uses FiscalNote over time, you will more than likely come across policy that needs monitoring. Even if your primary role is stakeholder engagement, there may be important policy to reference in your meetings.
When this happens, always add the bill to an Issue. If you have a stance, set it with the Position drop-down that appears after adding a bill to an Issue:

Once votes are recorded, navigate to the Sponsored Bills tab of the Legislator's page to view alignment. The more you add Positions to bills in Issues, the easier it becomes to gauge alignment over time:

*Click here to learn more about monitoring bills in FiscalNote.