If you want a list of ALL bills that you have added in ALL your issue folders, follow these steps:
1. On the FiscalNote home page, run an empty search by placing your cursor in the empty search field, and hit enter. This will load the 'Search & Alerts' page.
2. You will find a list of filters on the left side column. Under 'Content Type', choose 'Legislation'.
3. Scroll down and select 'All Issues' on the 'Issues' filter, and hit Apply.
4. When the results have loaded, scroll down to the bottom of the page and keep on clicking 'Load More Results' until you reach the end of the list. Scroll back up and tick the checkbox to select all your results, then click 'Export xxx Results'.
4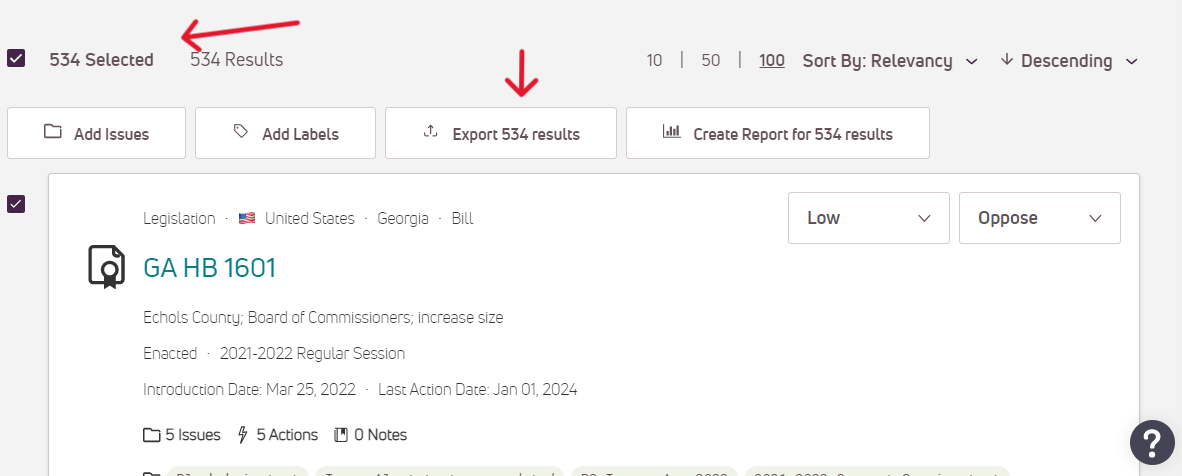 .
5. A pop-up, like below, will appear where you can input a title for your export and choose to save it as CSV or XLSX. Once done, press Export, then press 'Go to Exports Page' on the next pop-up, which will bring you to the Exports page, which houses all the exports you have saved. You can download, share, edit, and delete from here.