Introduction
As part of an ongoing initiative to better serve you, our clients, FiscalNote has been seeking feedback on ways to improve the Actions experience. This June (2021), we're excited to unveil our newest developments: Custom Actions Types, Enhanced Filters & Searching to find your work faster, and more! Watch the video below and continue reading to learn what's new, what's changed, and how to navigate the Actions Center facelift.
Video
The Actions Center Facelift: Navigating the New Look
As a reminder, the Actions Center can be found via the lightning bolt on the left hand menu. It houses all of the Actions you and/or your colleagues have recorded in FiscalNote:

All of your previously recorded Actions will remain. However, you can now enjoy a cleaner and easier to navigate interface. Filters have been moved from the top of the page to an interactive menu on the left, allowing you to choose which ones you actually need to leverage: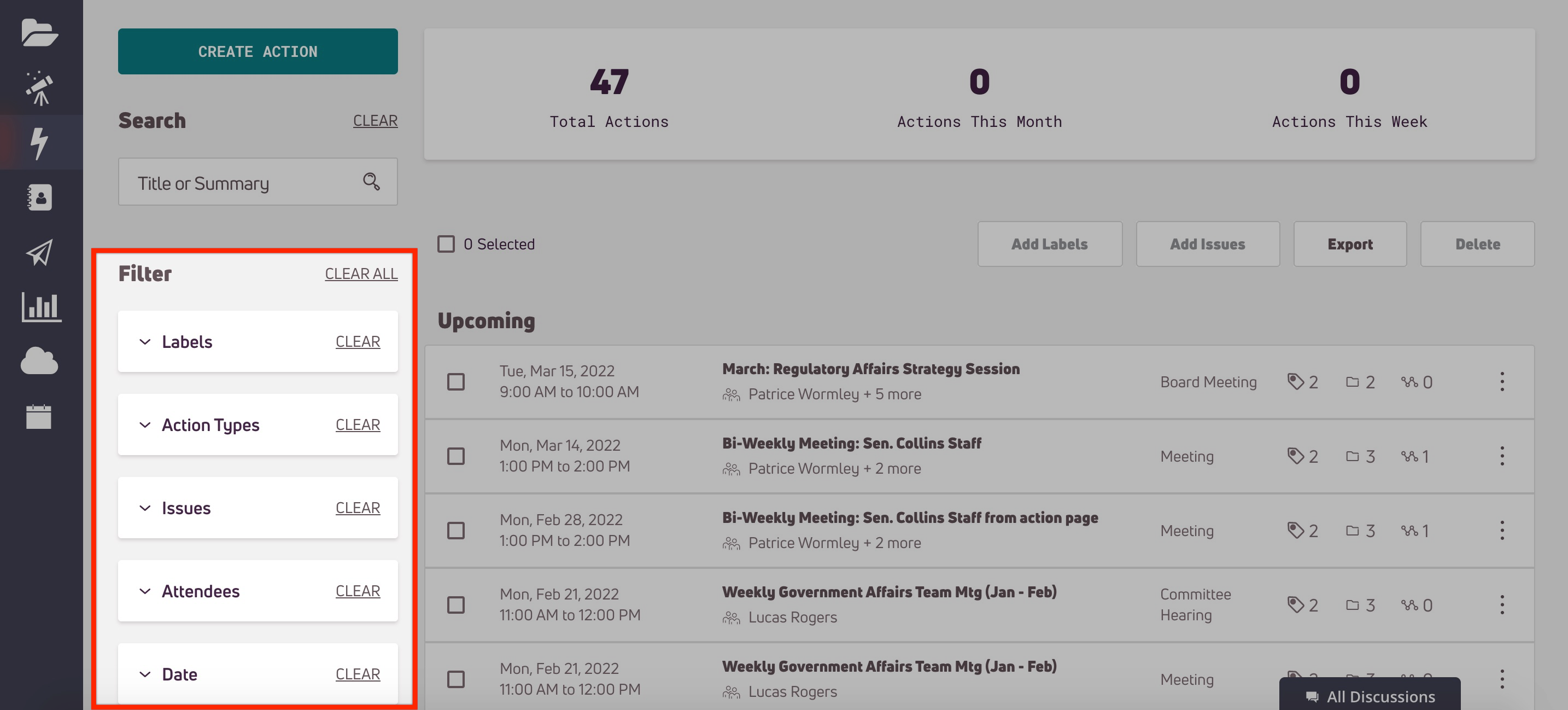 Reviewing & Editing Individual Actions
As of June 30 2021, the Actions Fly-Out panel is back! Reviewing past activity and related information is now a breeze. Use Filters or the Actions Search bar to narrow down your list, then click any Action to review the activity that occurred: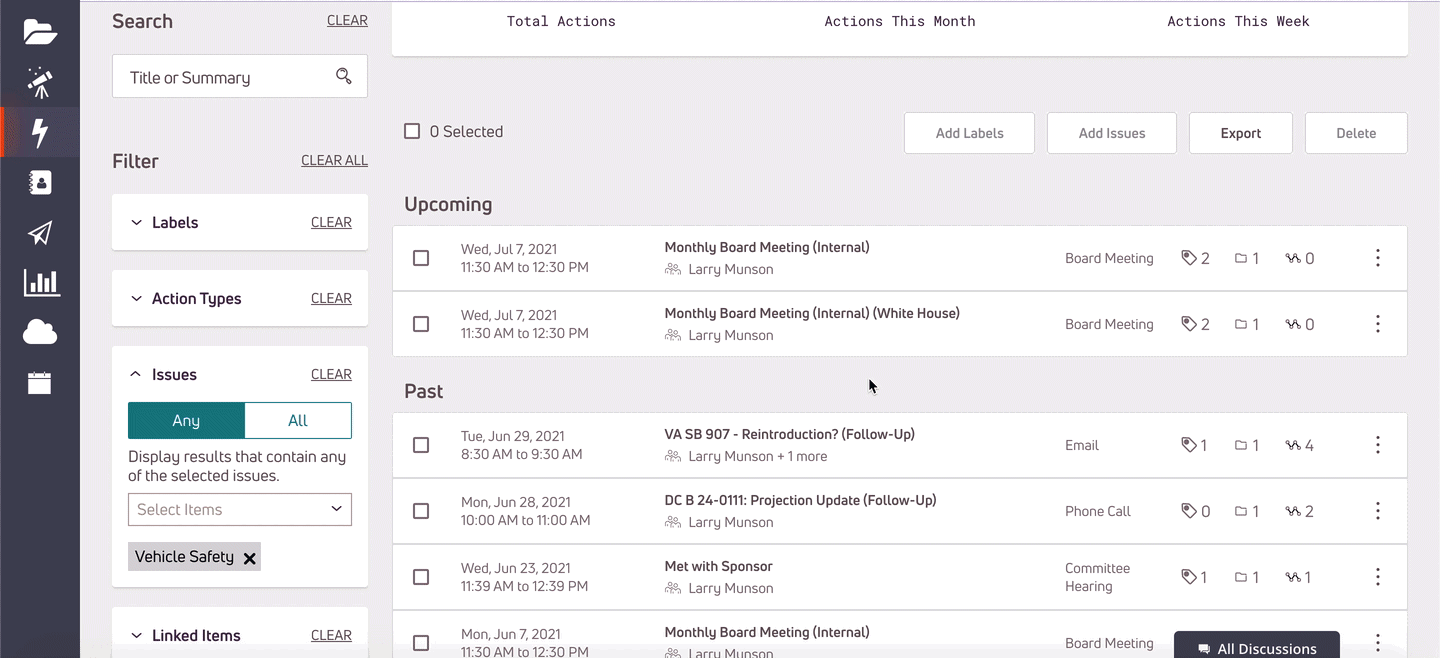 Linked items associated with the activity will be hyperlinked, allowing direct access to perform further research if necessary. To edit the Action, either choose Edit from the 3-dot menu to the right of the title, or Edit directly from the fly-out panel: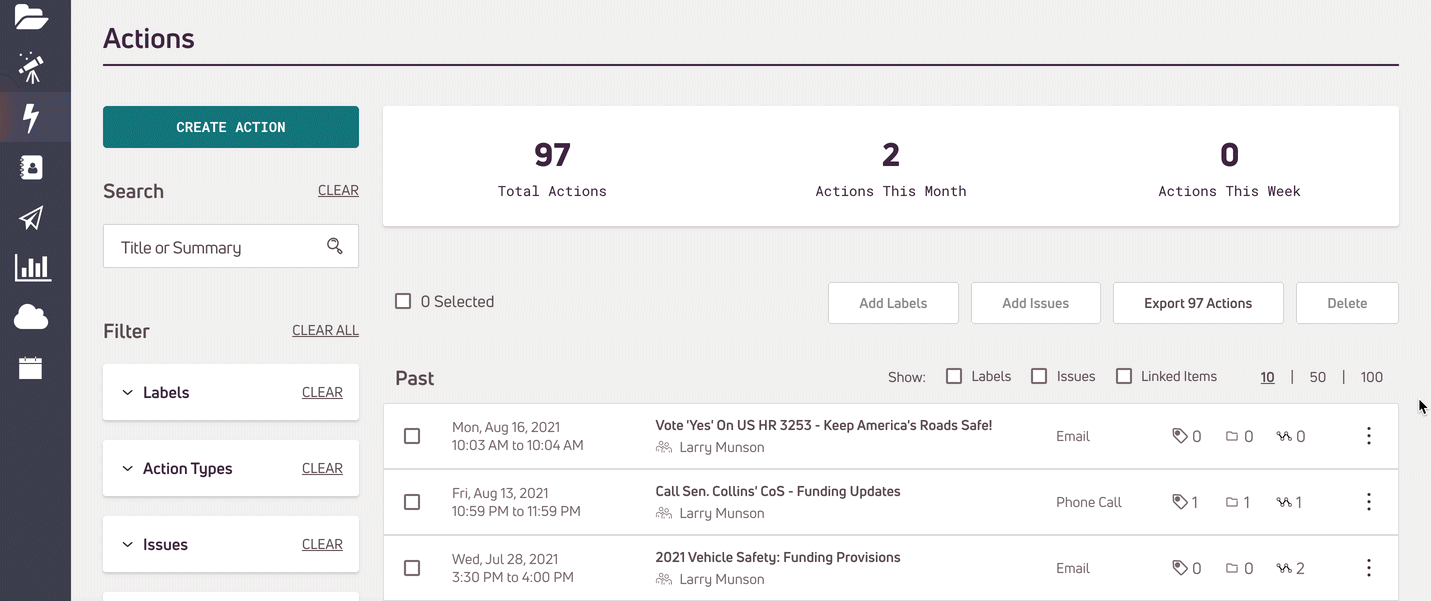 Bulk-Exporting Actions
There may be times when you need to report out on activity in bulk. We recommend first enhancing your Actions Center view to 50 or 100 Actions to get a better idea of the data at-hand:

Next, use a combination of Filters and the Actions Search bar to narrow the list of Actions to your desired result.
IF all actvity now shown needs to be included in your Export, do NOT click select all. Instead, just click Export:

FiscalNote will confirm how many Actions you are about to export.
IF actvity now shown needs to be pared down further in ways not supported by Filters, use the checkboxes: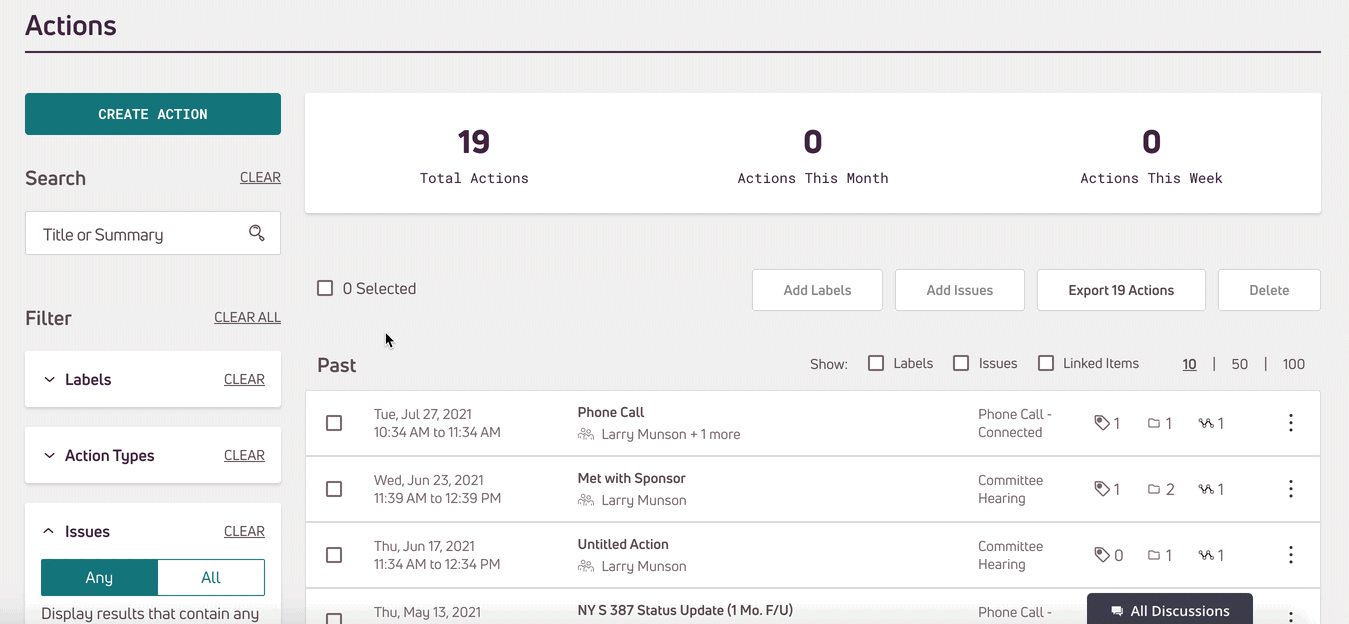 Pro Tip: Use the Select-All checkbox at the top of the list, then deselect the Actions you need to exclude. Toggle to the next page and continue to Select-All, then deselect as necessary.
Click Export when the data is ready. You will be prompted to give it a title and choose your file type: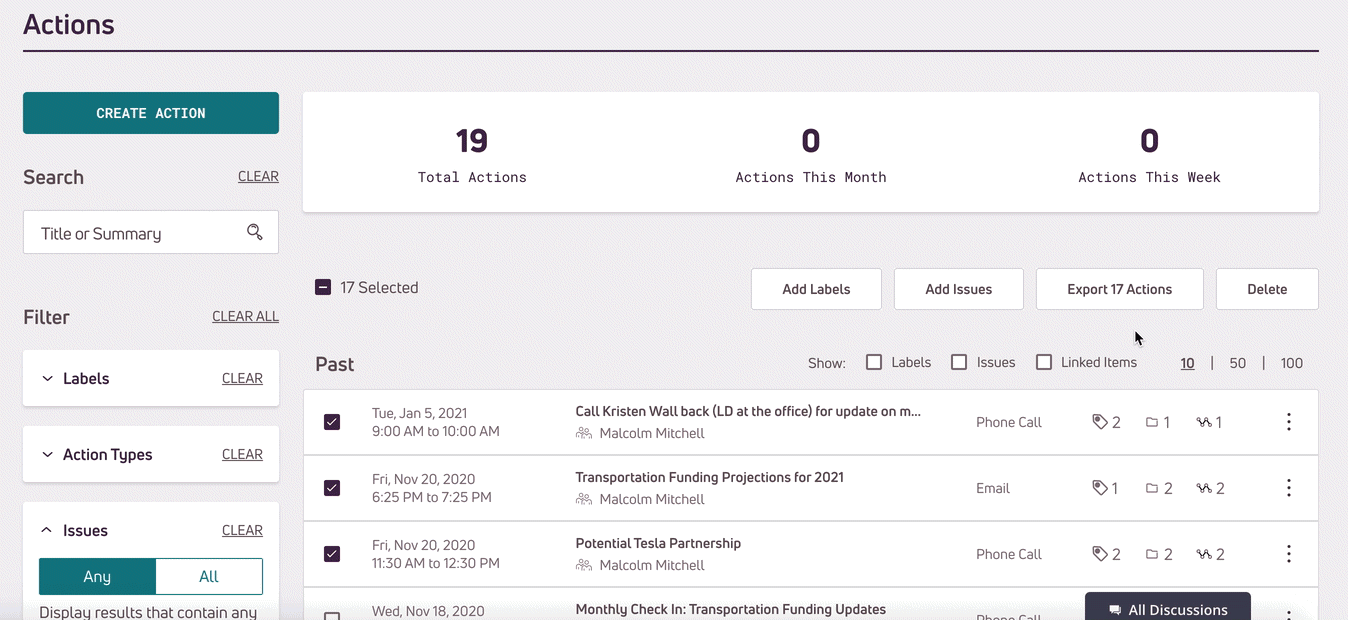 Choose from CSV or XLSX, click Export, and your file will be available for download in the Exports Center.
New Features:
Custom Action Types
Rather than using the out-of-the-box options to record your activity, such as 'Meeting' or 'Phone Call', you can now more accurately document your activity with Custom Action Types!
For example: You may have different types of Meetings and wish to easily report out on activity by specific meeting type. With Custom Action Types, you can create specific names for your Meetings and document them accordingly, such as 'C-Suite Update' or 'Board Meeting':

*Please contact your Account Manager if you wish to leverage Custom Action Types.
Bulk-Add to Issue / Label
We heard you: working efficiently matters. To that end, we're thrilled to introduce the ability to both add multiple Actions to an Issue at once, and apply a Label to Actions in bulk. Select the Actions you wish to categorize, and choose an Issue and/or label from the buttons at the top of the screen:

Pro-Tip: Always add Actions to Issues, especially as members of a team. It allows for greater insight into the work being done by topic, by your colleagues. Bulk-Add now makes this classification easier.
Pro-Tip (Advanced): If leveraging Email-to-Actions to quickly document email activity in FiscalNote, use the Action Type filter and choose 'Email', then bulk-add your work as appropriate.
**Click here to learn more about using Issues and Labels together
**Click here to learn more about Email-to-Actions
Enhanced Filtering
To make it easier to review your past work, Filters have been moved to an interactive menu on the left, as seen above. After making Filter selections, the list of Actions will dynamically update, making the information easier to digest:

Faster Searching to Find Past Actions
Prior to the update, searching over Actions using the Search bar allowed you to browse your notes. With the new Actions Search bar, you now have the ability to browse Actions titles at the same time:

Quickly find the information you need to report out on all similarly titled Actions, for example.
Custom Action Center Views: Issues, Labels, Linked Items and Totals
As of August 25 2021, you can now customize your Actions Center view! Need to browse Issues, Labels, or Linked Items as you scan your past activity? Now you can not only view them, but you can also pick and choose which data you actually need to see.
Above the top of your Actions list, choose to view Labels, Issues, Linked Items, or a combination: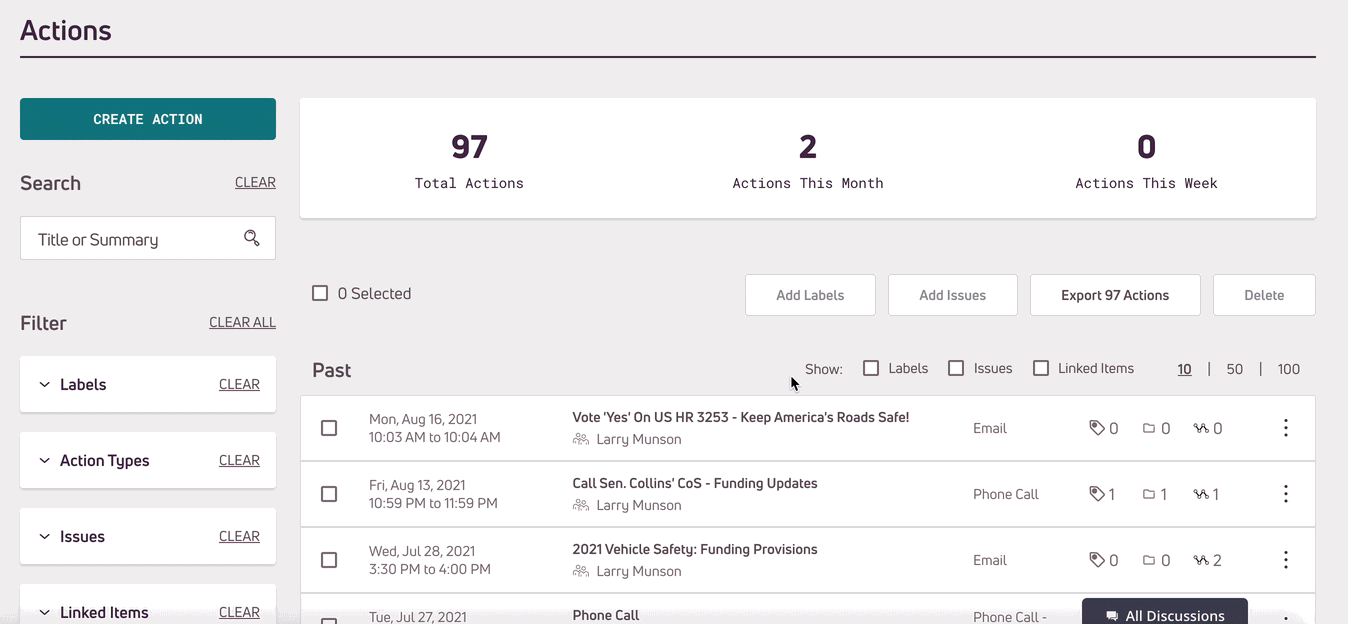 This allows you to view how your activity has been categorized for easy identification when browsing. Furthermore, you may now choose to view more than 10 Actions at a time. Select from 10, 50, or 100: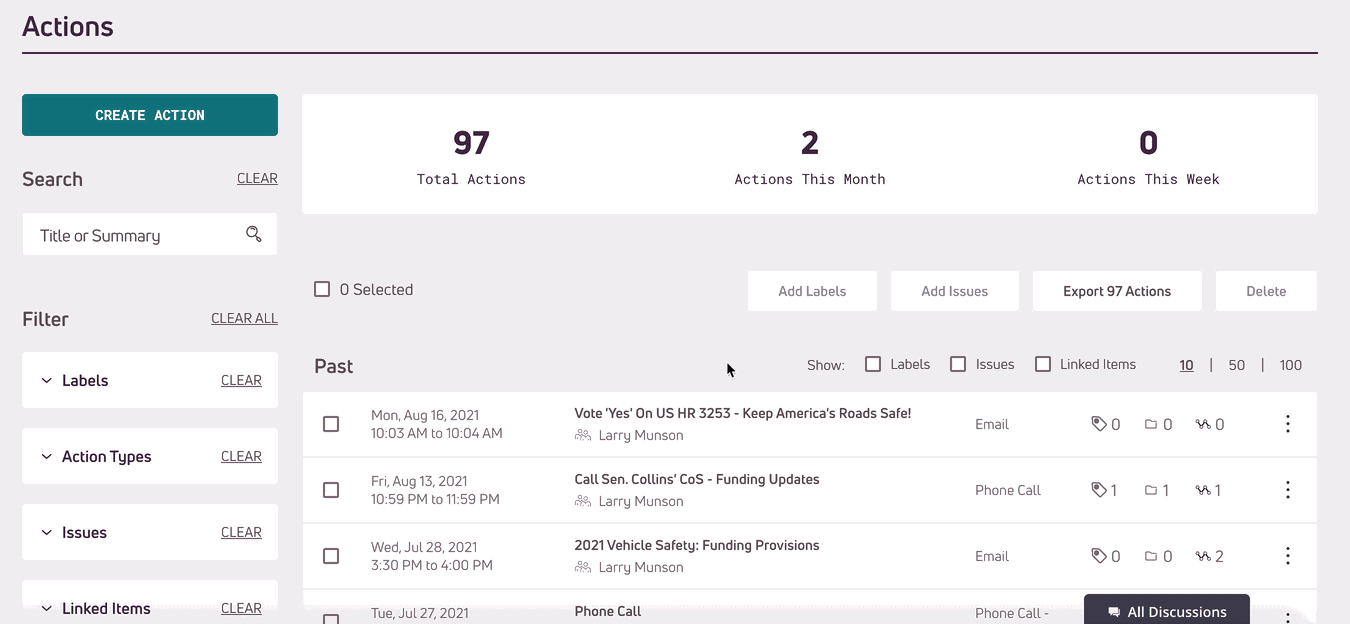 Now, regardless of how you work -- whether you prefer to narrow your focus first or to expand it -- you can customize your Actions Center view to suit your preference.
Suggested Issues, Labels, and Linked Items
As of September 21 2021, FiscalNote will now guide you while documenting Actions with suggested Issues they should be added to, Labels that should be tagged, and Linked Items that should be applied. The suggestions are based on frequent and recent interactions (such as adding multiple items to a specific few Issues), and will be available when creating, editing, or duplicating your Actions: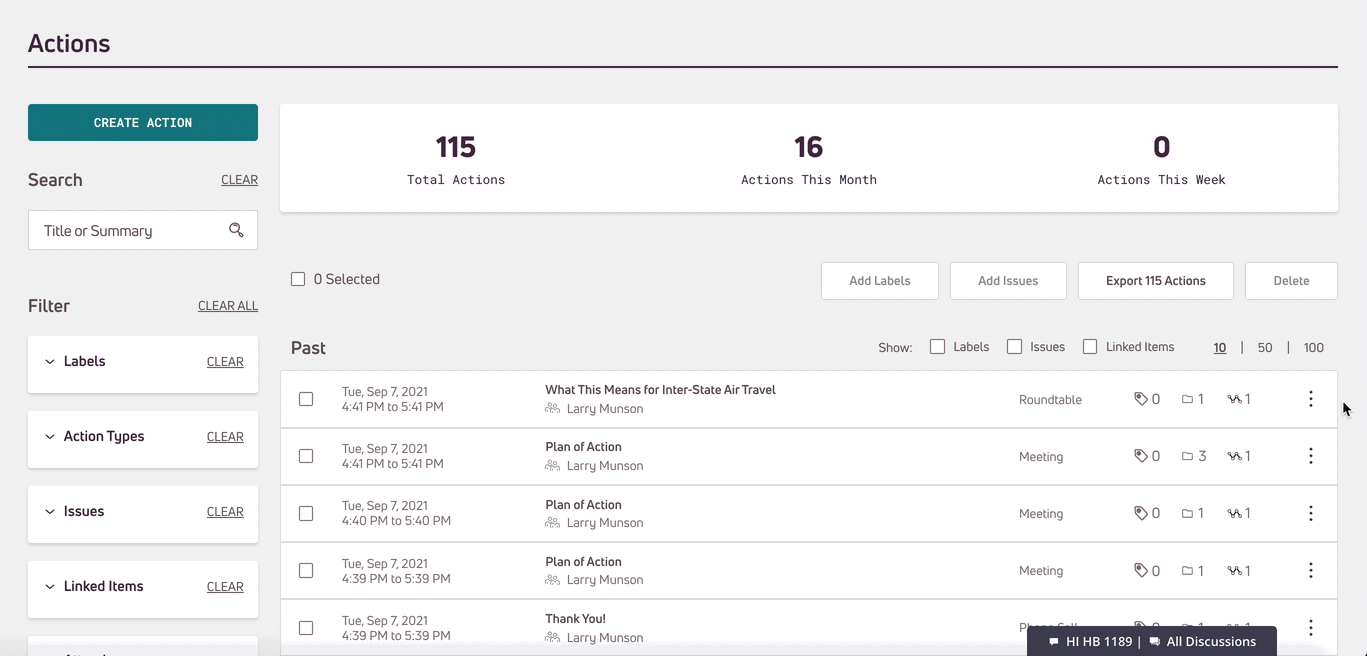 Linked Items suggestions will be enhanced with additional information, such as status, session information, and color-coded party identifiers.
Use Suggestions to save time with fast and confident activity documenting.
Best Practices
We HIGHLY recommend using a naming system for your Actions titles. With the new ability to Search over titles, a naming system will allow you to easily and efficiently report out on your work when necessary.
We also recommend working with your Account Manager to develop Custom Actions Types that best suit your needs. There are no limitations to the number of Custom Actions Types you may leverage.
When bulk-adding Actions to Issues or Labels, proceed with caution. Remember: data cleanliness is often critical to efficiency and success!
FAQ
Q: Are there limits to the amount of Custom Action Types we can leverage?
A: No!
Q: Was the Hashtag Filter removed?
A: Yes. However, you can still search for the text used in hashtags with the Actions search bar.
Q: Will the Actions Summary be re-instated?
A: No, the Actions Summary has been removed and will not return. However, the team is hard at work on developing more robust Actions Reporting capabilities, which you can expect to see later in 2021.
Q: How many Actions can I add to an Issue or apply a Label to at once?
A: As of the August 25th release, there is no limit!