Introduction
Success strategies need to go beyond the "idea stage" to be effective. For example, if you work at a vehicle safety organization, one of your success metrics might be to increase stakeholder engagement on a theme that impacts multiple Issues, such as 'Manufacturing'. It's fantastic to have sub-topics mapped out ... but how will you identify the correct stakeholders? How will you increase engagement? How will you document and measure your efforts against your goals?
Use an Issues & Labels strategy and FiscalNote will take care of the documenting stage for you: Add your stakeholders and top policy documents to Issues. Apply Labels to track themes. Then report on policy or activity by Issue, Label, or a combination of the two.
Video - A Guided Example: Using Issues & Labels Together
Documenting Strategy
When working through the idea stage to determine how you will measure success against new initiatives, document your thoughts and possible answers to some of the following:
How many Issues do we have to monitor?
Are there any Issue sub-topics?
Do any sub-topics apply to multiple Issues?
In which legislatures are we working?
With how many stakeholders?
With how many teammates?
What exactly will we need to report updates on?
...And for which departments?
Where can we improve from last session?
Where can we afford to scale back efforts and use our energy elsewhere?
Topics are typically broad themes and become your Issue folders. Sub-topics are generally cross-issue trends and become your Labels.
Review your answers together to come up with an Issues and Labels strategy for FiscalNote. We recommend documenting your strategy in a document, similar to this: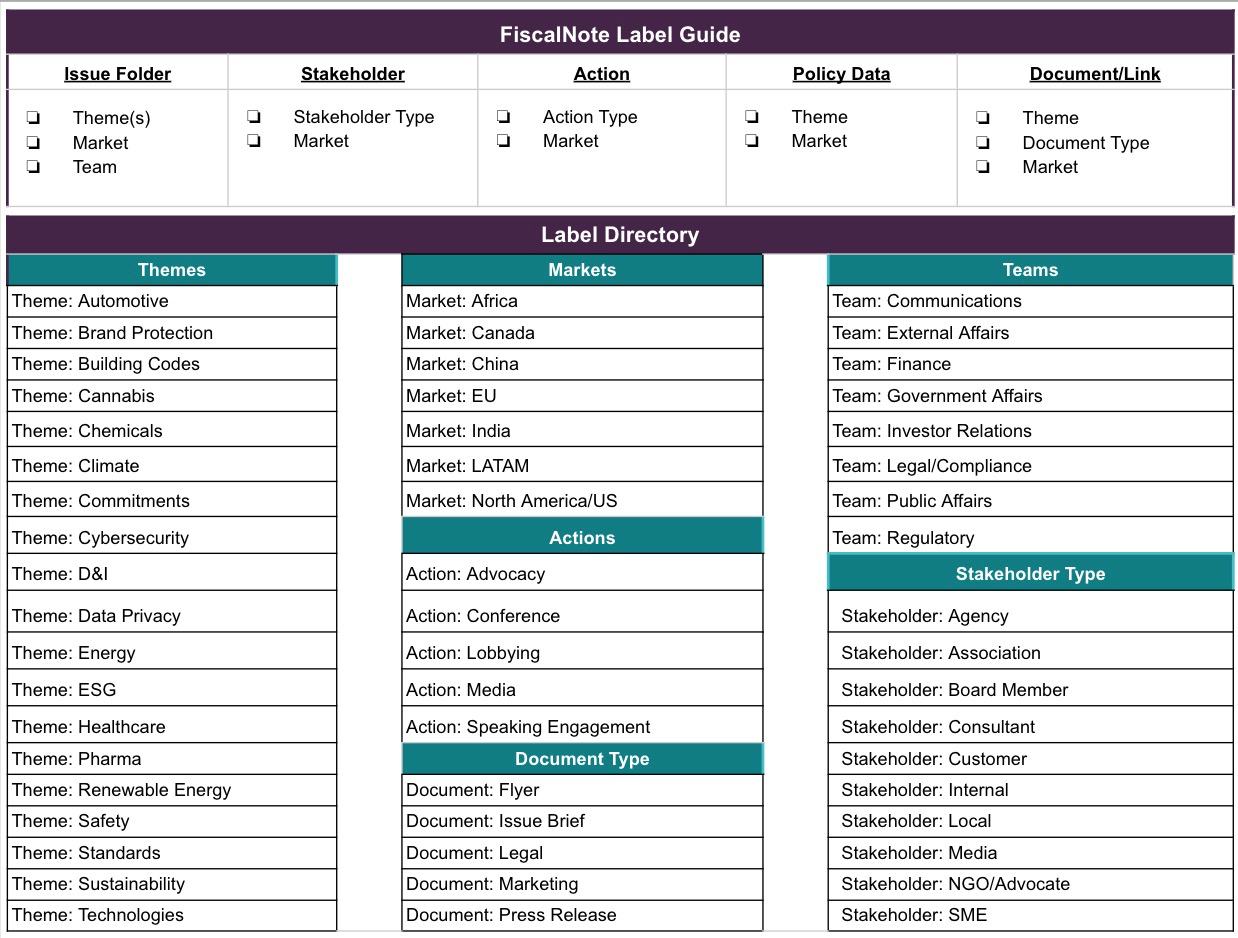 To use the above example as a template when getting started, make a copy of the file and complete your own version. When done, upload it to FiscalNote under Files, accessible from the Notes & Resources drop-down menu: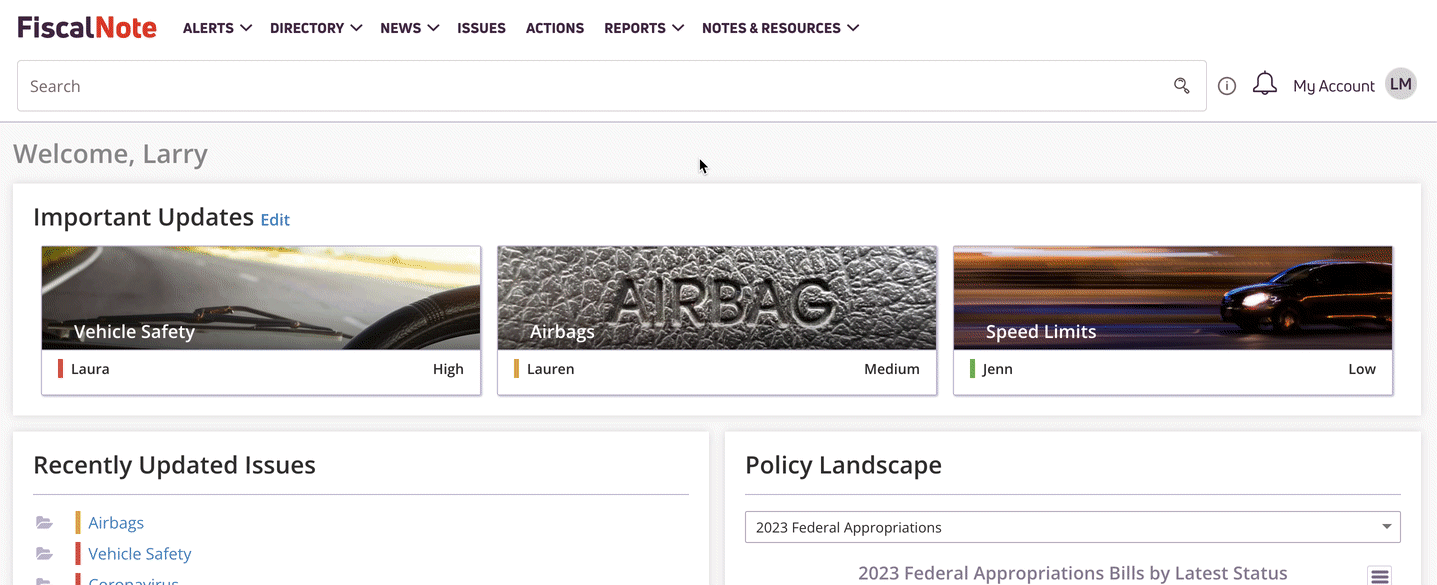 The Issues & Labels Strategy Guide is now shared with the team for easy access.
If higher visibility to the document is necessary, we recommend adding the file to 1 or multiple issues:

Click here to download the Sample Label Guide. Make a copy and start working on your own!
Bills, Regulations & Stakeholders
When important bills or regulations are picked up, add them to the Issue(s) they may impact. Apply Labels to denote sub-topics or departments potentially affected:

Keep track of your stakeholders with a combination of Issues and Labels. For example, an important contact might be a key player for several topics you monitor. They should be added to each Issue:

Reports
We HIGHLY recommend implementing an Issues & Labels strategy for a number of reasons. However, the #1 reason to use an Issues & Labels strategy is to reduce the time needed to report out on your progress for both: policy tracking and stakeholder engagement.
For reporting on policy, FiscalNote offers 2 options: Reports and Exports. Reports are a bit more robust with accompanying graphics and data visualizations, while Exports produce a .csv or Excel file.
With an Issues & Labels strategy, producing either an Export or Report takes just a few clicks.
In either the Exports center or Report builder, choose any combination of Issues and Labels to meet your needs. For example, if working at a vehicle safety organization and you get a request to provide a legislative update on Vehicle Safety bills that specifically mention installation, use both filters:

Actions Exports
Stakeholder engagement becomes easy to follow when a sound Issues & Labels strategy is in place. For example, use Label filters to report out on all lobbying activities, or combine the Label filter with the Issue filter to report on lobbying efforts for a specific topic:

After finished applying selections, click Export to produce a CSV or XLSX file. All Actions will be displayed in a spreadsheet:

FiscalNote will compile the data for you in a clean spreadsheet (CSV or XLSX format).
Click here to learn more about Reporting on Your Progress with Stakeholders