Introduction
When working on a team to accomplish a shared objective, it's vital to work together. Withholding information that may be beneficial to your counterparts, whether on purpose or accidental, can be detrimental to success.
When teams fail at information sharing, it's usually because team members aren't sure what to share. A passing news article may seem like a curious read to one individual, but could mean a shift in strategy for another. FiscalNote takes the confusion out of the process with Issues. Review our tips below to learn what information should be added to Issues, and where to do so.
Video
Where to Share Information
There are numerous places to store information in FiscalNote. Each has their own benefit. For example, you may come across a Dear Colleague letter in which one of your stakeholders is pushing a bill of interest. Saving the file under the bill page and the legislator page makes sense in this scenario. However, we recommend also adding these types of resources under Issue pages, granting wider visibility to your team.
FiscalNote has neatly laid out 6 distinct resource tabs on every Issue page for associated resources: Overview, Data, Files, Links, Actions, and Stakeholders:

Overview is typically where the Issue Lead or Team Lead shares a summary of the topic and any additional strategic information.
Keep in mind: The Overview page can also be downloaded as a PDF.
Data is where all policy documents -- bills, regulatory dockets, rules & notices, etc. -- are stored.
The remaining 4 tabs -- Files, Links, Actions & Stakeholders -- are where we recommend any user share resources.
Files & Links are used to store external documents and information from the web. Those with CQ Federal access often use these tabs to create a single source of truth. Resources uncovered with CQ Alerts are shared with colleagues under Files and Links in FiscalNote.
For example, if working for a vehicle safety organization and you uncover a Dear Colleague letter about preventing use of recalled cars, it's in your best interest to download the file first:

Next, head to a relevant Issue in FiscalNote, and upload it: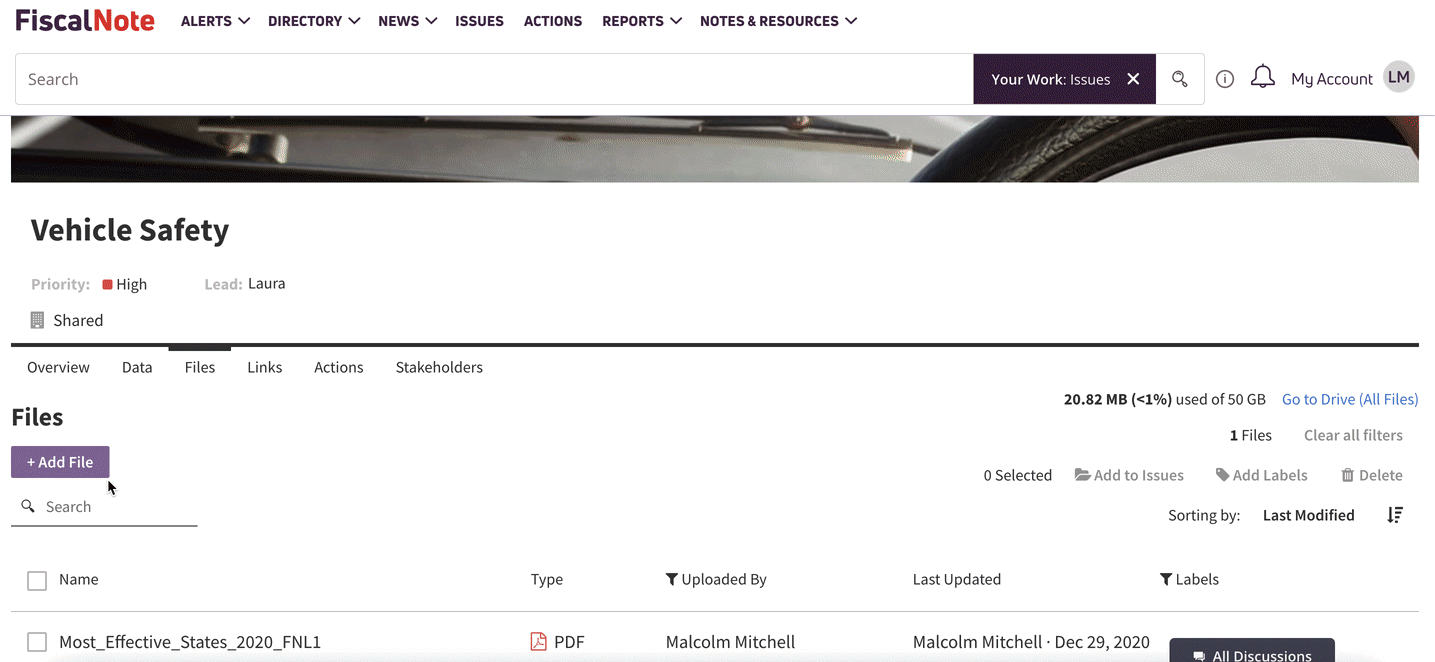 Even if your colleagues never came across the file on their own, they now have instant access to it.
Actions & Stakeholders are used to update and keep track of your stakeholder network. Upload external contacts and add them to relevant Issues. Search for Legislators in FiscalNote and add them to Issues. Regardless of who it may be, include them in Stakeholders: even the smallest of acquaintances can blossom into your top stakeholder.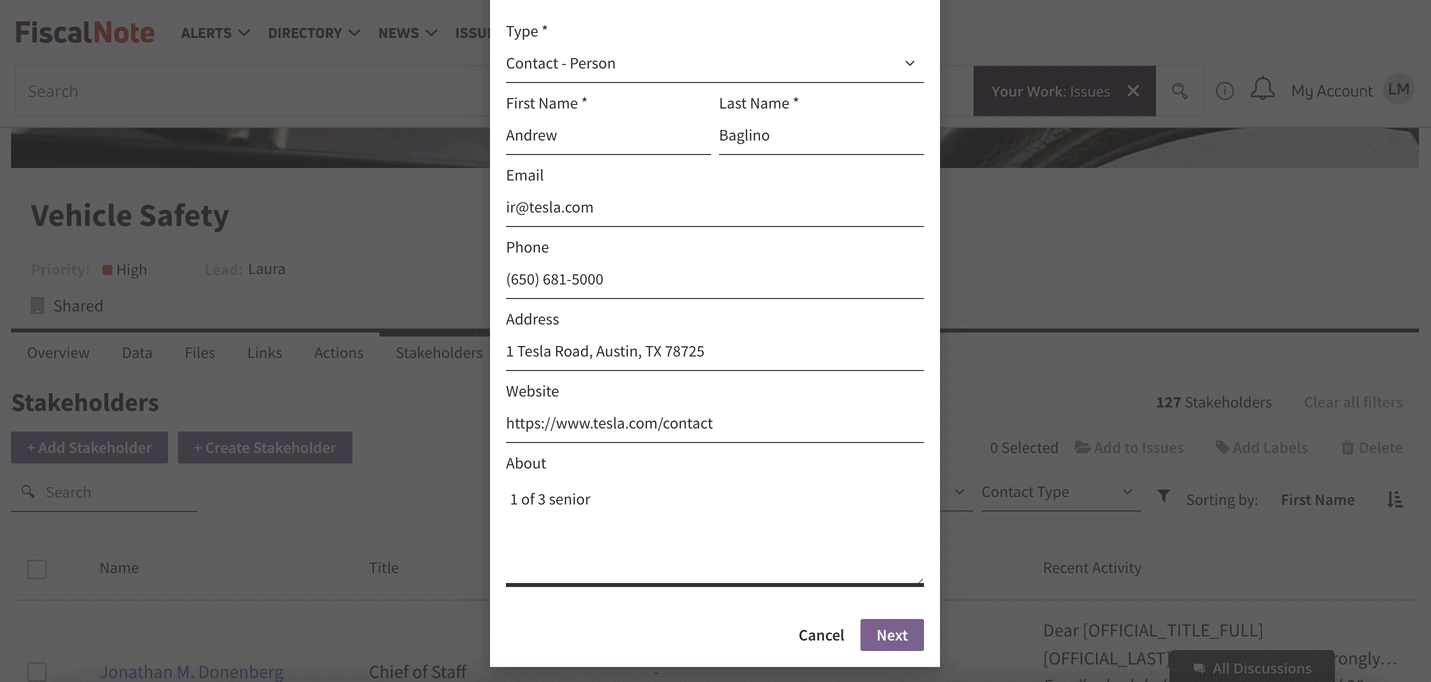 Actions are used to track stakeholder engagement. After meeting one of your contacts, for example, add a Meeting Action and save it to the Issue. Colleagues can access the notes to review any important details: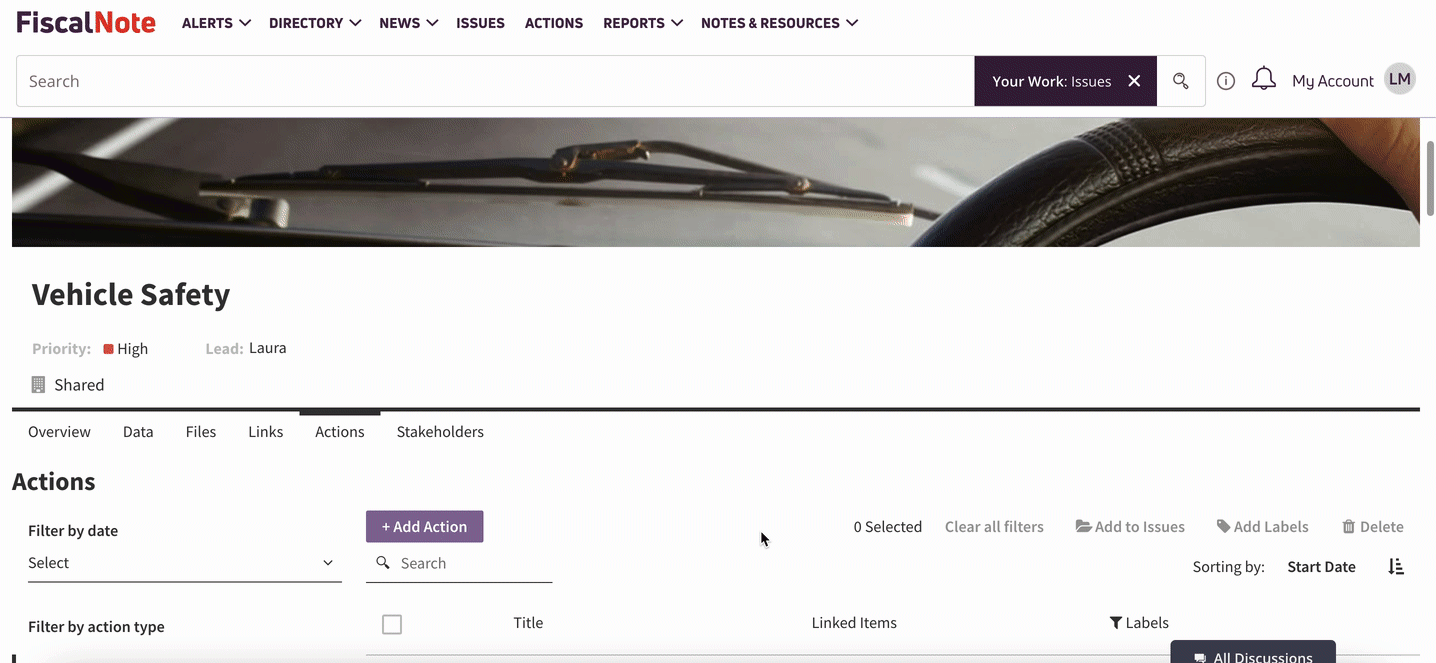 Make sure to include a summary and keep your peers updated with any key takeaways.
* Click here to learn more about Mapping your Stakeholders
* Click here to learn more about Tracking Stakeholder Engagement
What Information to Share
Think of the Issue resource tabs as a guideline to information-sharing success. To achieve success, encourage all team members to share any resources that may apply. Examples include, but are not limited to:
Files & Links:
News articles
Press releases
Testimony & hearing transcripts
Research studies
Internal resources
Actions:
Emails to staffers
Notes from meetings with top stakeholders
Takeaways from viewing a committee hearing
Stakeholders:
Legislators
Staffers
Subject Matter Experts
Internal C-Suite
Federal & State officials
Partner Organizations
We highly recommend sharing as many resources as possible to maximize the power of your team.
Sharing the Information Your Team Needs 1-Pager
(Click here to download)