Introduction
Operational efficiency is grounded in ensuring the right people have access to the right information. In an ever-increasing digital world, it's more important than ever. Luckily, FiscalNote makes information access extremely efficient with Organizational, Group, and Personal Issue Permissions.
As a best practice, we recommend always adding information to Issues in FiscalNote. They serve as information hubs, designed specifically for managing topics in the policy world. When granted access, colleagues can review information added by colleagues in each tab, helping uncover new insights. Review the 3 Permission Options below and ensure you're set up for optimal efficiency.
Video
Organization Issues
Organization Issues grant access to every member on your team with a FiscalNote account. They are our top recommendation, as Organization Issues allow the most potential for collaborative efforts. To create an organizational Issue from scratch, click Issues in the Menu, then click +Add:

Enter relevant information to customize the Issue Overview and Summary: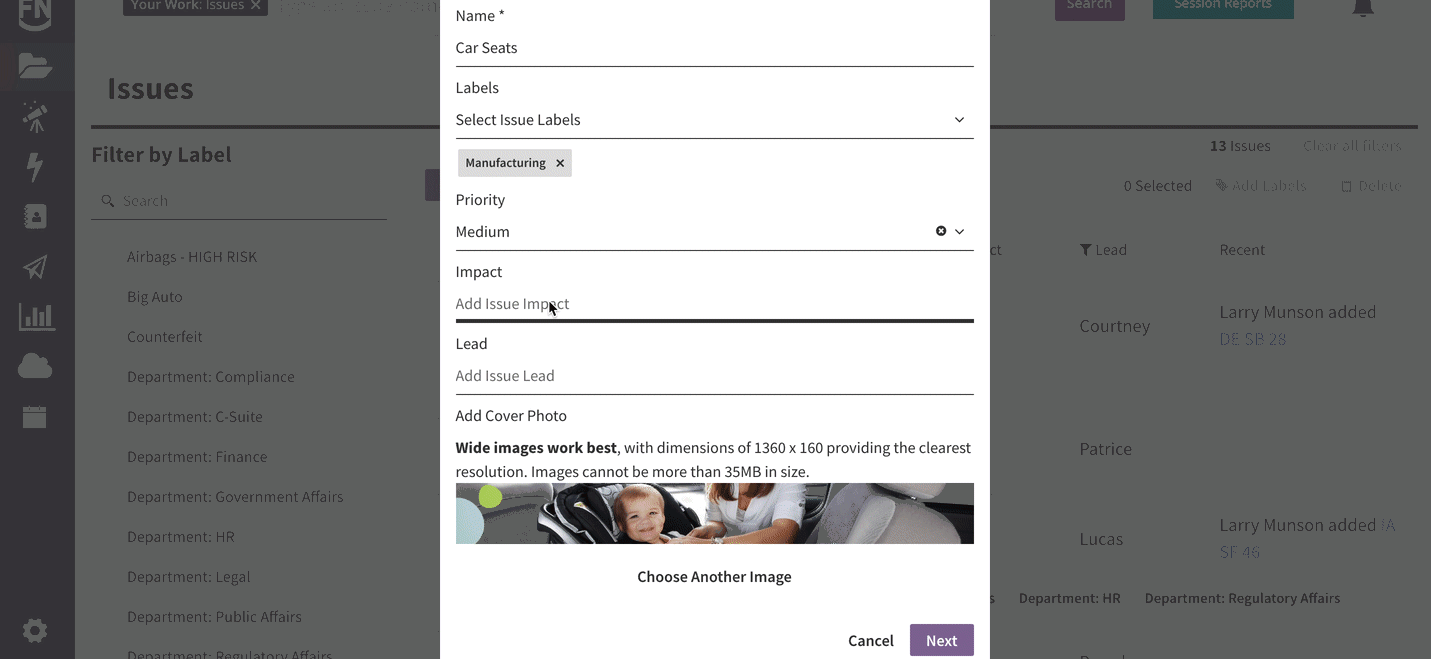 Click here to learn more about customizing the Issue Overview.
In the 3rd panel of the create-Issue process, choose Organization. Click Apply and Confirm when done:

To confirm the Organization Permission was applied, find the Issue in your Issues list and hover over the icon to the right of the name:

Organization Issues will show the building icon next to the name, and your Organization name when hovering. Saving Issues as Organizational is optimal for collaborative efforts, granting everyone on the team access to the information within.
Group Issues
Group Issues are recommended only when information access absolutely needs to be restricted to a few individuals. For example, you may have a team monitoring CyberSecurity updates for internal protocols, handling sensitive information in the process. Or, you may work with a few colleagues to service a client whose information needs to remain separate from the rest of the team's efforts. When these situations arise, leverage Group Permissions for Issues.
Groups must first be established by a Systems Administrator. Confirm Systems Administrator access by hovering over the gear icon in the menu on the left. With Systems Administrator access, you will be able to select Organization Settings:

To create a Group within your team, click Groups at the top of Organization Settings, then Create Group:

Give your group a title and description, then add necessary team members. Save your group when done: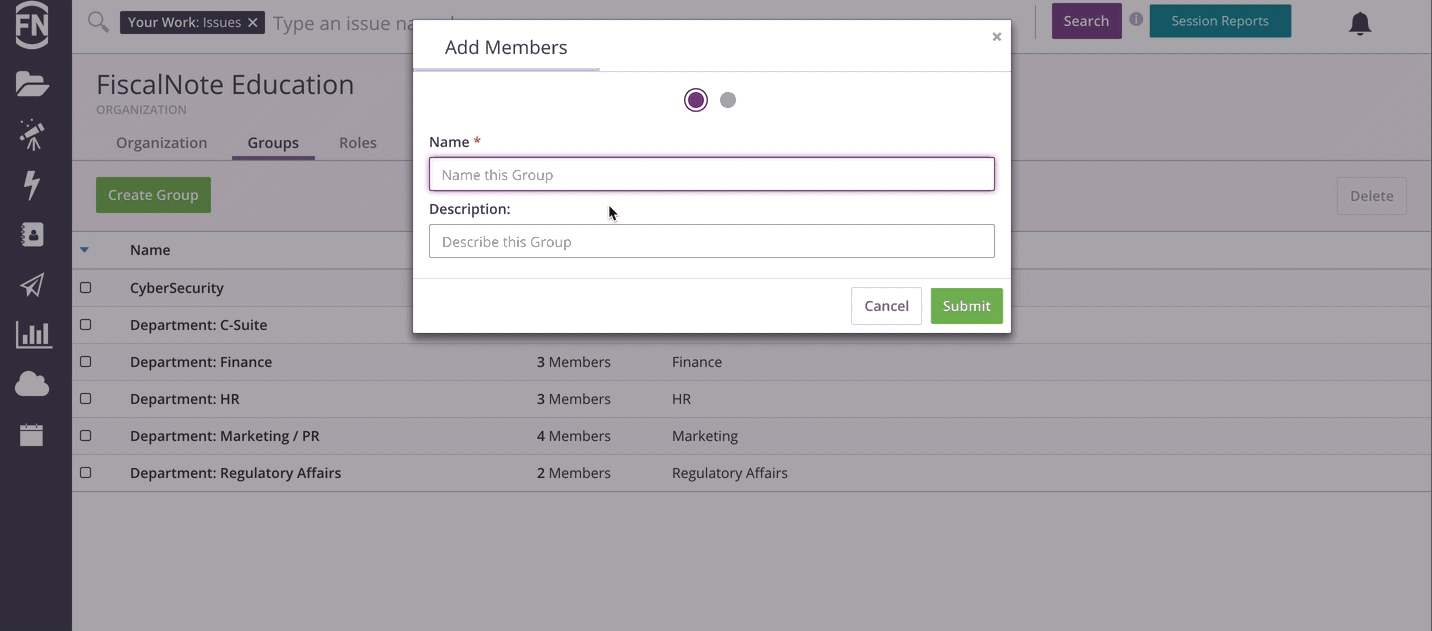 Once Groups are established, you have the ability to restrict Issue Access to only members of the Group. To create a Group Issue from scratch, follow the same steps you would for an organization Issue (above). On the Permissions panel, select the Group:

After saving, confirm the group setting by hovering over the icon to the right of the name:

Now, only the members of that group can access the information within.
Individual Issues
Individual Issues restrict information access to only the Issue creator. Though not commonly used, Individual Issues are most often recommended for tracking and monitoring side interests. Because there are no limitations to the number of Issues you can create, you have the freedom to use FiscalNote for personal interests as you please.
For example, if you were just hired as a legislative assistant at a vehicle safety organization in Maryland, but thanks to the new MGM Grand National Harbor Casino you would like to also monitor policy updates to sports gambling, you might employ and Individual Issue to do so.
To create an Individual Issue from scratch, follow the same steps you would for an Organization Issue (above). On the Permissions panel, choose yourself, Apply, and Confirm to save:

Next, find your Issue in the Issue list. Hover over the icon to the right to ensure it was properly saved:

If done correctly, only your name should appear.
Changing Issue Access: Do's & Don'ts
As a best practice, we recommend NEVER changing Issue access. If absolutely necessary, contact your team lead or Issue lead first. If approval is granted, head to the Issue Overview and click the drop-down arrow on the top right:
Next, click Manage Permissions. In the pop-up window, change access as needed. Save when done:

If changing access, always confirm it was done properly by hovering over the icon in the Issue list: