Introduction
Contacting elected officials is a responsibility that most employees in the policy world have to carry at one point or another.
If you're employed at a lobbying firm, you may be tasked with contacting your top stakeholders' offices with updates from your organization throughout the session. When working at advocacy organization, you might be directed to contact every office in a specific state chamber to further your agenda. Employees of all roles might need to contact voting members of a committee when an important bill is brought to vote.
Regardless of your role, use Mailing Lists to save time and simplify the outreach process.
Mailing Lists: Contacting Officials & Staffers
Do you have a specific set of stakeholders in-office that you need to contact often? Are there a set of staffers that might be ideal to contact on a consistent basis to further your interests? Regardless of the grouping, use mailing lists to create targeted email lists. Save them in FiscalNote to save time on future efforts. Click here to learn more.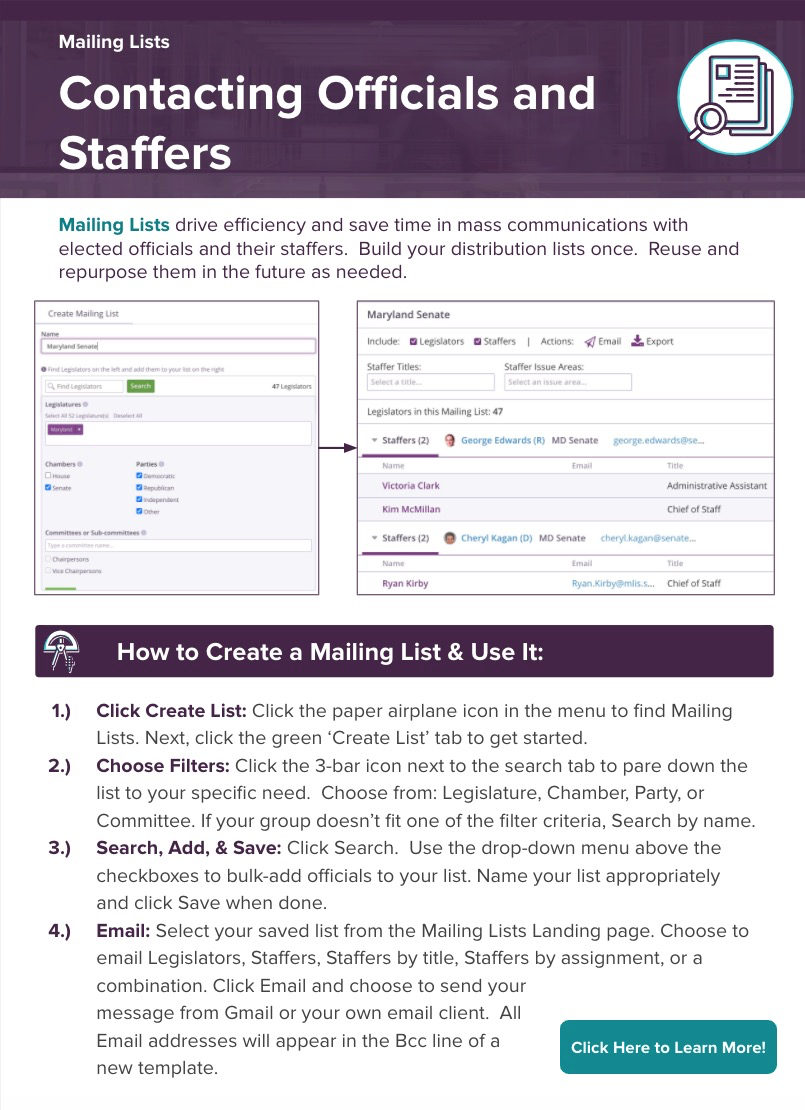 Mailing Lists: Committee Outreach
Whether a committee is set to vote on a bill, or there is a specific committee within a legislature that you work with often, Mailing Lists can quickly produce a set of emails for all voting members. Save the list and use it to contact each office. Click here to learn more.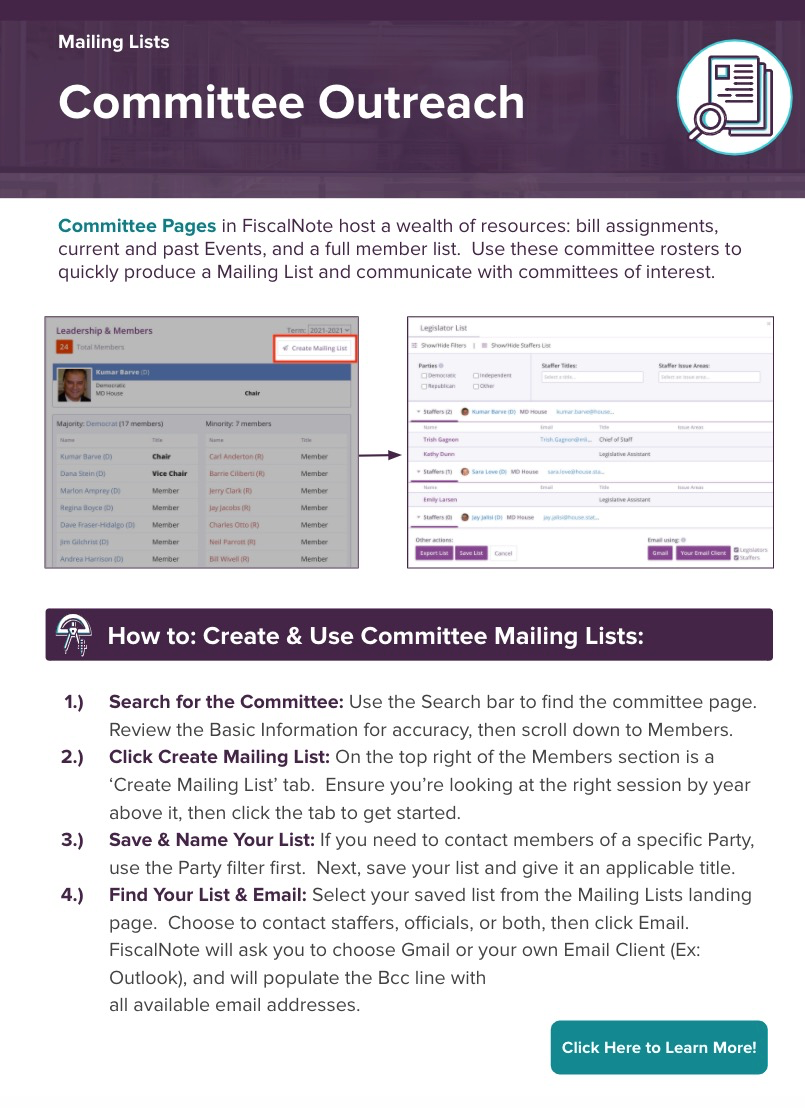 Mailing Lists: Bill Response
The Whipboard is a unique feature, reserved specifically for U.S. Federal & State bills. It lists all eligible voting members in columns by potential vote (Yes, Lean Yes, Toss-Up, Lean No, No). Use your own insight to drag and drop members to a potential voting pattern, and save when done. Use the Mailing List feature to contact the appropriate offices by potential vote. Click here to learn more.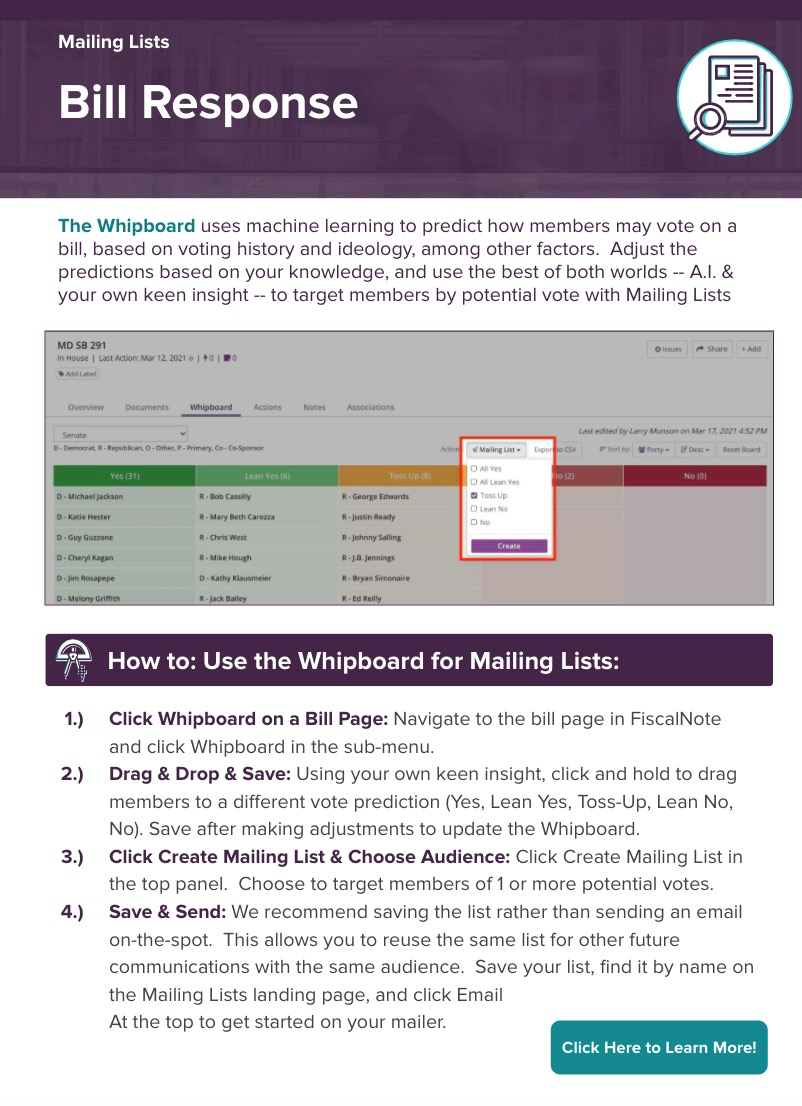 Mailing Lists: Best Practices
Mailing Lists offer a lot of utility for congressional communications. Because they are so customizable, it can be easy to get carried away with list building efforts. Click here to follow our recommended tips for leveraging Mailing Lists and keeping yourself in check.