Overview
As part of FiscalNote's concerted efforts to improve the policy reporting experience, you can now Export International data, AND combine it with policy you've picked up in the U.S.! Exports reconcile policy documents from different governing bodies across the globe into a single file, allowing you to report on all important updates at once.
Click Exports under Reports from the left-hand menu, and create an export for international policy alone, or combine it with US data!
How to: Create a Policy Export
Rather than building an Export from the Reports page, you can now head right to Exports from the menu to get started. Next, click Create on the top left to jump into the Export builder:

As a default, every policy document that has been added to your Issues or tagged with a label will appear in the queue to the right. Use filters on the left to narrow your reporting focus, specific to your need Click 'Submit' when done:

For example, if creating an International Policy Report and you wish to exclude U.S. data, select the specific countries or governing bodies in the Location Filter, then click Submit: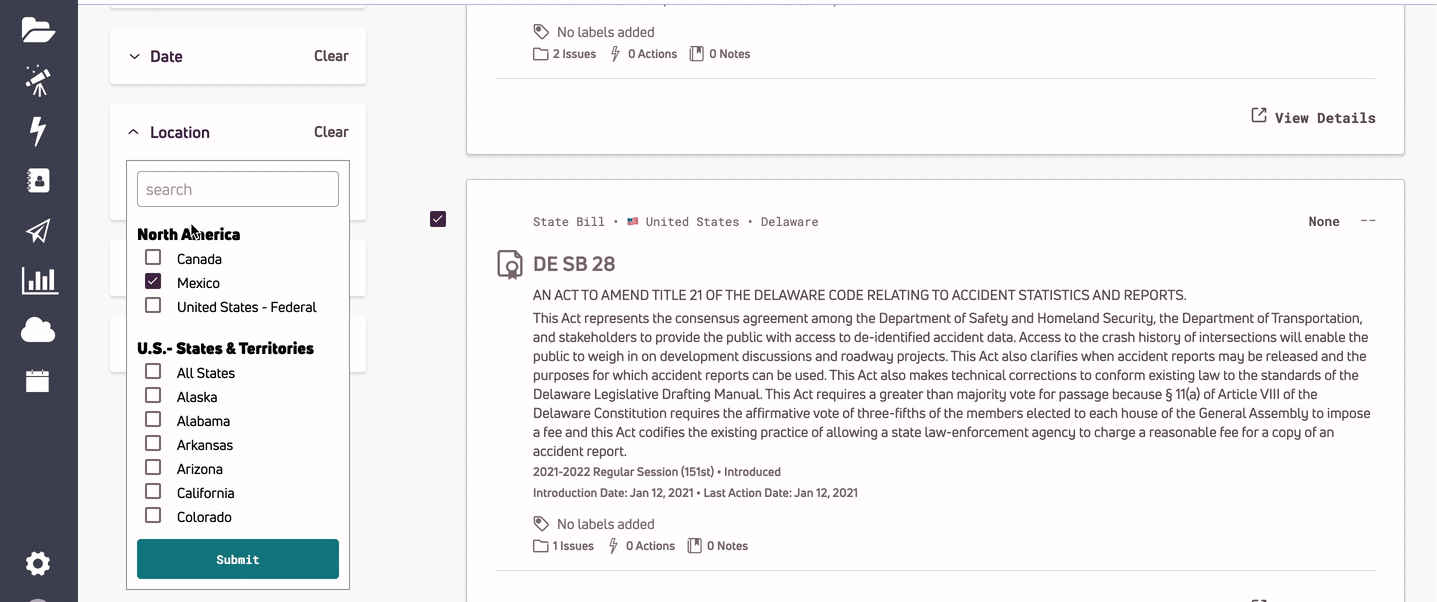 Your results will continue updating to match your Filter selections. Make sure the policy data that you need to export is selected with a checkbox in the results queue, then click Export on the top right:

Combined policy reports can be exported in either CSV or XLSX format. Make your file type selection, give your Export a title, click download, and FiscalNote will save the Export for you.
What Data Can I Include in a Policy Export?
Thanks to a recent update (3/31/2021), you can now combine bills AND rules into one Export! Quickly produce one file containing all of your organization's top priority documents. In the creation process, ensure you select the policy needed under Type: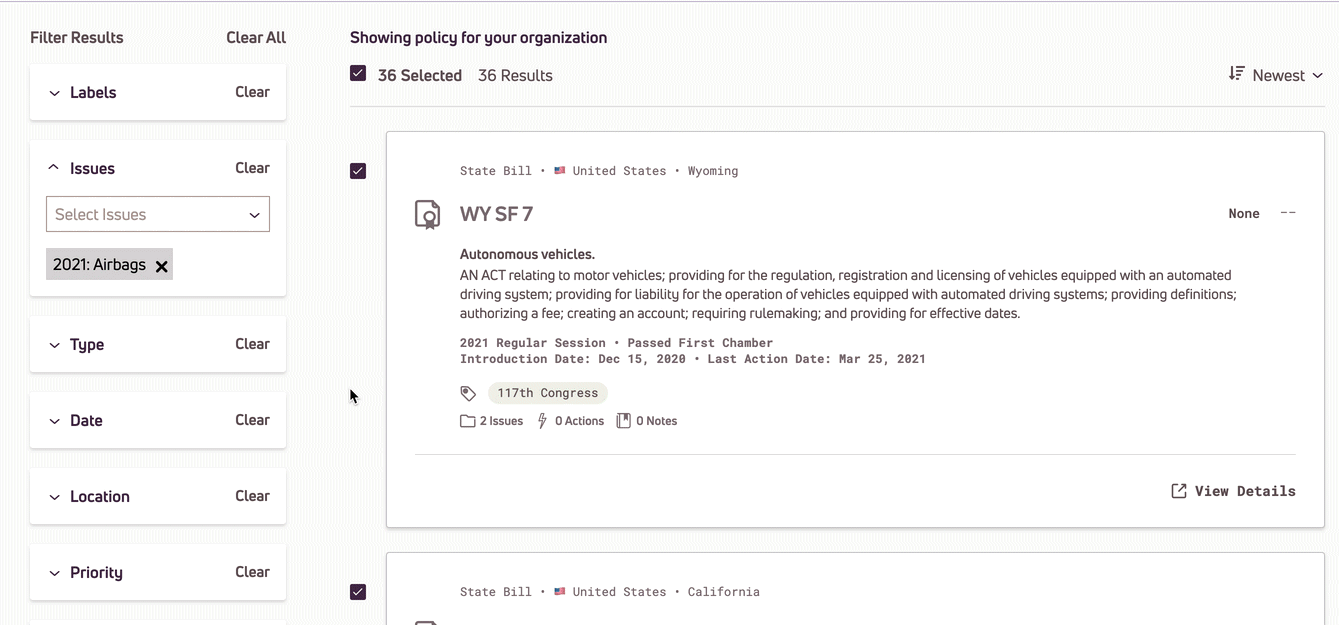 When stakeholders request a single update on policy being monitored and/or worked on, Exports are the easy answer. You can combine policy documents from the following data sets into one file:
U.S. State & Federal, & International Bills
U.S. Federal Regulatory Documents
U.S. State Rules & Notices
International Regulations
They can be found in the Search menu at the following locations: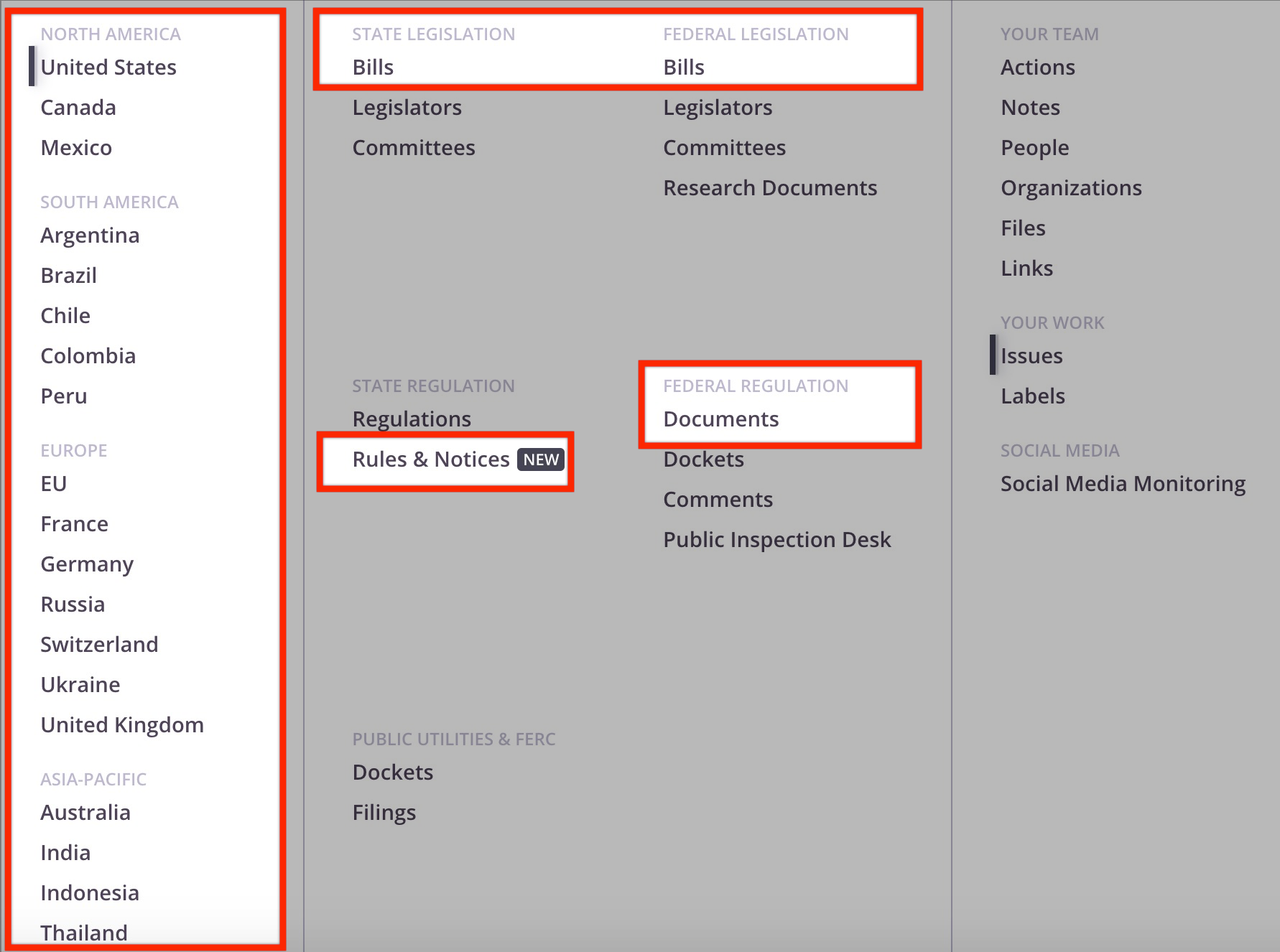 Best Practices
1.) Consistent Titles: We recommend making the title appropriate to your specific need, and doing so on a consistent basis. For example, if creating an international policy export for all things Airbags, name your Export 'Airbags International Policy Update'.
2.) Concise Titles: We also recommend keeping your Export titles brief. Make your future self love you, and keep your list of saved Exports digestible with concise titles.
3.) NEW! Use Filters to quickly find your past work. Search by name or date, for example, to find a past Export you've created:

Remember to use Consistent & Concise Titles to quickly find your work when needed.
Important Facts about the New Exports Experience
1.) Only available in CSV and XLSX (Excel). Shareable online reports are unavailable for International Policy at this time.
2.) Exports are not refreshable. Unlike Reports, Exports are static. That means they do not update in the background to include new policy added to your Issues since the Export was last produced. Because of this, we recommend including a date in your Export title if you plan to produce them regularly.
3.) Exports cannot be created in Incognito browsers. You will encounter an error on the Exports screen when attempting to use Incognito mode.
How to Create International Policy Exports: 1-Pager (Click here to download)