Alerts
Get alerted to relevant, new State Rules & Notices just like you would with any set of policy documents in FiscalNote: with Discovery Alerts. Find the option to use Discovery Alerts for State Rules & Notices by clicking the telescope icon on the left, then clicking the drop-down menu above 'All Alerts':

We highly recommend contacting your Account Team before adding Discovery Alerts of your own.
When ready, click the green 'Create Discovery Alert' tab after selecting Rules and Notices to get started:

Give your Discovery Alert a name, and if desired, select a specific state or Agency to be alerted to. Under Keywords, enter a boolean search string to command FiscalNote to browse 24/7, on your behalf: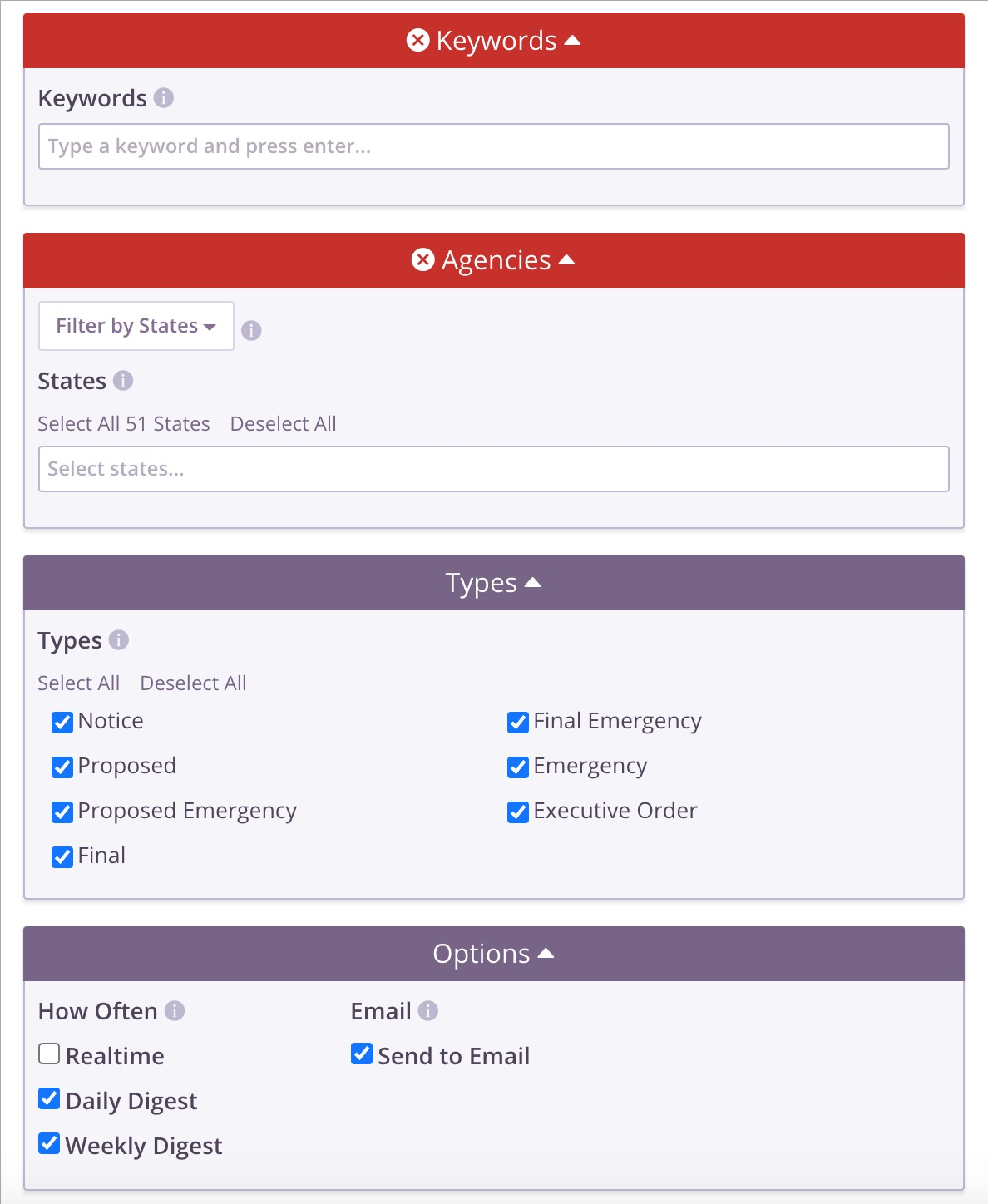 Choose to get alerted to specific information under Type, and if desired, select a different delivery timeframe for new notifications under Options. Click Save when done.
If you have questions about any existing Discovery Alerts, please contact your Account team.
**Click here to learn more about using Discovery Alerts
**Click here to learn about Boolean Searching in FiscalNote
Searching
Click the Search bar to get started, then select Rules & Notices from the Search Menu:
*If you do not see Rules & Notices in your Search menu, but need access, please contact your Account Manager.
Targeted Search
If you have an idea of what you need to find, use either a Simple, Policy, or Precise Search.
**Click here to learn more about Searching techniques in FiscalNote.
Based on your chosen Search technique, enter your keywords into the Search bar after selecting State Rules & Notices, and click Search:
Use filters to hone the results to a more accurate batch, and browse to find the Rules & Notices you need.
Open-Ended Research
When performing open-ended research to uncover regulatory trends, or if you're just exploring the new data set, use what we call an Empty Search. Choose State Rules & Notices from the Search Menu, and click Search without entering any keywords. This prompts FiscalNote to show you EVERY State Rule & Notice in the database:

Use filters to uncover trends by Agency or legislature, for example. Use our new and enhanced filters to uncover totals for different policy document types, or find comment deadlines for any urgent Rules & Notices that are uncovered. After you make filter selections, the results will automatically update: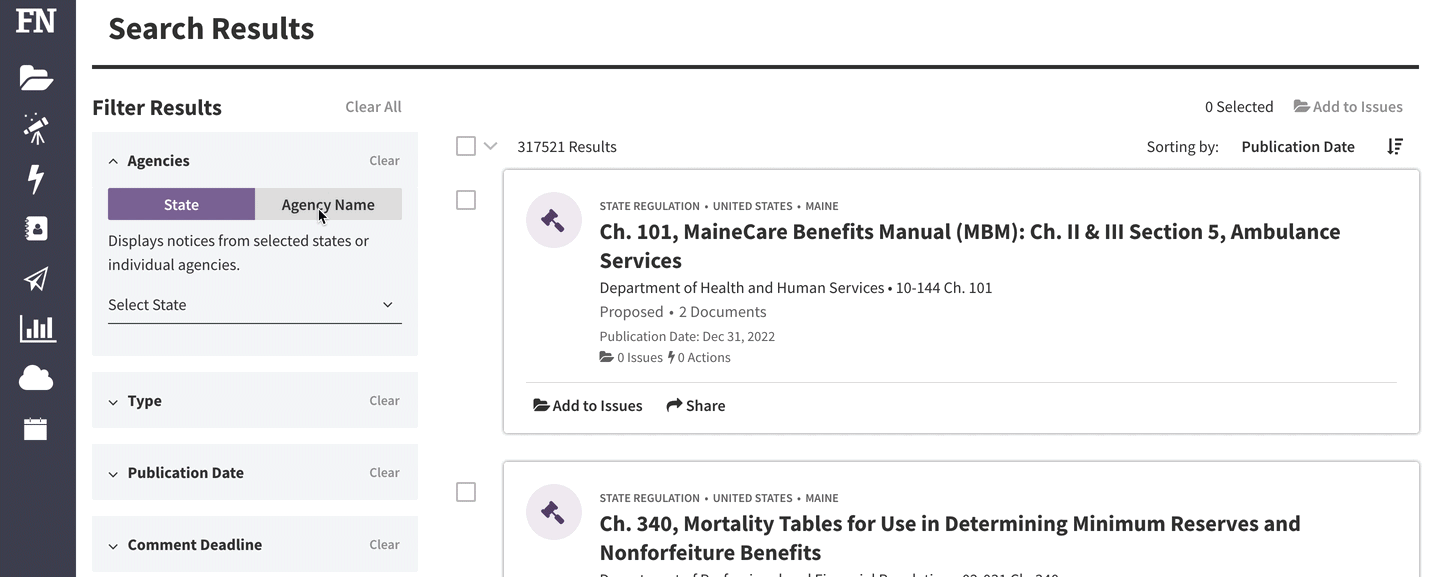 Use the results filters on the top right to change the sequence of your matches. Make FiscalNote display the information in a way that makes sense to you:

NEW! Linked Items
Now included on each state Rules & Notices page, you can find linked Rules & Notices that may not even be visible on the state registrar's page! FiscalNote has employed analysts to marry technology and human knowledge, providing you with a unique resource: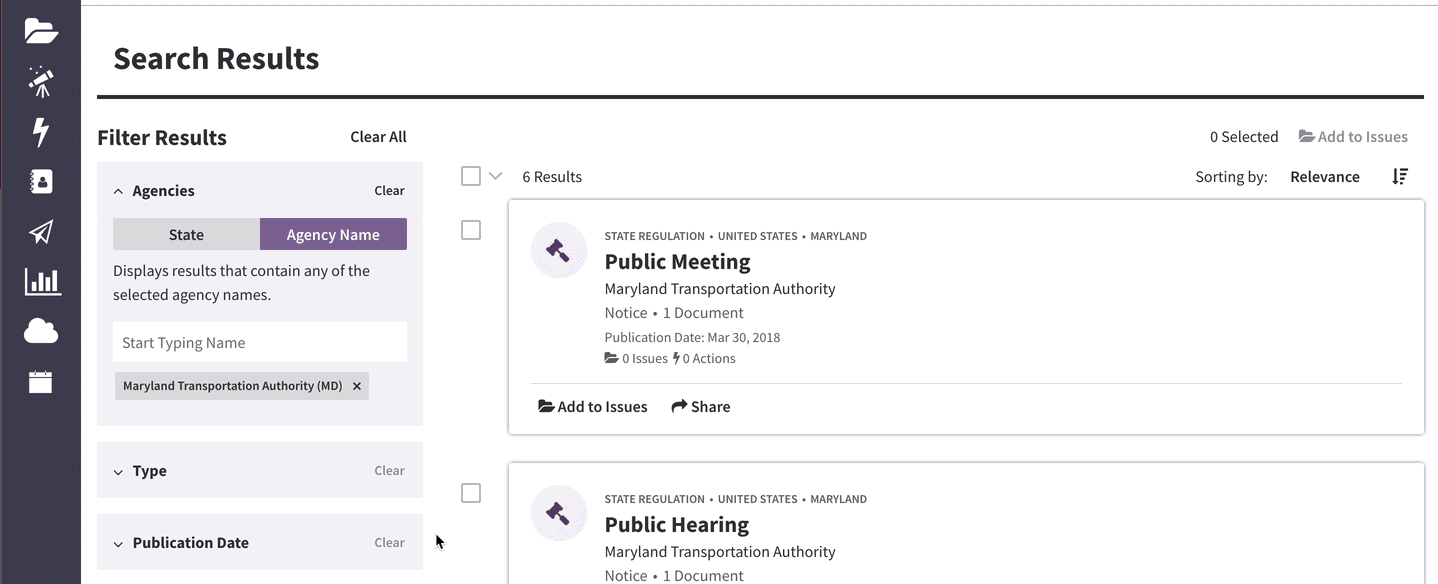 Rather than spending additional research hours on state registrar websites, use Linked Items to find related Original, Proposed or Final Notices, for example, to gain a deeper understanding of the context, right in FiscalNote!
Saving Your Work
When important Rules & Notices are uncovered, ALWAYS add them to a correlating Issue. Rules & Notices can be added in bulk from the Search Results screen, but we highly recommend adding them to an Issue individually for data cleanliness. Open a relevant Rule or Notice, and use the Add to Issue drop-down menu on the top-right:

Click Apply after choosing an Issue to save your selection. All Rules and Notices can be found in the Issues they have been added to under the Data tab.
**Click here to learn more about Data in Issues.
After a Rule or Notice has been added to an Issue, options to set a Position or Priority appear. If you can evaluate whether you support or oppose the Rule or Notice, for example, set your Position and FiscalNote will save your selection for all users to see:

*Please Note: At this time, Labels cannot be applied to Rules and Notices.
Sharing Your Work
When you need to share an important Rule or Notice with a colleague, use the Share Page option. Click Share on the top-right of the page. Use Quick Share to produce a web link that houses all of the information, or use Create Shareable Page and remove any linked Actions your team has performed in response:

The shared page can be accessed by anyone, regardless of FiscalNote access, for up to 15 days until the link expires for security purposes. All information shared: Documents, Actions, and Links will be accessible by the recipient.
*Please Note: At this time, Exports and use of the Discussion Tool are unavailable for State Rules & Notices