Introduction
FiscalNote's Issues Management platform allows you to cut through the noise of thousands of policy documents, prioritize the most important bills, regulations and stakeholders, monitor policy and stakeholders for future developments, and map your stakeholder network. Organizations use FiscalNote to align teams on the most important initiatives. Everyone has access to the information they need, when they need it, and can share their findings with stakeholders when appropriate.
Video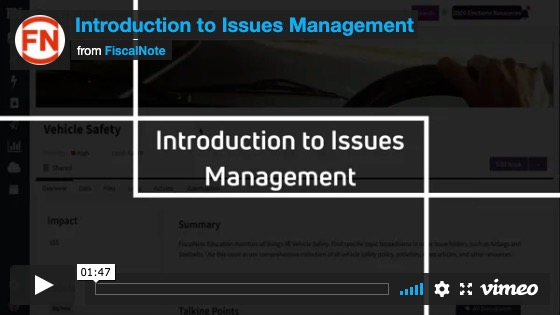 Example: Coronavirus
2020 presented an Issue that, unfortunately, almost everyone had to monitor to varying degrees: Coronavirus. At first, organizations were rushing to understand the health risks and how to protect their employees: Is enough PPE available? As the pandemic grew, organizations across the country began scrambling to understand the impact to their business: Will it survive the shutdown? Is government aid on the way? What are the protocols to continue operations?
As the Issue evolved, so did potential risks, sub-topics and stakeholders. Organizations used FiscalNote to create a Coronavirus Issue where relevant policy documents, stakeholders and resources were shared and stored:

Colleagues in different regions compared the effectiveness of their respective legislature's response plan. Sub topics such as PPE and Vaccine were used as Labels to monitor new policy developments. Teams paired "coronavirus" with search terms such as 'PPP', 'subsidy' and 'stimulus' to track financial impact and potential government aid. Individual users recorded Actions to document new developments uncovered from conversations with key stakeholders.
Why Does Issues Management Matter?
Like Coronavirus, most Issues tracked by FiscalNote clients are complex in nature. For example, a vehicle safety organization might monitor Windshields legislation. Some sub-topics that come to mind are manufacturing and installation, which could also be applied to Airbags, Seat Belts, Tires, and a number of other topics they monitor:

Labels help narrow your focus on specific sub-topics such as installation, as shown above, as well as provide insights on cross-Issue themes. They allow for measuring legislative trends, identifying where resources should be allocated, and evaluating organization-wide risk or opportunity.
Implement an Issues Management strategy to simplify managing your own complex set of Issues.
Why Does Issues Management Matter? 1-pager (Click here to download)