Introduction
FiscalNote offers a number of means for data organization and classification. From Issues pages to setting a Priority and Position, there are pre-set options to bucket your information into groups that make sense to you and your team. Labels offer a customizable approach to data classification: tag policy documents, stakeholders, and even Issues themselves to uncover and report on cross-Issue trends.
Video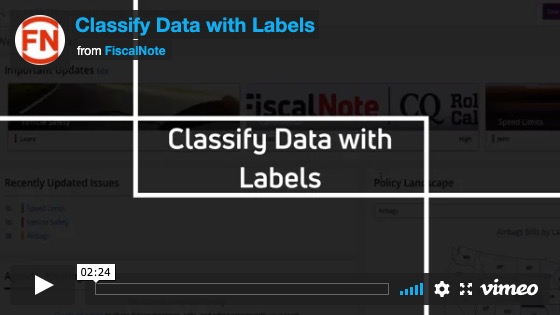 How do they work?
Nearly every piece of data imaginable can be tagged with a Label. Uploaded files and links can be tagged, allowing colleagues to filter for relevant information in the Drive. Tag policy documents with labels to monitor cross-Issue trends such as 'Manufacturing' for Airbags and Seat Belts. Add labels to stakeholders to identify connection trends within your own network. They're even used by organizations to document lobbying activity with Actions, allowing making it easier to complete disclosure reports. When uploading resources or organizing policy documents, look for the 'Label' or 'Add Label' option:
Add Label - Policy Document:

Add Label - Action:
Add Label - Link:

As you type out the ideal label(s) to apply, FiscalNote will show possible matches if the label has already been used. If you need to create a new one, simply type out the new Label and save when done. All labels applied will be saved for all users to access.
Preparing a Labels Strategy
Team Leads should take a critical look at your responsibilities when preparing a labels strategy. Are there over-arching themes like 'Manufacturing' that need monitoring across Issues, such as Airbags and Seat Belts? Do you typically perform stakeholder engagement and need to document activities for lobbying-disclosure purposes?
Evaluate every facet of your team's responsibilities. Document what can be tracked by Issue pages and what cannot, themes that require cross-issue monitoring and reporting, and activity metrics that demand further analysis.
Multiple strategies can be implemented, but we recommend using at least one of the following:
Theme: Sub-Topics that impact some, or all Issues. (Ex: Manufacturing for Airbags & Seatbelts)
Market: Document the affected Legislature, Region, or Country. (Ex: EU, North America, Southeast, etc.)
Team: Note the impacted internal teams or departments. (Ex: Government Affairs, Communications, Finance, etc.)
Lobbying: Use Lobbying codes to document activity and make your life easy when it comes time to report. (Ex: LD-2)
Implementing Your Labels Strategy
After evaluating responsibilities and preparing a labels strategy, you need to share it with all users to ensure successful label application by the team. We recommend taking at least one of the following approaches: document the labels strategy in the Overview, or upload a File detailing the strategy.
Adding your Labels strategy to the Overview
Give your team immediate access to labels that will be applied, by Issue. Customize an overview section, and list the Labels used to monitor sub-topics, as seen here: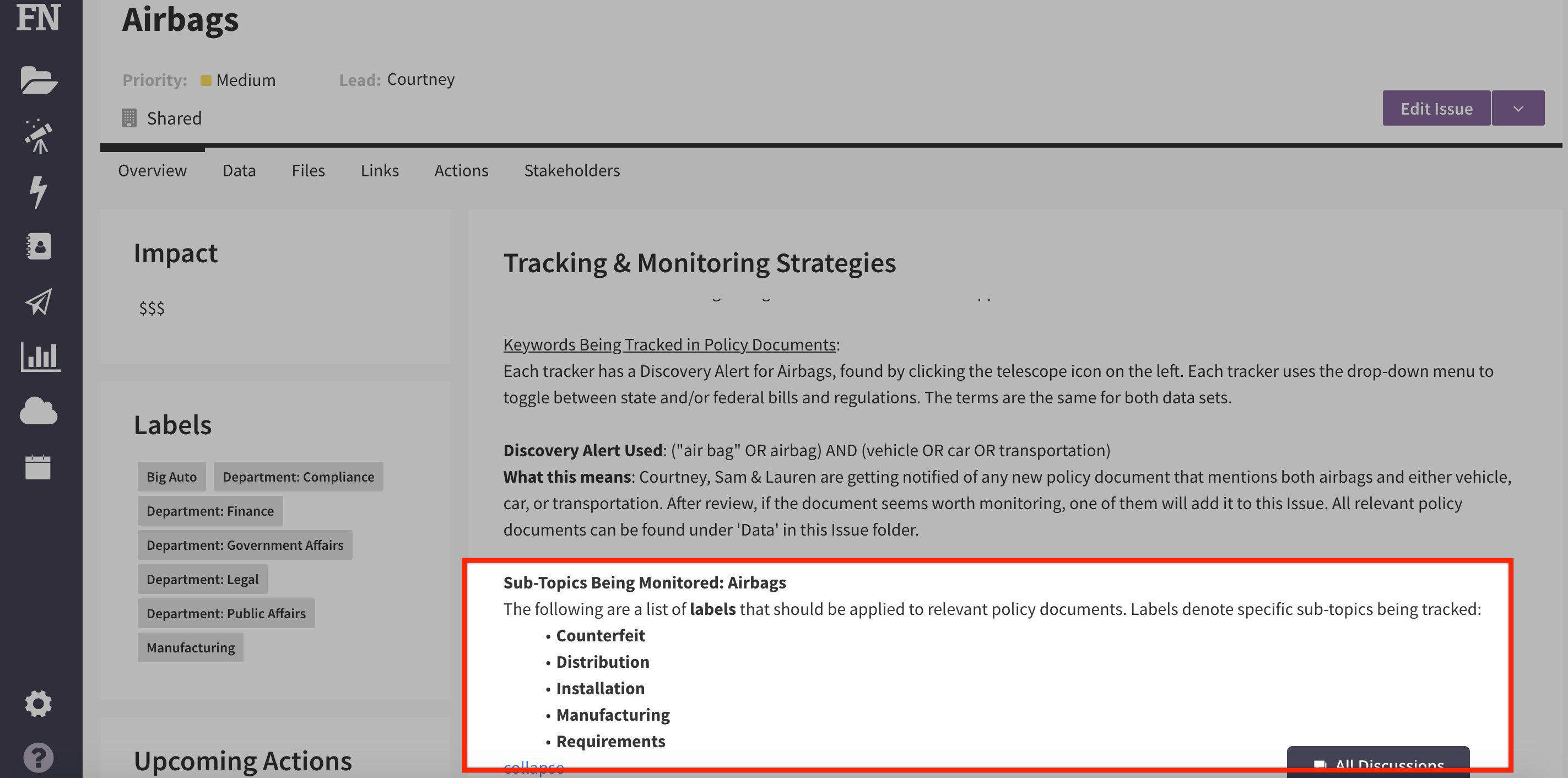 Uploading your Labels strategy to Files
Uploading your label strategy as a file is recommended for more complex implementations. It's also a favored practice for organizations who routinely download Issue briefs for presentation purposes, as they don't feel the need to share a labels strategy with key stakeholders.
Upload your file, and add an additional label to it, such as 'Label Strategy'. The strategy label allows users to locate the file under Drive using the Label filter.
*Click here to learn more about Labels in FiscalNote