Access publicly submitted comments published to Regulations.gov in FiscalNote. 
There are a couple ways to find comment information. You can view all comments for a specific rule on the Docket Page. You can also search over all comments submitted to Regulations.gov through our Search bar.
Viewing comments on the Docket Page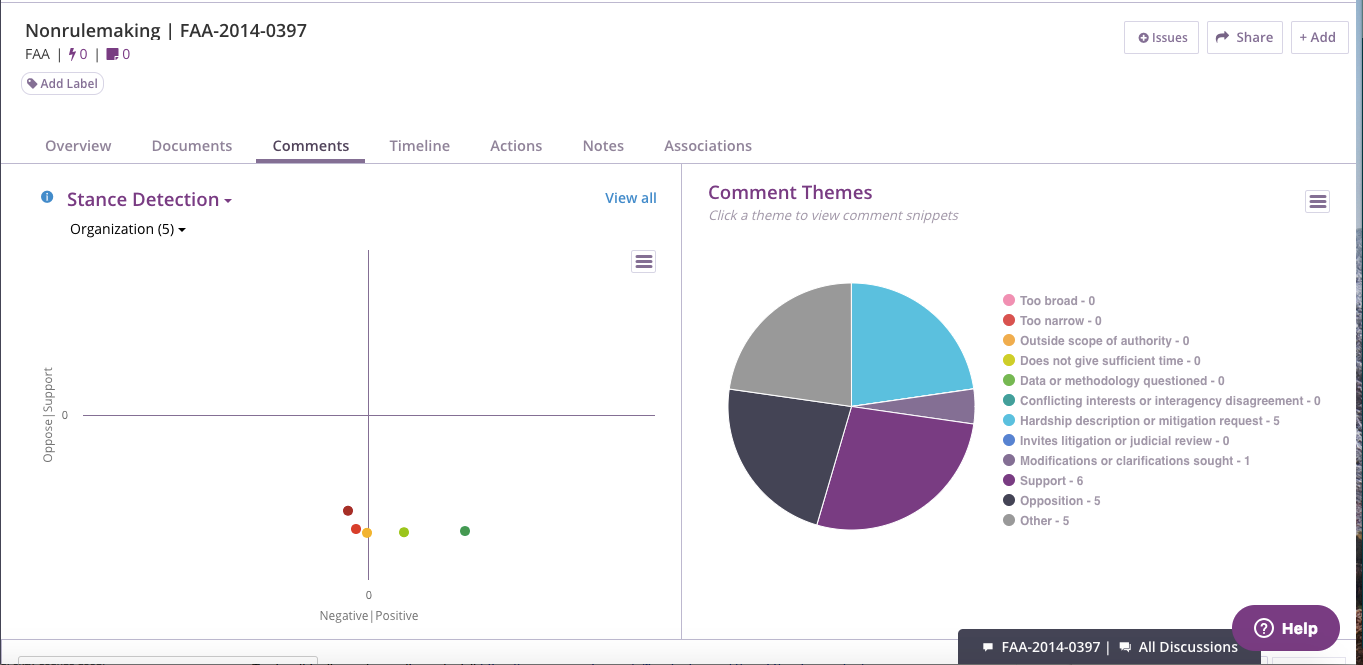 Under the Comments tab, FiscalNote not only compiles comments in an easily searchable way but also provides analytics on the sentiment and support of submitters as well as comment themes. 
On a Docket page, toggle over to the Comments tab 
View and/or export the visuals on the comment analytics 
Click "View All" by Stance Detections to see a breakdown of the sentiment and support of all comments and those pending analysis
Scroll down further to view and search over all the comments on that rule
In the top left-hand corner, you can filter these comments by Category (Public, Organization or Government Entity)
Here you can also export selected comments into a CSV or Excel document
Searching for comments

If you're looking for a specific comment or for all the comments an organization has submitted, use our Search bar! You can search by issue, agency, organization, individual submitter and comment text. 
Click on the Search bar and select Comments under Federal Regulations 
Type in the issue, organization, submitter or comment text you're searching for
Click on the comment title on the card to view more
If the comment was submitted as text, it will appear immediately. If it was submitted as an attachment, click Attachments on the right-hand side to view the comment 
Click "Open Docket" on the right-hand side to view the rule this comment is associated with