Don't wait until rules get posted to the Federal Register to hear about them. The Federal Register Act requires that documents be posted to the Public Inspection Desk one day prior to publication in the Federal Register. FiscalNote's federal regulatory dataset contains all documents posted on the Public Inspection Desk. 
Discovery Alerts
FiscalNote will alert you to relevant documents published to the Public Inspection Desk based on your Discovery Alert keywords. In this alert, you will see the document name, ID, agency and read the document text. You can download the document as a PDF, as well. Because the documents themselves don't get updated when the regulation changes, you can't add documents to Issues; however, you can mark it as irrelevant. You can add the docket a document is attached to to an Issue. Once a document is published in the Federal Register, it will show up as a new document under the "Published" tab.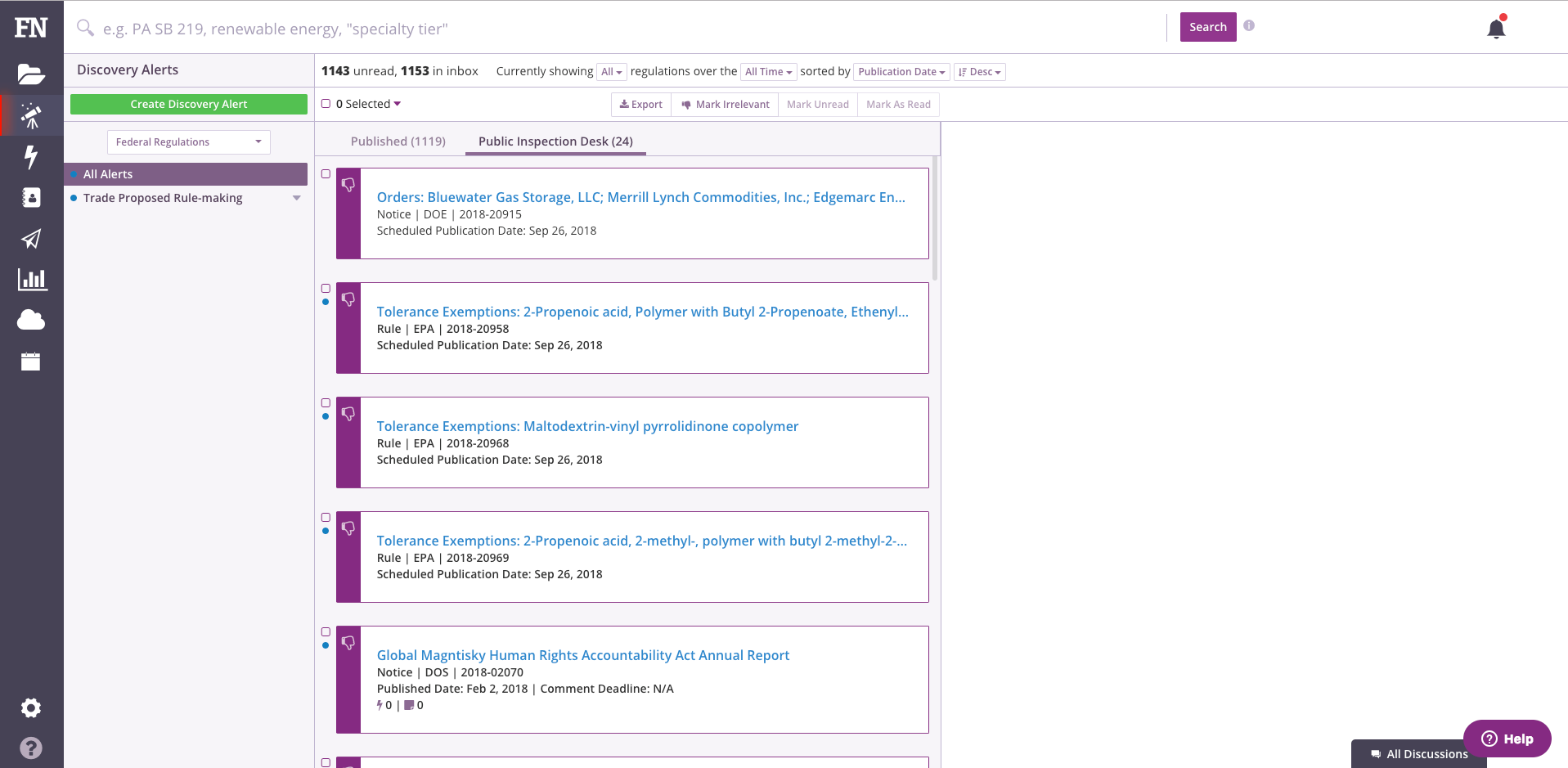 To access this:
Go to your Discovery Alerts and filter your alerts to Federal Regulations
Click a specific Discovery Alert or All Alerts
Toggle over to Public Inspection Desk and click the alerts to view the document text
If it's relevant to you, leave it in your inbox
If it's not, click the thumbs down icon and mark it as irrelevant to remove it from your inbox
Search
View our complete dataset of Public Inspection Desk documents by going to our search bar. You can type in keywords to search for specific documents or do a blank search to see all documents. Narrow down your results by agency, document type, filing type and date range. Lastly, see an overview of what has been published to the Public Inspection Desk that day on the right-hand side of your search results.
To search the Public Inspection Desk:

Click on the search bar at the top and narrow down to Public Inspection Desk
Type in what you're searching for and click Search
Click on a result to view the document text, title, agency and scheduled publication date