Your alerts are available on the Discovery Alerts page, also known as the Discovery Alert Inbox. This allows you to read, filter, and sort any newly relevant information in any number of customizable views. You can also select the information and save it to an Issue.
Legislation (Bills)
The Discovery Alert Inbox will initially display bills by default, unless you do not subscribe to both the Federal Legislative and State Legislative content sets. You may view all or unread new bills caught by your Discovery Alerts in one list 
Select 'All Alerts' to see all bills across your Discovery Alerts 
See how many bills are "Unread" versus how many are in your inbox over all
Utilize the new sort/filter bar to customize your view over time periods, read status, and more 
Click "Discovery Alert Charts" to view a map of where all these newly introduced bills are from
Add a bill to an Issue to save it and continue to receive notifications on any changes through it's legislative cycle
'Mark as Irrelevant' across all Discovery Alerts to remove it from your inbox


You can always find the bill again using our Search bar, it just won't be in your inbox any longer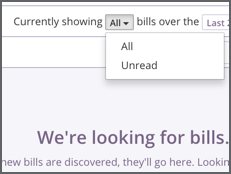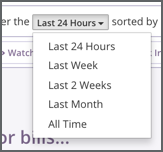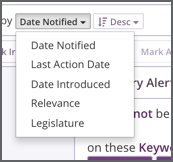 State Regulations
Get alerted whenever a rule relevant to your issue areas is proposed. 
Go to your Discovery Alerts and toggle down to State Regulations on the left hand side to view your alerts
Select a specific alert topic to view newly found regulations under it or to view everything at once, click "All Alerts"
Click anywhere on the rule card other than the blue name to get a preview of additional information on that regulation. Here you can see what keywords or phrases were flagged in that alert as well as basic information and the rule text.
To save that regulation, hover over the add to Issue and select which one(s) to add it to. This will remove the regulation from your Discovery Alerts and save it in your Issues.
If you would not like to save it, click Mark as Irrelevant. This will also remove the regulation from your Discovery Alert.
Keep your "All Alerts" down to zero so you know you are up to date on any relevant state regulatory information
Federal Regulations
FiscalNote will alert you to relevant documents published to the Public Inspection Desk and to the Federal Register based on your Discovery Alert keywords. Because the documents themselves don't get updated when the regulation changes, you can't add documents to an Issue; however, you can mark it as irrelevant. You can add the docket a document is attached to to an Issue. Once a document is published in the Federal Register, it will show up as a new document under the "Published" tab. Here you can add it to an Issue. 
To access this:
Go to your Discovery Alerts and filter your alerts to Federal Regulations
Click a specific Discovery Alert or All Alerts
Toggle over to Public Inspection Desk or Published and click the alerts to view the document text
If it's relevant to you, leave it in your inbox
If it's not, click the thumbs down icon and mark it as irrelevant to remove it from your inbox 
Sharing Discovery Alerts
If you've created Discovery Alerts that you would like to share with others in your organization, simply send an email to support@fiscalnote.com. In your email, please include the names of the Discovery Alerts that you would like to share and a list of email addresses of the team members you would like to share the alerts with.