Receiving too many email notifications or not receiving enough on newly introduced legislation or regulations? You can customize your email notification preferences for your Discovery Alerts to be alerted appropriately depending on the issue area and/or states you're following.
For example, you may want to receive real-time alerts for your "Medicaid" discovery alert at the Federal level, however you want a Weekly Digest of any new bills in Michigan, Illinois, and Wisconsin for the same "Medicaid" alert.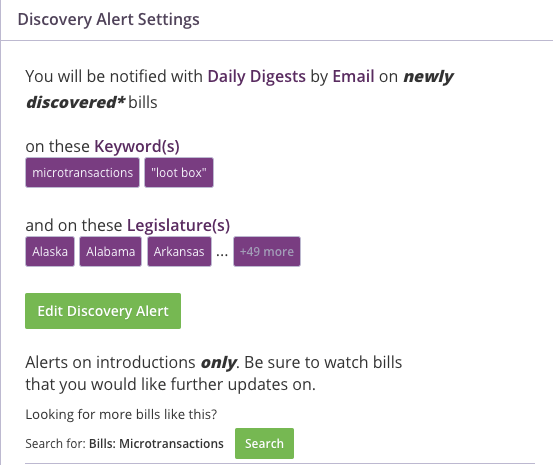 To change your email notification preferences:
Go to your Discovery Alerts

Click on any of your alerts (not "All Alerts" but your specific issue alerts)

Click "Edit Discovery Alert" on the right-hand side under the Keywords
Click the "Legislatures" drop down to select what states (or US Congress) you'd like to be alerted to

To change the frequency of the email notifications, select Options.

To turn off email notifications for the alert entirely, uncheck "Send to Email"

You will still be able to view bills and regulations caught by that alert in FiscalNote but you won't receive emails about them

To apply these changes, click Save