On Federal Committee pages, you'll find basic information, hearing schedules transcripts, lists of leadership and members, and any relevant subcommittees under the Overview tab. Committee member staff, Actions, and Notes each have their own tabs.  
To find a committee or subcommittee:

Go to the search bar and select Committees under Federal Legislation
Type in the committee you're looking for 

To view all federal committees, just click search

Filter your search results down by chamber, committee type (committee, subcommittee, caucus), and if you follow them
On each of your results, you'll have the ability to follow that committee, add an action, or share that committee page
Click on any result to learn more about that committee 
On a committee page, you'll find: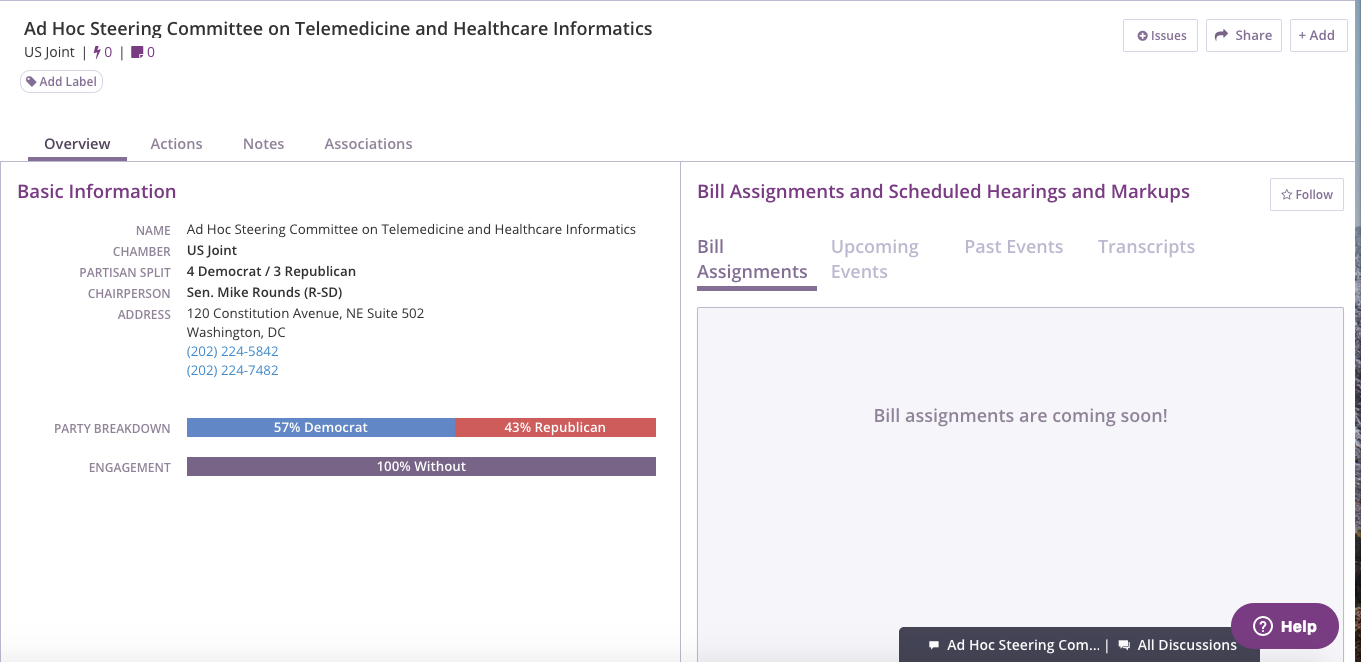 Basic information as well as a party breakdown
Scheduled hearings, markups, and past transcripts

To add an action for a hearing, click the lightning bolt next to each hearing to create an action

List of leadership and members of the committee


Create a mailing list for exporting or email from as well, learn more here.

Other committees associated with that committee
Under the Staff tab at the top of the page, list of committee staff and their contact information
Your Actions, Notes, and Links or Files linked to that committee also have their own tabs
How to follow committees in FiscalNote
You can receive email notifications when committees you want to follow closely are having committee hearings. 
After locating a committee after completing a Search, click the Follow button in order to receive email notifications on a committee. 

If the button appears as Following, you are already following the committee and will receive notifications. If you no longer wish to receive notifications, click on the Following button to unfollow the committee.

To view a list of all the Federal committees you elected to follow, please implement the filter for Following Hearings.